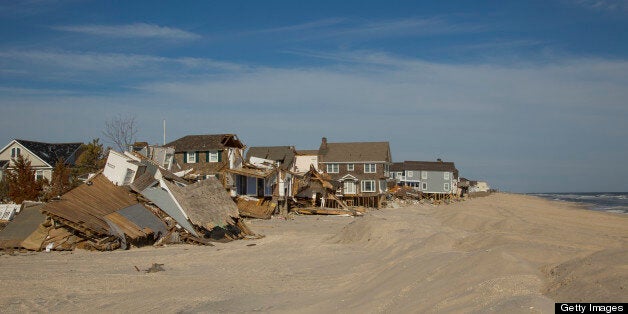 Hurricane Sandy was undeniably a disaster for tens of thousands of New Jersey and New York residents. But as the headlines begin to recede, what more can we do, as leaders of nonprofits, to help their stricken communities? Ironically, after the last clean-up volunteers leave and all of the insurance and FEMA forms have been filled out, the answer is not necessarily providing more emergency relief and volunteers. In our experience, the answer lies in providing these communities with the tools to develop new forms of "civic capital."
Think back to the aftermath of Hurricane Katrina in 2005, when New Orleans and the entire Gulf Coast had been decimated by one of the five deadliest hurricanes in the history of the U.S. Nearly 2,000 people died as a result of the storm and the floods that overwhelmed New Orleans. Donations of food and money poured in from around the world. Tens of thousands of Americans went to New Orleans and the Gulf to volunteer their time and energy. And federal aid, including FEMA, financed hundreds of millions of dollars of rescue and rebuilding efforts.
Many nonprofits -- notably, well-established organizations like the American Red Cross and Catholic Charities -- were an important part of the effort and deserve enormous credit for their hands-on response in dealing with the emergency as an emergency. But what about the weeks, months and years after the eyes of the nation and indeed the world turned elsewhere?
That is where, I believe, human services nonprofits as a sector and the volunteers that contribute so much to our organizations can do great and lasting good by carving out a new role -- the purposeful creation of civic capital. Let me define civic capital. Sometimes called social capital, civic capital is the result of people or organizations coming together, often on an ad hoc basis, to create solutions to immediate problems that directly impact the community or at-risk populations.
Take the example set by the Junior League of New Orleans and some of its members.
In the immediate aftermath of Katrina, JLNO brought more than 500 volunteers from around the country to help in the clean-up effort. But after the clean-up, it became clear to its leadership team that, like many New Orleans neighborhoods, the city's nonprofit sector was battered and lacking in resources. Rather than attempt to simply provide funds or volunteers to a few nonprofit organizations, the League took a broader, and ultimately more effective, approach. The result is an innovative program called Get On Board that serves as an important addition to the city's nonprofit ecosystem because it fills a clear and compelling need -- recruiting and training board members for community-based nonprofits still struggling to come back from the storm.
Each spring, JLNO has provides a five-week training session for community members, most with no background as nonprofit board members, even matching graduates with available board positions or internships. The course covers all aspects of board leadership, including board roles and responsibilities, financial policies and fiduciary duties, legal considerations, strategic planning processes and effective leadership development. (A condensed two-day training session is offered in the fall for candidates who can't devote time to the five-week course.)
Not all great civic capital ideas come from existing nonprofit organizations -- but they often come from people who are actively involved in the nonprofit sector, particularly as volunteers. JLNO members, on their own initiative, also worked to create other new post-Katrina organizations. Women of the Storm, which initially lobbied Congress for recovery relief for New Orleans, has since evolved into a group advocating for the needs of the entire Gulf Coast. Citizens for 1 Greater New Orleans, an ongoing campaign to overcome the state Legislature's failure to reform the workings of southeast Louisiana's levee boards, has also grown by focusing on systemic issues largely being ignored by other institutions. They were co-founded by long-time JLNO members Anne Milling and Ruthie Frierson, respectively, who leveraged the leadership training they received as Junior League members as well as their own credibility within the New Orleans community to jump start and sustain the organizations.
Katrina also served as the catalyst for other nonprofits focused on ongoing recovery in New Orleans and Louisiana. Two great examples are Camp Restore and Foundation for Louisiana.
More than seven years after Katrina, Camp Restore, a volunteer camp mission site in New Orleans funded by the Lutheran Church-Missouri Synod, continues to welcome, house, feed and equip thousands of volunteers for service there every year, including providing an "alternative" spring break for college students. Camp Restore asks that volunteer groups pay for their stays in New Orleans -- offering them fundraising ideas and marketing support -- while encouraging them to use their Camp Restore experiences to start their own restoration projects back home.
Foundation for Louisiana emerged from the aftermath of Katrina when then-Governor Kathleen Blanco recruited a team of philanthropic professionals and recovery experts to invest in long-existing community problems of neglect and inequity that affect many in Louisiana and the Gulf region. The Foundation has since invested more than $40 million in supporting over 200 mission-critical nonprofit organizations working across the state.
A third example is Operation Photo Rescue, an organization founded by photojournalists Dave Ellis and Becky Sell after Hurricane Katrina that helped Sandy victims restore and reprint photographs they lost in the storm.
Corporate funders can also play a role in the creation of civic capital. Founded in 2001 by AOL, Cisco and Yahoo!, Network for Good helps nonprofits implement online fundraising while offering free training through its online learning center. Network for Good also sponsored "How Crisis Compels Donors to Give Online," a study on online donations during disasters such as Katrina, and "The Wired Fundraiser," a study reflecting how current technology is changing the world of fundraising.
No doubt new nonprofits focused on new ways to create civic capital are emerging right now as the Northeast recovers from Sandy. But good ideas don't need to wait for disasters to sprout.The Junior League of Los Angeles launched its Appointments to Boards and Commissions Institute (ABCI) in 2010 to offer training to JLLA members who want to pursue appointments to one of California's many public boards and commissions at the local, county, and state levels.
Con Mi MADRE, launched in 1992 through a partnership between the Junior League of Austin and the University of Texas at Austin, is now an independent 501(c)(3) that facilitates the academic and personal success of Hispanic girls by providing information and support services to them and their mothers, in order to prepare the students for college. In 2007, the Junior League of Springfield, Missouri, worked with community partners to open Isabel's House, the Crisis Nursery of the Ozarks, a 20-bed residential facility that provides 24/7 care to children whose families are undergoing a crisis.
Related
Popular in the Community