Even when it is over, that dramatic weather phenomenon we call El Niño is never quite over. Its impacts, so often devastating to millions, can be felt for years to come. Frequently El Niño is followed by La Niña, which can turn droughts into floods and floods into droughts, often at the worst possible time for the millions already coping with losing their homes and their livelihoods. And just as so many of them are getting back on their feet, El Niño returns to wreak havoc all over again.
That's one of the unique hallmarks of El Niño: arriving once every three to seven years, it is eminently predictable. And it is that predictability that may offer us the key to better coping with its impact.
I can offer a perfect example: earlier this month I traveled to Ethiopia, a country that has suffered the ravages of this year's El Niño particularly severely. El Niño has brought with it devastating drought to the country, leaving more than ten million people in need of food aid. This could be far worse, though, since Ethiopia has itself long understood the need to be prepared and has made great progress in recent decades. Around the world, 60 million people are in need of humanitarian assistance due to drought, flooding and other extreme weather events.
But I met a community of farmers that has weathered the Ethiopian drought through a surprisingly simple tool: insurance. My organization, the United Nations Development Programme, along with the Global Environment Facility, helped several communities take out a form of insurance against the loss of their crops, and helped them to pay their premiums.
When El Niño wrecked their crops, their insurance paid out. While their counterparts in neighboring districts were forced to seek humanitarian support, the people I met were not just weathering the storm, they were thriving. They told me they felt wealthier and were looking forward to investing a modest financial surplus in their farms once the drought had passed.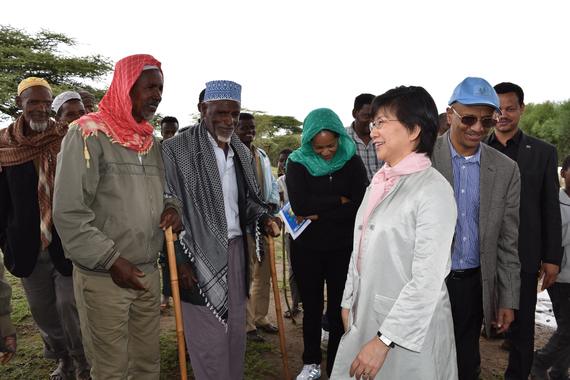 The farmers I met in Ethiopia were prepared. They did not know exactly when El Niño would arrive or how strong its impact might be this time around, but that did not stop them from preparing for the worst. And they did not just take out an insurance policy. With the help of the Government, they also undertook land management and were involved in early warning systems. In a sense, it was their willingness to prepare themselves that was their best insurance against El Niño.
And it is being prepared that can be the strongest form of insurance for all of the millions of people in dozens of countries that lie in the path of each and every El Niño. Being prepared does not necessarily mean literally taking out an insurance policy. There are almost as many ways to prepare for devastating weather effects as there are countries affected, from early-warning systems to comprehensive national preparedness plans.
Investing in preparation and risk reduction protects lives and livelihoods, yet the humanitarian system is overwhelmingly focused on responding to disasters. Only 40 cents in every USD 100 spent on aid goes to disaster risk reduction, yet disasters have cost developing countries USD one trillion in the past two decades.
The point is, preparation of any kind is a simple but effective form of insurance that can help any community weather the impact of a natural phenomenon like El Niño. But preparation does not begin and end with El Niño. As the impacts of climate change are felt throughout the world, the need to prepare for its impacts become ever more pressing.
Of course, insurance of any kind only works if you take it out before a natural disaster, not afterwards. That may seem painfully obvious, but all too often we wait until after the impacts of phenomena like El Niño have been felt before we act. Humanitarian aid is, of course, crucial but cutting off the need for such aid in the first place is obviously better. As so many of our mothers used to say, prevention is better than cure.
That's why there is no time to wait in preparing ourselves for the next El Niño. It could be here in as little as three years. It will certainly arrive again in under a decade. And even before then, we will see the growing impact of climate change in so many regions and countries - some of which suffer the impacts of El Niño and many of which do not.
Today we will gather here at the United Nations in New York to seek answers to El Niño now and in the future. Less than a year ago, we agreed on a set of Global Goals and vowed to "leave no one behind". But we will never achieve our goals if crises like El Niño are allowed to wipe out gains and return us to square one every few years.
That is why we must now redouble our preparations for events like El Niño. The world needs to take out insurance for the devastating impacts of extreme weather that we know is around the corner. And there simply is no better insurance policy than being prepared.
Calling all HuffPost superfans!
Sign up for membership to become a founding member and help shape HuffPost's next chapter