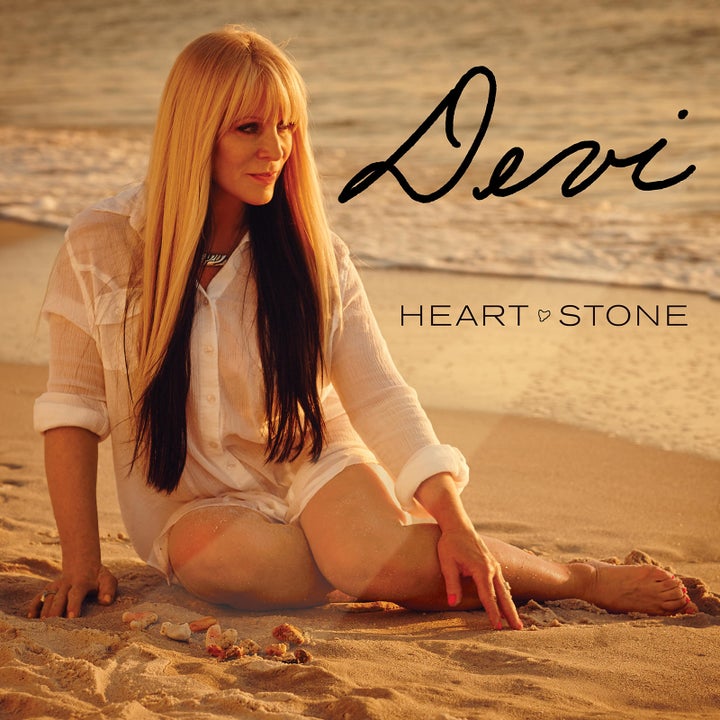 Oh, look! A talented singer who's interesting to watch on a stage and who is also a gorgeous blonde! Nothing new? Look again. Devi does depth.

Musical artists often sound driven and devotional. Devi sounds called. "When I started to focus on my craft after the kids were gone, I had no idea what I had inside me," she said of being impelled to write and sing. It was that impulsion that moved her to complete "Heart Stone," a five-song EP released with her New York collaborators at The Practice Worldwide and co-producer Ali Dee Theodore.

At moments looking and sounding like ABBA's missing fifth, Devi's musical style has stumped her handlers who have gone from 'adult contemporary' to simply 'pop' as a category of reference. Describing herself as "always on the path of what's trending," it's no surprise that her album is flavored with a nod to today's chick megastars and the softly masculine Owl City.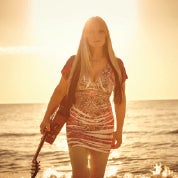 The waltz balad "One More Day" incorporates lush orchestral sounds with ethereal vocal harmonies, while "Heart Stone" evokes a two-step and a tear. The title track rumbles with percussive techno energy and layered exotica.

The music is singable and good. But the substance for Devi is the narrative she brings to the core. "I just wonder in life if the scars that you don't see are just as painful as the scars you see," she pondered. "I do believe adversity spurs creativity."

Scars come up in conversation – a childhood spent moving around, one of eight "but an only child," self-sufficiency too young, being judged for coming from dysfunctionality. One therapist said she might have easily become a bum.

Yet the essence Devi radiates is that of a girl in paradise, an unspoiled princess counting her blessings, a dreamer marveling at her own new adventure. But her video reveals not a girl but a woman with the bearing of a Nordic goddess. Then the soulful Zen attitude makes more sense. A mother of three now in their 30s, Devi's singular expression for the music she makes: "inner joy."
Reinventing herself as "Devi" is further proof that she is both taking an active role in her own fate and allowing the world to leave its mark. During a 35-year marriage to a Mexican businessman, the young Debbie Rosado developed a soft spot for the way Spanish speakers pronounced her name. Thus "Devi" was born. It's an apt coincidence that the word means "goddess" in Sanskrit.

Listening to "Heart Stone," one wouldn't guess that Devi's early passions included Todd Rundgren, Pink Floyd, Led Zeppelin and Disturbed. In the turmoil of circumstance, these were more lifelines than influences. "Every kid I knew was involved with a lot of vices," she recalled. "I would go to parties and just put my ear to the speaker, lie there and take in every word. 'Dark Side of the Moon' was my drug."

She could not have imagined at that time a future of international travel and material comfort, ultimately making Mexico a second home. "I learned the language through song and from connecting with Vicente Fernández, Rocio Durcal and so many other great singers. I even sang mariachi," Devi mused. "I recorded my first album 'Devi' in Spanish."

Subsequently, she recorded two EPs, "Take Me Away" and "Believe," which set the stage for "Heart Stone."

"Either you're going to be broken, or you're going to find a way to release it," Devi said of staying whole through tribulation. "For me it's through song."

While it's not on her list of doings along with conjuring inventions, teaching Spanish, writing a book and becoming a yoga instructor, she's a natural at motivational speaking with lines like, "If it's not available to you, make it available." And "Don't give up, don't give in, don't conform."

Perhaps her song "It's Your Life" says it best: "You are the ruler of what you overcome. … It's your life. Live it."

Visit Devi's website for up-to-date information on her next musical projects.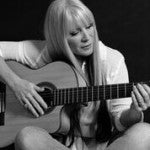 Related
Popular in the Community