Phoenix Suns guard Devin Booker stopped viewers in their tracks when he was shown with blood pouring down his nose during Game 2 of the Western Conference Finals on Tuesday night.
Booker collided with Los Angeles Clippers guard Patrick Beverley and was seen moments later with a bloodied nose.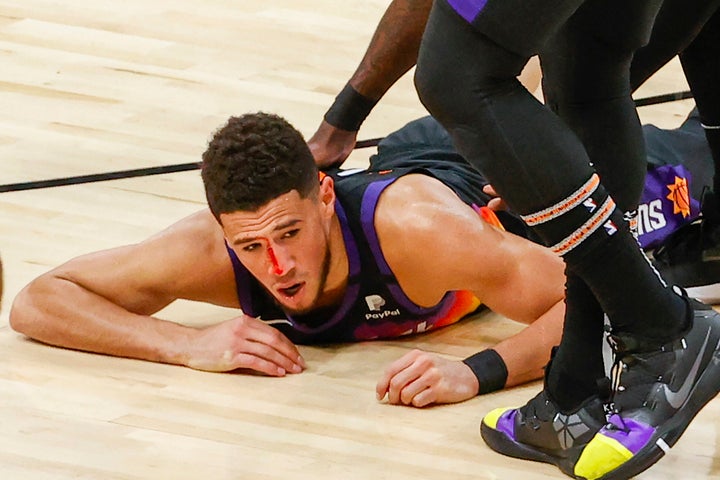 The injured NBA star exited the game in the third quarter, received stitches and returned for the fourth quarter, CBS Sports reported. The Suns defeated the Clippers 104–103, with center Deandre Ayton scoring the winning shot.
Booker said he was informed his nose wasn't broken but "just a little crooked" when he left the court, tweeted Rachel Nichols, host of ESPN's "The Jump," after the game.
Booker said he might get a protective mask and an X-ray on his nose, tweeted Marc J. Spears, senior writer for ESPN's The Undefeated.
Suns coach Monty Williams joined many viewers who thought Booker's nose was broken at the time.
"He was probably playing with a great deal of pain," he said of Booker's injury, CBS Sports reported. "I thought he broke his nose when I saw it. I worried about the blood continuing to flow."
Sports fans praised Booker for continuing to play through his injury and for screening Clippers center Ivica Zubac, which helped free Ayton to make the game-winning basket:
Booker also made headlines over the weekend when his girlfriend Kendall Jenner spoke publicly about their relationship for the first time during a reunion episode of "Keeping Up With The Kardashians."
Popular in the Community