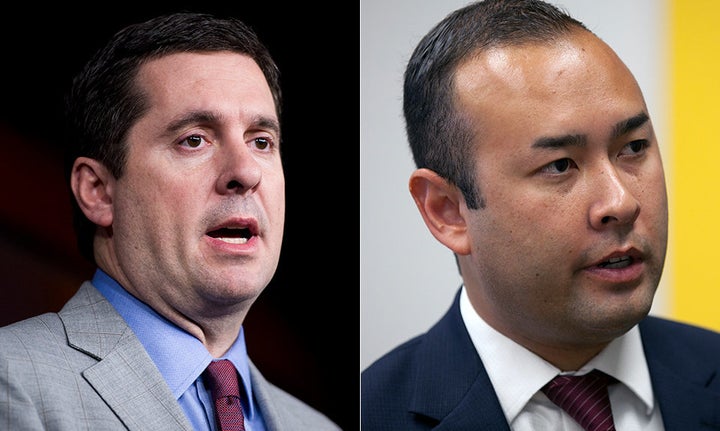 Andrew Janz decided it was time for Devin Nunes to go when he read about the congressman's secret trip to the White House last year, when Nunes collected classified information he later claimed was evidence for the unfounded conspiracy theory that the Obama administration had spied on the Trump campaign during the election.
Once a relatively unknown member of Congress, Nunes has become infamous in Washington for using his position as the Republican chairman of the House Intelligence Committee to block the panel's efforts to investigate collusion between the Trump campaign and Russian operatives during the election. In doing so, he has emerged as one of the president's most loyal allies — and one of the Democrats' key targets in the 2018 elections. Nunes' notoriety in Washington has helped Janz raise nearly $3 million without taking corporate PAC money. When Nunes published a much-hyped memo he claimed would prove the Justice Department spied on the Trump campaign (it didn't), Janz raised over $65,000 in one week.
But Janz, who grew up in the area, knows that a lot of voters either haven't followed the Russia scandal or don't believe it. And bashing Nunes for his unwillingness to investigate the president is a weak general election strategy in a district President Donald Trump carried by over nine percentage points. So instead, Janz is focusing on an issue that unites voters from both parties in California's 22nd Congressional District: getting water to the area's farmers.
Janz liked his job as a deputy district attorney and hadn't ever considered running for office, he said in an interview. But he believed that someone needed to hold Nunes accountable, so he filed to run. Some of Janz's friends tried to talk him out of entering the race. Nunes had been elected eight times in a row, one year running unopposed. They thought he was untouchable in the conservative central California farming district. But Janz sees the continued water shortages and contamination in his district as a vulnerability for the incumbent lawmaker.
Janz is calling for a massive infrastructure investment from the federal government for water infrastructure — a "Marshall Plan for central California," he said. He wants to use that money to recharge underground aquifers and to improve aboveground and underground water storage so farmers can reduce their reliance on over-pumped groundwater. He's also calling for federal investment in cleaning up the contaminated water supply in outlying parts of the district where residents are forced to buy bottled water for drinking, cooking and bathing.
It's an issue that, in theory, should attract support from Trump and congressional Republicans, who have long promised to hold some kind of "infrastructure week." Janz has already reached out to lawmakers from both parties and talked to Democratic California Sens. Kamala Harris and Dianne Feinstein's team about working in the future on an infrastructure package.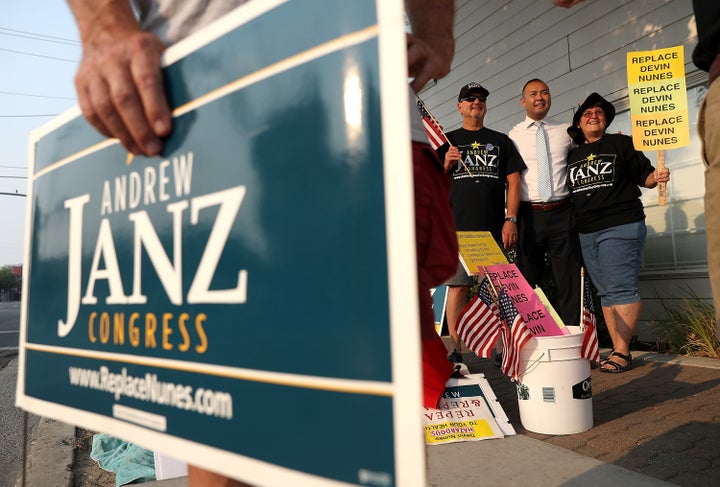 Nunes, who comes from a family of dairy farmers, has also portrayed himself as someone who understands the needs of farmers in his water-strapped district. But Janz is trying to convince voters that Nunes, despite describing himself as a farmer, is actually a longtime politician who abandoned his constituents in favor of appearing on Fox News talking about the so-called deep-state conspiracy against Trump.
"We want to bring attention to the fact that he ain't working for us. He's doing his own thing," Janz said. Nunes is "in a pretty good position to get a lot of things done for us, he has political capital," Janz continued, pointing to his relationships with Trump, House Speaker Paul Ryan and House Majority Leader Kevin McCarthy. "He's not spending it on the district, he's spending it to protect the president."
Nunes, who did not respond to a request for comment, hasn't ignored California's water issues. But his solutions, according to water experts, aren't exactly viable. According to the incumbent congressman, who is also a climate change denier, the key problem facing California farmers is "extreme environmentalists" who have tried to depopulate the land by depriving residents of water with "relentless determination."
Nunes claims that California has plenty of water, but that too much of it "is simply flushed into the ocean" — an inaccurate argument often echoed by Trump. He has said California's water problems could easily be fixed by diverting water from the north and storing it in dams. He has also called for loosening environmental regulations that restrict water diversion from the Sacramento-San Joaquin River Delta to protect endangered fish.
These arguments are "bogus," said Matt Weiser, the managing editor at Water Deeply, a news site covering water issues in the West. If water were blocked from flowing into the ocean, farmers in the delta area would be faced with excessive salinity in the water, which would create "billions of dollars in water quality issues," Weiser said. And rolling back wildlife protections would only worsen the problem, he said, as killing off fish in the delta would lead to toxic algae blooms in the water.
In addition to water quality issues, there aren't a lot of economically viable places to put dams anymore, Weiser continued. One of the water storage projects Nunes has championed, the Temperance Flat Dam, was denied funding earlier this year, after a commission determined the reservoir would not provide enough public benefit to justify the investment.
A recent poll by Strategies 360 in California's 22nd, showed Janz just six points behind Nunes — compared to 12 points in July. Most political pollsters are predicting a Nunes victory, but to some extent, Janz's strategy has already proven effective. This year's race marks the first time Nunes has faced a real fight to keep his seat.
After 16 years of Nunes with little progress on water issues in the district, Janz says, he's imploring voters: Why not try something new?
Popular in the Community