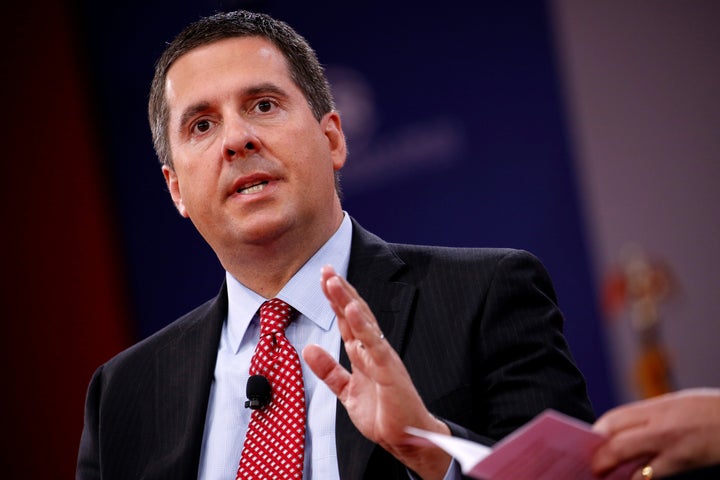 California Republican Devin Nunes, best known for sabotaging a congressional investigation into ties between the Trump campaign and Russia, on Tuesday survived a re-election challenge from Democratic prosecutor Andrew Janz.
Tuesday marked Nunes' first competitive race since he was elected in 2012. Nunes, once a relatively obscure member of Congress, became a nationally recognized figure as he cozied up to President Donald Trump and used his perch at the head of the House Intelligence Committee to stymie the panel's probe into Moscow's effort to help Trump win the 2016 election. 
Months after Trump took office, Nunes returned from a secret trip to the White House with classified information he claimed would prove Trump's unfounded conspiracy theory that he was the victim of a "deep state" loyal to former President Barack Obama. Nunes was supposed to recuse himself from the House Intel Committee's Russia probe after that gambit, but he continued to assert control over the investigation. Republicans published a four-page memo earlier this year that was written by Nunes' staff and accused the Justice Department and FBI of misleading the secretive court that approved its request to spy on former Trump campaign official Carter Page.
Because Democrats won a majority of House seats on Tuesday, Nunes will lose control over the intelligence committee in January. He has previously admitted behind closed doors that Republicans maintaining control of the House would be critical to protecting Trump.
"If [Attorney General Jeff] Sessions won't un-recuse and [special counsel Robert] Mueller won't clear the president, we're the only ones," he said at a fundraiser in July in reference to a federal investigation into Trump, according to leaked audio from the event. "I mean, we have to keep all these seats. We have to keep the majority."
Nunes' partisan stunts on the intelligence committee made him a key Democratic target in the 2018 midterms and helped Janz pull in millions of dollars from donors without taking corporate PAC money.
But most voters in California's 22nd District, an agricultural hub in the Central Valley, either haven't paid close attention to the Trump-Russia scandal, or they believe Nunes is being unfairly maligned by left-leaning media.
So instead of focusing on Russia, Janz focused his campaign on more local issues, like getting water to the farmers in the district. In the lead-up to the election, Janz tried to convince voters that Nunes had become so busy doing Trump's bidding that he had failed to address water shortages and contamination in the district. Janz called for a massive infrastructure bill that would provide funding to recharge underground aquifers and increase water storage so that farmers could cut back on over-pumped groundwater.
Janz's strategy worked to an extent: He performed better in Tuesday's election than expected. But Janz's strategy did not work well enough to oust the incumbent congressman. In Nunes' telling, Democrats and environmentalists who back restrictions on diverting water from areas that house endangered species of fish are responsible for the area's water crisis. He has pushed for more dams and diverting water from up North — proposals that water experts say are unrealistic and could make the problem worse.
Part of Nunes appeal is the result of his yearslong effort to cultivate his image as a local farmer.
"From childhood, he worked on a farm that his family has operated in Tulare County for three generations," reads Nunes' online bio. "He raised cattle as a teenager, used his savings to begin a harvesting business, and then bought his own farmland with his brother."
The family farm mentioned in the bio isn't actually based in Tulare County anymore, Esquire reported in September. Nunes' family quietly sold the farmland more than a decade ago and moved the business to Sibley, Iowa.
REAL LIFE. REAL NEWS. REAL VOICES.
Help us tell more of the stories that matter from voices that too often remain unheard.