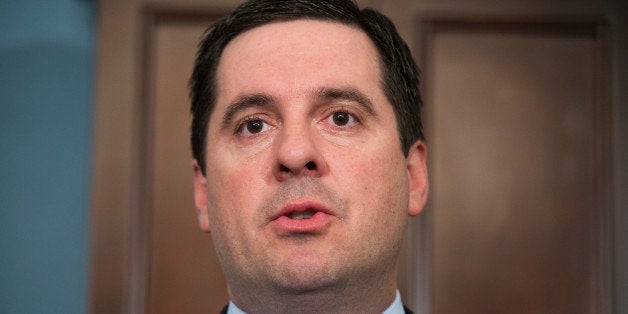 WASHINGTON -- Rep. Devin Nunes (R-Calif.) is denying that he ever endorsed the idea of passing a "clean" funding bill -- or one without strings attached -- to keep the government running. But he did.
On Monday, Nunes' office asked The Washington Post to remove the congressman's name from their list of House Republicans who have called for passing a clean continuing resolution to end the government shutdown. Nunes had been on the paper's list since last week, and he's still included in The Huffington Post's tally. The move by Nunes' office comes a few days after the congressman fumed to conservative outlet Newsmax that a certain "left-wing publication" had incorrectly reported that he said he would back a clean funding bill.
"The last thing I would do is work with [House Minority Leader] Nancy Pelosi," Nunes told Newsmax. He suggested that "someone took some comments I made and then made up a conclusion."
But HuffPost's Sabrina Siddiqui asked Nunes last Monday, hours before the shutdown began, whether he'd support a clean funding bill if it came down to it. His response: "Yeah." During the same exchange, Nunes told another reporter that he expects there's "more [Republicans] that would support it" as more time goes by.
Here's the audio of the exchange between Nunes and reporters. Listen for yourself:
Nunes spokesman Jack Langer told HuffPost that the congressman changed his mind on the matter once the government actually shut down.
"He had considered a clean CR before the shutdown, as an alternative to the shutdown," Langer said. "Since the shutdown occurred, he has supported GOP leadership and voted with them and with the House majority for all the CRs."
When asked if Nunes had basically just changed his mind, Langer said, "No, the shutdown created new circumstances."
Langer added that Nunes has "done a lot of media in the last week explaining his position." He also said Nunes "frequently speaks on the House floor to Huffington Post reporters, who know his position well."
Nunes' effort to distance himself from the idea of a clean continuing resolution comes as the White House and Democrats are pressing House Speaker John Boehner (R-Ohio) to bring such a bill up for a vote. The votes appear to be there for the House to pass it, in which case it would sail through the Senate and get signed into law by President Barack Obama, immediately ending the shutdown. But Boehner has given no indication he's prepared to go that route.