Nunes, the chairman of the House Intelligence Committee, made the comments during a $250-a-plate fundraiser for Rep. Cathy McMorris Rodgers (R-Wash.) on July 30. In an audio recording of the remarks, obtained by MSNBC's Rachel Maddow, Nunes says that lawmakers "only have so many months left" before November's midterms, making efforts to impeach Rosenstein "a bit complicated."
"So if we actually vote to impeach, OK, what that does is that triggers ― the Senate then has to take it up," Nunes can be heard saying on the recording. "Do you want them to drop everything and not confirm the Supreme Court justice, the new Supreme Court justice? The Senate would have to drop everything they're doing ... and start with impeachment on Rosenstein. And then take the risk of not getting Kavanaugh confirmed."
"So it's not a matter that any of us like Rosenstein. It's a matter of, it's a matter of timing," he added.
Nunes said he feels it's especially important for Republicans to maintain their congressional majority in light of special counsel Robert Mueller's Russia investigation, which is overseen by Rosenstein.
"If [Attorney General Jeff] Sessions won't unrecuse and Mueller won't clear the president, we're the only ones, which is really the danger," he said. "I mean, we have to keep all these seats. We have to keep the majority. If we do not keep the majority, all of this goes away."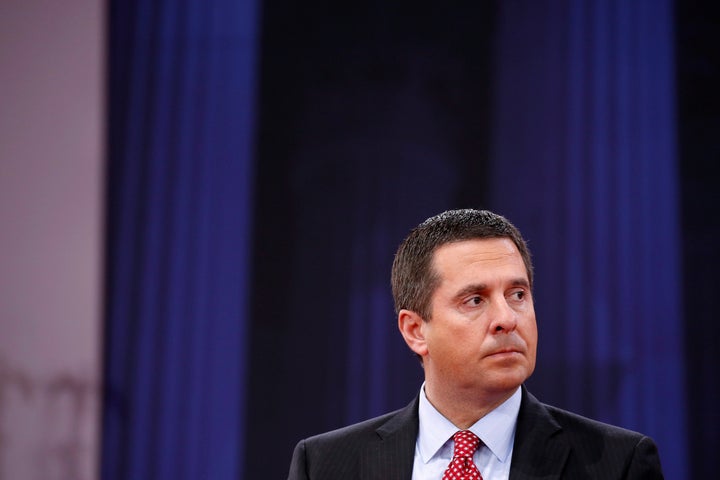 The audio was recorded by a member of the group Fuse Washington, a progressive organization that paid to attend the event.
"These are sensible ideas, I'm glad Chairman Nunes talked about them," spokesman Jack Langer told the outlet.
Nunes' remarks come just days after House Speaker Paul Ryan (R-Wis.) rejected an effort by Republican hard-liners to remove the deputy attorney general, who is overseeing Mueller's ongoing investigation into Russian meddling in the last presidential election. Reps. Mark Meadows (R-N.C.) and Jim Jordan (R-Ohio) filed articles of impeachment against Rosenstein last week, but Ryan shot down those plans.
"Do I support impeachment of Rosenstein? No, I do not," the speaker said. "I don't think we should be cavalier with this process or term."
Nunes, who recused himself from the Intelligence Committee's investigation into Russian meddling last year, can also be heard saying that while he still publicly supports impeachment, "the question is the timing of it right before the election."
Hayley Miller contributed reporting.
This article has been updated with additional comments from Nunes.
Popular in the Community