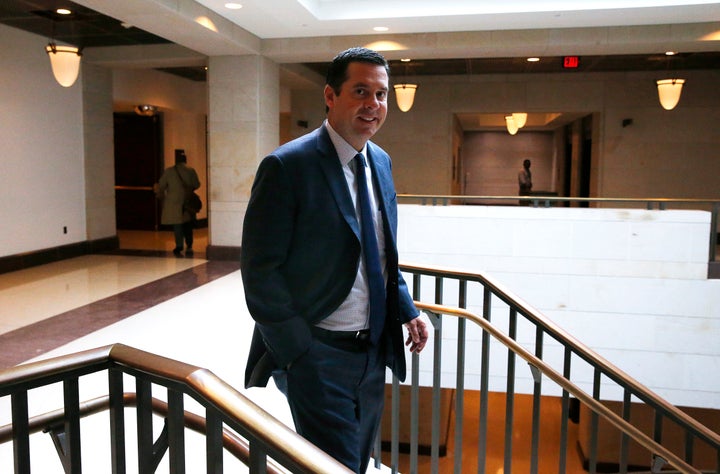 Rep. Devin Nunes, one of President Donald Trump's staunchest defenders in Congress, has sought to turn his own unapologetic campaign against special counsel Robert Mueller's probe into a cash advantage, and it's working out pretty well.
The chairman of the House Intelligence Committee raised $6.25 million during the first half of the year, much of it through an email and direct mail campaign in which the California Republican touted a Trump tweet that referred to him as a "Great American Hero."
Nunes' fundraising campaign echoes his strategy in Congress, painting investigations of the Trump campaign's links to Russia as a Democratic conspiracy. In a recent fundraising letter provided to HuffPost, Nunes wrote that Democrats "have become unhinged" because he stands up for Trump in the face of the special counsel's probe into Russian interference in the 2016 election.
"In standing up for transparency, the truth and the Constitution, I have earned the hatred of the revenge-driven members of the Democratic leadership cabal and the Far Left media," wrote Nunes, who also served on the Trump transition team.
But in recent weeks, Nunes' opponents have raised questions about the way the congressman has spent political funds. His big numbers were made public a few days before McClatchy reported that Nunes has been accused of misusing nearly $15,000 in donations to his leadership PAC to pay for Boston Celtics tickets, winery tours and Las Vegas trips.
"I doubt his campaign donors intended their donations to be used for personal and lavish expenditures like basketball tickets and expensive wine tours," Andrew Janz, Nunes' Democratic challenger in the November election, said in a statement to HuffPost. A recent poll showed Janz trailing Nunes by just eight points in a heavily Republican district.
"Devin Nunes represents everything that is wrong with Washington and career politicians," Janz said. "By taking money from large corporations and special interest groups it's clear that he works for them and not us."
Nunes' office typically ignores media inquiries that don't come from conservative outlets, and Nunes brushed off a McClatchy reporter who confronted him about his PAC spending.
Liz Mair, a Republican strategist with the anti-Nunes Swamp Accountability Project, said the congressman was using his "tax-exempt political entity like a personal slush fund."
"Dirty Devin Nunes has perfected the art of converting attacks on the DOJ and the Democratic leadership 'cabal' (his actual word choice to describe people like Chuck Schumer and Adam Schiff) into whopping, great loads of cash naively donated by Republicans thousands of miles away from places like Fresno, Visalia and Tulare," Mair said in a statement. Her group has been running ads against Nunes, including radio spots that target his silence on the Trump administration's separation of migrant families.
Nunes retains the advantage in his California district, where Trump beat Hillary Clinton by nearly a 10 point margin. But Janz, a county prosecutor, has raised four times more than all seven of Nunes' previous general election opponents combined, according to the Fresno Bee.
In defense of Trump, Nunes has targeted law enforcement officials. He has threatened to hold Deputy Attorney General Rod Rosenstein ― a lifelong Republican who was appointed by Trump ― in contempt of Congress. House Republicans even drafted articles of impeachment against Rosenstein. Republicans also accused the deputy attorney general of "threatening" GOP congressional staffers during a meeting earlier this year, a claim denied by the other Republican law enforcement officials in the room.
Ryan Reilly is HuffPost's senior justice reporter covering the Justice Department, federal law enforcement, criminal justice and legal affairs. Have a tip? Reach him at ryan.reilly@huffpost.com or on Signal at 202-527-9261.
Popular in the Community