WASHINGTON ― A combative Rep. Devin Nunes (R-Calif.), the chairman of the House Intelligence Committee, came before the press on Monday to swat down reports that he inappropriately worked to counter stories about Donald Trump's ties to Russia at the White House's request and to once again dismiss calls for a special investigation into those ties.
Democrats have openly questioned congressional Republicans' abilities to properly investigate Trump, considering their ties to him. So when the Post reported that the White House had asked Nunes, a Trump campaign surrogate and a member of the transition team, to talk to a reporter, it bolstered the argument that the intelligence chairman isn't up to the job of investigating the White House's ties to Russia.
Over the course of his 38-minute press conference, Nunes argued it wasn't a big deal that the White House had put a reporter in touch with him. "That story was a little odd, I thought," he said. "Because if you asked me to contact the White House, and said, 'Hey, could you set me up with someone at the [Department of Defense] or the intelligence agencies,' I would say, 'Sure.'"
Nunes contended that his relationship with the White House ― and, before that, with the Trump campaign and transition team ― had not compromised his ability to investigate Trump's ties to Russia. He also challenged a key premise of the Post's story: that Trump administration officials had recruited him to knock down reports of contact between Russia and the campaign.
"That didn't happen. That absolutely didn't happen," Nunes said.
He did acknowledge that the White House had asked him to convey unclassified information about the Trump campaign's contact with Russia with a reporter ― that is, that there was no known, substantial contact ― but he pointed out that he had already been doing that with reporters on Capitol Hill.
"What I've been told by many folks is that there is nothing there," he said.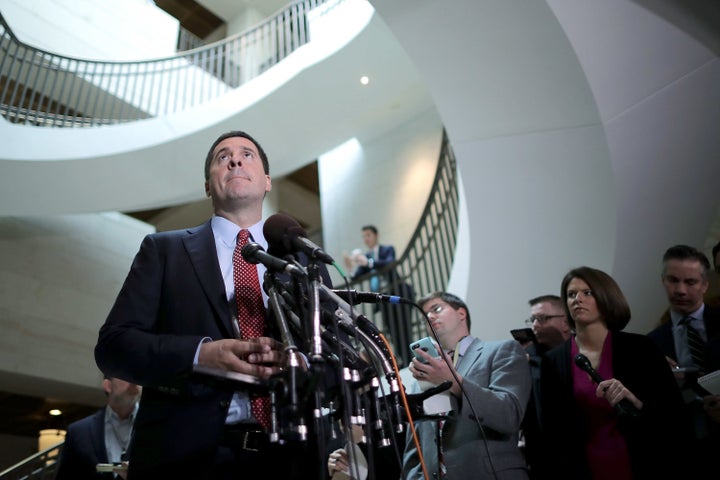 The Intelligence Committee is investigating Russian attempts to influence the U.S. presidential election, as well as potential communications between Trump's associates and Russian intelligence officials. But Nunes said he's not aware of any evidence showing contact between Russia and the campaign.
Yet Nunes did say he and his committee had not ruled out everything, and that it was clear Russia has long shown interest in manipulating elections and the press.
"But, at this time, I want to be very careful that we can't just go on a witch hunt against Americans because they appear in news stories," Nunes said, specifically mentioning former Trump campaign manager Paul Manafort, who was identified as one the officials talking to Russia.
Nunes disputed the New York Times' report that the Trump campaign had repeated contact with Russian officials over the phone. "As of right now, I don't have any evidence of any phone calls," he said.
The California Republican has seemed reluctant to investigate Trump, though he insists the Intelligence Committee has been working diligently behind the scenes to check out reports of Russian election meddling.
When a reporter asked why there shouldn't be a special independent investigation, Nunes said the history of those special investigations and prosecutors were mixed and they would simply be chasing stories.
Nunes did speak about one aspect of recent Trump controversy he is interested in: leaks.
He said he was concerned the press had learned that Michael Flynn, Trump's future national security adviser, had discussed details of U.S. sanctions against Russia with the Russian ambassador prior to Trump's inauguration. When it emerged that Flynn had lied to the press and the vice president about that discussion, he was forced to resign.
While Nunes was very interested in finding out who leaked details of Flynn's call to the press, he wasn't concerned that Flynn had potentially undermined the Obama administration's policies by promising to undo sanctions against Russia.
"I don't know that that's what was said, but if that was said, I don't know what the problem would be with that," Nunes said.
When one reporter pressed whether one administration negotiating against the other would be a violation of the Logan Act, which prohibits unauthorized individuals from negotiating with foreign governments, Nunes sneered.
"So you want to investigate a Logan Act? You're a Logan Act guy?" he asked.
Another reporter replied that it was the law, but Nunes wasn't having it.
"It's ridiculous," he said. "The Logan Act's ridiculous. You guys all know that's ridiculous."
Popular in the Community