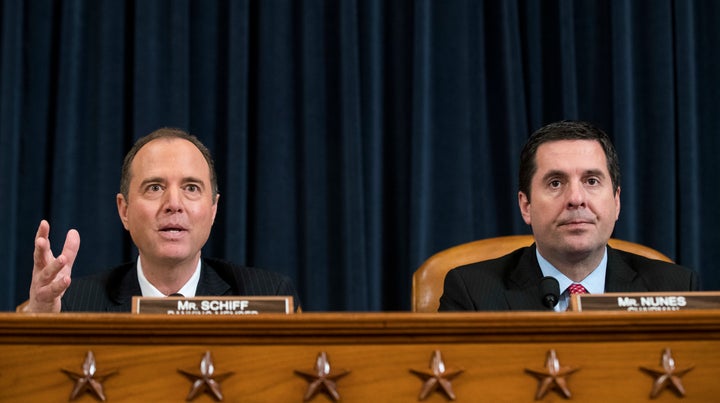 WASHINGTON ― Nearly two months after recusing himself from leading the House Intelligence Committee's Russia investigation, Chairman Devin Nunes (R-Calif.) is "still requiring his sign-off" on all subpoenas pertaining to the probe, the top Democrat on the panel says.
After Nunes stepped aside in April, Rep. Mike Conaway (R-Texas) took over as head of the committee's investigation on Russian election interference and possible collusion with President Donald Trump's election campaign. But Nunes has so far refused to fully hand over subpoena power to Conaway, said Rep. Adam Schiff (D-Calif.), the ranking Democrat on the House panel.
"What I've been urging is power be delegated to Mr. Conaway since the chair recused himself," Schiff told HuffPost in an interview Friday evening. "The chair has not been willing to honor that part of his commitment so he's still requiring his sign-off."
The House intelligence panel can issue subpoenas two ways, according to committee rules. The Chairman can authorize a subpoena, "upon consultation with" the ranking minority member, or the full committee can approve a subpoena with a majority vote. (There are currently 13 Republicans and nine Democrats on the committee.)
The committee issued a series of subpoenas related to the Russia investigation on Wednesday. Four came from Conaway and Schiff, requesting information from Trump's lawyer Michael Cohen and Michael Flynn, his former national security adviser. Before issuing those subpoenas, Conaway and Schiff first had to submit a letter to Nunes, requesting his sign off. Conaway did not immediately respond to a request for comment.
CNN previously reported that Nunes maintains a role in deciding whether to issue subpoenas and is still viewing intelligence related to the probe. But Schiff's interview with HuffPost is one of the strongest confirmations to date that Nunes is requiring final "sign-off" on all subpoenas pertaining to the investigation.
Nunes also issued his own subpoenas earlier this week, focusing on requests from former Obama administration officials to "unmask" the identities of Americans whose names showed up in classified surveillance reports. That topic first surfaced in March, after Nunes received intelligence information from the White House and used the information to accuse the Obama administration of improperly spying on the Trump campaign. (Committee members from both parties later viewed the intelligence material and said the unmasking requests looked to be routine.)
In what appeared to be a breach of committee rules, Nunes issued those subpoenas "unilaterally," without consulting Schiff, the ranking Democrat said.
It is not clear why Nunes issued subpoenas related to unmasking requests. As the head of the committee tasked with overseeing the intelligence community, Nunes could have asked for a briefing from the relevant officials without a legal summons.
"That does strike me as out of the ordinary," said Matthew Olsen, the former general counsel for the National Security Agency on Thursday, referring to Nunes' subpoenas. During his time at the NSA, officials went to Capitol Hill to brief the House and Senate intelligence communities "all the time, on a weekly basis," Olsen said. "This would be an issue within the purview of their oversight," he added.
Intelligence agencies are "fully cooperating" with requests for information from the panel and that there was "no basis" for Nunes' "use of compulsory process," a committee aide told HuffPost.
Nunes had said that he still sees a role for himself on aspects of the committee's probe, despite publicly stating that he would recuse himself in April. "Simply put, I'm still the chairman of the Committee," he told Fox News last month. "The way to look into this is that I'm still read into everything, but ... I was going to set at least the Russia investigation aside because I didn't want to become the face of this investigation. But everything else, I'm still in charge of … especially the unmasking."
The House Ethics Committee is investigating whether Nunes violated classified information when accused former Obama administration officials of wrongdoing, citing intelligence reports.
Nunes did not respond to a request for comment. He dismissed concern about his decision to unilaterally issue subpoenas as "fake news" in a Tweet on Thursday.
Before You Go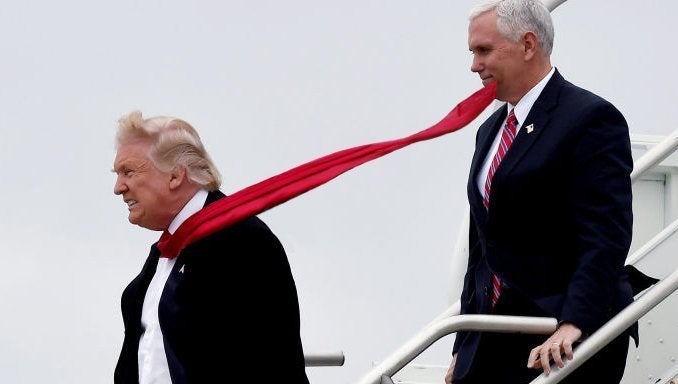 Trump's Ties
Popular in the Community