"Devious Maids" may have made history with its all Latina cast on Sunday, but critics refuse to budge insisting that the show's portrayal of Hispanic women perpetuates stereotypes and is "disappointing."
With five Latina stars comprising the main cast --Edy Ganem, Ana Ortiz, Dania Ramirez, Judy Reyes and Roselyn Sánchez -- the show has been praised by some within the Hispanic community for its cultural breakthrough. Yet the series, created by Marc Cherry ("Desperate Housewives") and Executive Produced by actress Eva Longoria, received a slew of backlash leading up to its official June 23 premiere.

"I think that the bigger problem is that unfortunately because this is consistently the only way that Latinas are represented, this stereotype has become reality for many Americans," Media Consultant Galina Espinoza told Hill during the segment, referring to the characters' jobs as maids for Beverly Hill's wealthiest residents. "And this was an opportunity for someone who is a leader in the community [Longoria] to really show who Latinas are today and to show us as not being that. And it is, I don't know if I would call it a wasted opportunity, but it is certainly disappointing."
Supporters of the show, like Entertainment editor Lee Hernandez, point out that the characters' jobs don't make their stories any less important within the community.
"I think that when you say Latinas are just maids or why are Latinas playing maids or can't we be something better, I actually think there's a lot of snobbery attached to that because let me tell you something I knew a lot of maids and I know a lot maids," Lee told Hill. "What I'm saying is why not tell their stories?"
In response to those who support "Devious Maids" because it showcases Latina talent for the first time on Primetime, author Alisa Valdes pushed back with her own previous experience working with Lifetime. Valdes recounted the process of producing and writing a show based on her book "The Dirty Girls Social Club," a novel about six Latina professionals living in Boston.
"I was told that the pilot wasn't believable because it read just as if it was about 'me and my friends.' And it needs to be more 'Latina.' I said 'the six lead characters are Latina, what more do you want?' and she said 'let's have them doing something that I know you guys do, like Black women do'," Valdes told Hill. "This is exactly what she told me, 'and I said like what?' and she said 'can we please open the show with the girls debating whether to date men in prison because I know that you guys talk about things like that'."
Valdes not only criticized the series' creators and producers for being unable to present a less stereotypical portrayal of Latinas but questioned the motives behind the support some Hispanic groups have given "Devious Maids."
"It's absolutely despicable that these so-called Hispanic watchdog groups are defending this network, sickening they could not put a show on the air about professional women," Valdes continues. "Eva Longoria is cynically choosing to play by the rules that exist. I would ask the media group that's here whether they've ever received any money from Eva Longoria."
Executive Vice President of the National Hispanic Media Coalition Inez Gonzalez chimed in to respond to Valdes.
"I am very insulted with the insinuation and disregard for 27 years of Civil Rights work."
Check out highlights of the HuffPost Live segment above and the full segment below. Take our poll and let us know what you think of "Devious Maids" in the comments.
Before You Go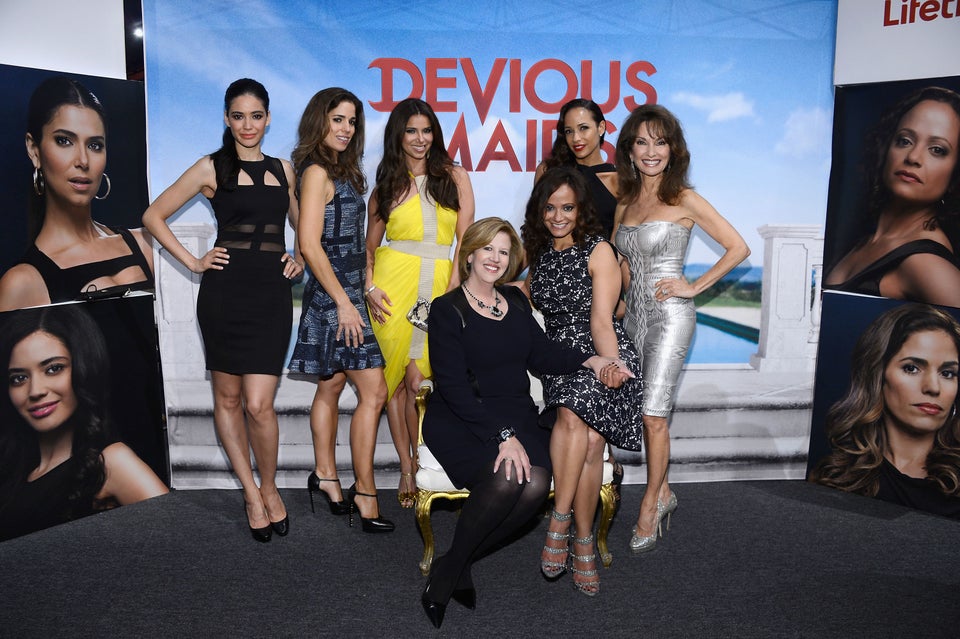 "Devious Maids"
Popular in the Community