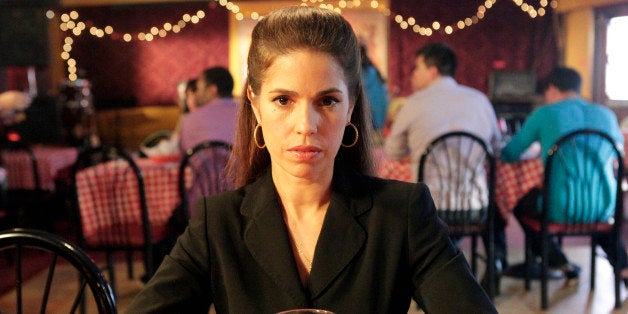 Ana Ortiz leaves no stone unturned in this intimate interview where she reveals what she's learned about herself since taking on the role as Marisol Suarez in the hit Lifetime show "Devious Maids."
We came to know the beautiful and talented Ortiz from her days on "Ugly Betty," as Betty's older sister Hilda Suarez. Now, she's starring as another Suarez, Marisol, who's one of five Latina maids working in Beverly Hills.
Aside from devoting her time to her new show, Ortiz is working with Campbell Soup on their "Wisest Kid In the World" campaign to promote healthy choices for kids. This mother of two knows from experience how hard it can be to prepare healthy meals for her kids. So she turns to 'Wisest Kid," which offers recipes, tips and advice for parents online.
However, most critics' negative reactions to the show were based off of a seductive trailer released prior to it airing. Ortiz says there's much depth to the show's characters and story, more than we can imagine. And the second season will have viewers on the edge of their seats.
"It's going to get cra-zy," Ortiz said.
She also had some surprising things to say about what this groundbreaking show means to Latinos in television. Here's more on my interview with Ana Ortiz:
Q&A with 'Devious Maids' Ana Ortiz
VOXXI: You once said, "There's a responsibility and honesty we bring to these characters." What did you mean by that?
Ana Ortiz: It's the responsibility we feel as Latinos in the first show with an all-female Latina lead cast. We also felt a responsibility to these characters and these women as a whole because they are the people who go unseen, but they have these full lives that don't get lauded like they should. These are really complicated and incredible women.
It's a great honor to play them and with that comes a big responsibility.
VOXXI: What was your reaction when you first heard about the show and read the script?
AO: My first reaction when I heard about the show… I only heard the title, so I think I reacted the same as everybody else. I rolled my eyes, I sucked my teeth, I was like "really." I had that reaction, so I understood why people reacted that way. The difference is that when I read the script and I found out about the other actors who were interested, I knew we had something really special. And I really wanted to be part of it. So for me it was a question of reading the script and getting together with these incredible women.
VOXXI: What does this show mean in the grand scope of Latinos in television?
AO: Now that we've had such a huge success… it means that this going to keep happening, that this is the future. We are not going to see shows that don't have any diversity, shows that look at only one point of view, shows that are two-dimensional.
It started a while ago but this ["Devious Maids"] has been the real glass-ceiling crusher.
I hope that our success leads to more shows with people of color and ultimately I want television to represent the world we live in.
VOXXI: What are your thoughts going into the second season of "Devious Maids"?
AO: I feel like the first season we, in a certain way, "played it safe." The first season is great, I love it and I am so, so proud of it. I couldn't be more proud. But that being said, we all didn't know what was going to happen. We pushed the envelope, but not as much as we could have. That's why I'm so excited about the second season because now that we have the success, I think we will have more freedom to really push the envelope and to explore who these women are and to get into their lives and have a lot more fun with it.
VOXXI: What has the show taught you about yourself?
AO: The show has taught me to believe in myself and to trust my instincts—to follow my heart.
It was a real blessing to have Judy [Reyes] and Rosalyn [Sanchez], Dania [Ramirez] and Edy [Ganem] to lean on, and to go through this together. And Eva [Longoria] because she really had our backs. She was a rock for us. It taught me to trust my instincts because I liked the show and we all made a lot of sacrifices to make it. We all thought it was worth it.
You never know what is going to work and what isn't, but I trusted my intuition and I'm glad I had this team of people to be with me through this. I learned that I have some really amazing, incredible friends in these women.
VOXXI: What can viewers expect with the second season of "Devious Maids"?
AO: Marc Cherry loves to keep his cards close to his chest, so he doesn't tell us a whole lot. I can tell you that everything is going to be upside down. I don't know if I'm going to be a maid next season because I've been exposed and the murder was solved. So I don't know what's in store for Marisol. I do know that I am going to have a love interest. I'm excited about that. I think we are going to go a lot deeper with these ladies. It's going to get cra-zy.
REAL LIFE. REAL NEWS. REAL VOICES.
Help us tell more of the stories that matter from voices that too often remain unheard.
BEFORE YOU GO
PHOTO GALLERY
"Devious Maids"