Ohio art rockers Devo were always known for pushing boundaries and definitely thinking outside the box. Now, nearly 35 years after the band's 1980 debut Freedom of Choice, co-founder Gerald Casale has launched his very own wine brand, The 50 By 50--a 23-acre property in the Wooden Valley of Napa, CA. You might expect a bold and daring varietal from such a creative force but instead he opted to produce his "vino" obsession, Pinot Noir.
"They tell writers, 'Write what you know,' so I started with Pinot Noir grapes because I love them," Casale explained about his new wine.
A self-described "Pinot Noir junkie," Casale, who grew up in Kent, Ohio, still recalls his first encounter with wine. Back then, a young Casale said "cheese was Velveeta" and he drank Coca-Cola and Gordon's Gin.
"I hated the wine and cheese people," Casale recalled. "I didn't understand them at all. But when I went to Kent State University, I met a lot of students from update New York and they turned me on to some big time Château Lafite Rothschild. But when it all really started is when Devo signed to Warner Brothers Records and moved out here from Ohio. California was like another country and we plopped right down in the middle of food and wine revolution. Being in California was like being in your own Italy. The food was tremendous and California wines were starting to win awards and there was an explosion of critical acclaim and acceptance by Europe. It was fantastic."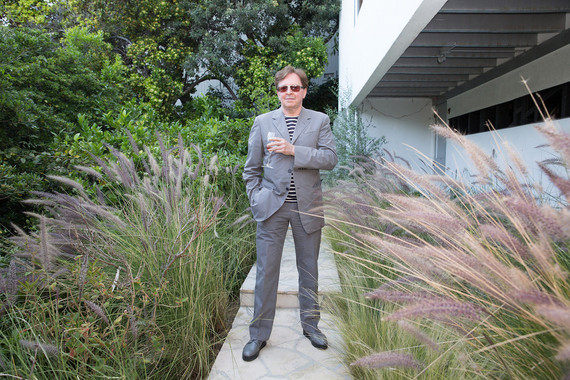 In fact, the new wave musician became friendly with a new wave of chefs inventing California cuisine, including Michael McCarty (Michael's), Bruce Marder (Brentwood Restaurant, House Café), Wolfgang Puck (Spago, Wolfgang Punk, Chinois on Main), Piero Selvaggio (Valentino) and Jeremiah Tower (Stars), among others. From there, the wine fan admitted he "drank my way to knowledge" and became a wine expert.
"I took it beyond fandom," Casale said. "In my younger days, I liked all the big concentrated, fruit forward wines that people go nuts for--great big Syrahs, and Cabs that punch you in the face. And as I drank and drank and drank my way through life, with more and more knowledge, and not just anecdotal but by studying, I was drawn to Pinot Noir. It's the same way I learned to play music. You're a fan; you're drawn to it; you're amazed by the creativity and then it makes you want to do it. And then you have to find out how to do it and you start respecting the work it takes. Music, you learn how to finger a guitar and make chords, and then you have to go beyond all that and create something. Wine and music are the same thing."
Devo co-founder Mark Mothersbaugh explained during a recent wine tasting that the members of Devo were lucky to have Casale to educate them and provide them with quality wines.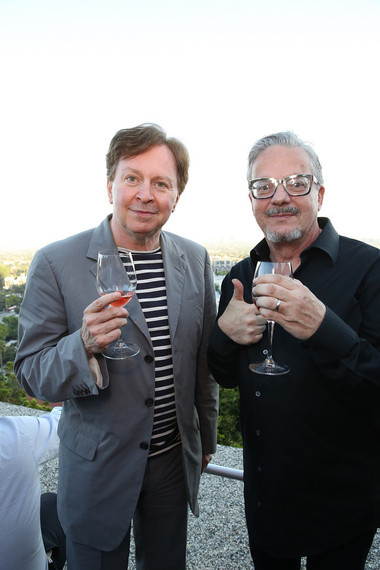 Now, The 50 By 50 has just released its 2012 Sonoma Coast Pinot Noir, and 2013 Sonoma Coast Rosé of Pinot Noir. The grapes for the tasty and young Pinot Noir were first picked back on October 6, 2012 and spent eleven months in French oak barrels and six months in wine bottles. All the while, the musician turned winemaker was hands on.
"I was very hands on," Casale said of the wine-making process. "Coming from my background, you're automatically suspect of being some idiot poser that just wants to slap his name on a label and knows nothing about wine. I'm not like that; Devo was never about that. I was really serious and was there a lot all through the process.
"It was such a great growing year and a beautiful season that we didn't even have to manipulate the wine and stuck with the essence of the juice and just let it be what it is," Casale continued. "I think part of the lushness comes from the fact that I used two Pinot Noir clones, and we kept them separate the whole time they were fermenting. And towards the end we just started blending. And it just so happened that a 50/50 blend made everybody smile."
A boutique label just getting its feet wet, only 280 cases of the Pinot Noir, and 60 cases of the Rosé, were produced. Proud winos who love to pair wine with food are in luck according to Casale, who pointed out that his wine pairs deliciously with a several dishes, including thin crust pizza with fontina cheese and shitake mushrooms; roasted beets the way Wolfgang Puck used to do it--sliced in a parfait tower with goat cheese and chopped mint; and a nice piece of grilled salmon.
A famous musician who has toured the world several times, Casale admitted he was nervous when opening his first bottle to taste. "I was scared like when Devo was new and we were playing out in clubs and my stomach would start turning over before we went onstage."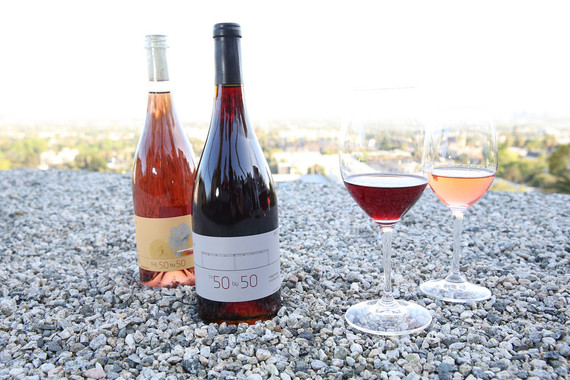 And just like taking his music to the masses, the communal experience of people drinking his wine is an experience Casale does not take lightly.
"When you share it with people and you're all drinking the same wine, it's a ritual. And so is music when people gather and you play songs. And each time you play those same songs, it turns out differently. And it's the same way with wine. There's an inverse relationship with music, at least our music, Devo music, and wine. Devo was truly in the post modern, tongue and cheek world and we were talking about things and deconstructing things, and wine puts it all back together. It's timeless in another way. Ritual is what we need as humans to make us responsible and connected to nature. Religious rituals, eating and drinking rituals, sex rituals--these are the things that keep the human organism in a community."
Calling all HuffPost superfans!
Sign up for membership to become a founding member and help shape HuffPost's next chapter