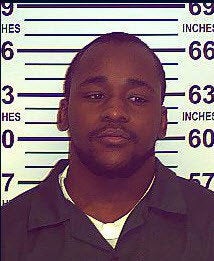 In 2010, Devon Callicutt was convicted of the 2008 murder of college student Richard Bailey, according to the Troy Record. However, when Callicutt was found guilty, he was already serving time for an unrelated offense--attempted criminal possession of a weapon. He had been arrested for this earlier crime on November 30, 2008, and was in the midst of a five-year sentence when he was convicted of killing Bailey.
Callicut's lawsuit is strictly in reference to this earlier offense. The 22-year-old claims he suffered "physical, emotional and mental injuries" following the arrest.
Callicutt, who is representing himself in the lawsuit, says that police pushed him to the ground, which made his gun fire accidentally. In a handwritten federal complaint, Callicutt wrote that he threw his gun away and surrendered to officers, who continued to beat on him.
The plaintiff claims that police officers held his legs and punched, pistol-whipped and Tasered him until he lost consciousness.
He's seeking $100,000 total in compensatory damages from the six officers, and an additional $10,000 from each defendant in punitive damages. Callicutt is also requesting "other relief as it may appear that plaintiff is entitled."
The City of Albany is asking Magistrate Judge Randolph Treece to dismiss the suit, saying that Callicutt did not file it within the proper three-year statute of limitations, Deputy Corporation Counsel Tara Wells told the Times Union on Wednesday.
Callicutt is currently serving a life sentence without parole at Southport Correctional Facility in Chemung County for Bailey's murder, according to the New York State Department of Corrections.
Bailey was shot in the head during a failed street robbery in October 2008. Two of Callicutt's co-defendants, Ricardo "Rico" Caldwell and King "Cokilla" Modest, cut plea deals and testified against him.