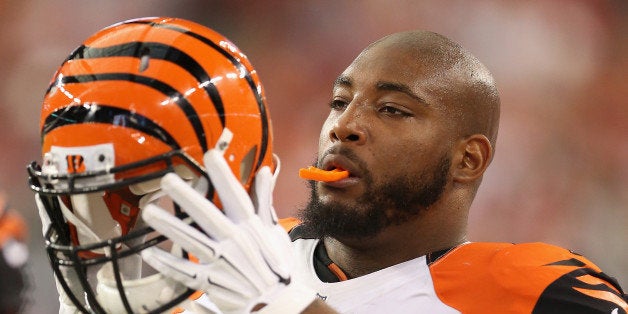 After his four-year-old daughter was diagnosed with a rare pediatric cancer, Cincinnati Bengals defensive tackle Devon Still understandably couldn't focus enough on football to make the team's 53-man roster this season.
"They could have washed their hands with me and said they didn't care about what I was going through off the field," Still told ABC News. "It's like a blessing in disguise for me."
His practice squad position pays $6,300 per week in salary, doesn't require Still to travel to games, keeps him from having to move to a different team, and includes full health benefits, the station reports.
The last part was most crucial for Still, who on June 2 found out his daughter Leah, below, was diagnosed with stage 4 neuroblastoma. After the devastating news, Still's focus turned from football to family, and as a result his performance on the field suffered. He left the team's minicamp practices to split time between his home in Delaware and Leah's treatment facility in Philadelphia, ESPN reports.
"I can't give football 100 percent right now," Still told The Cincinnati Enquirer. "In the business aspect they want guys to solely focus on football, which is understandable. We are here to win this city a Super Bowl and right now I am not in a position where I can give football 100 percent of everything I have."
Lewis told the paper he believes Still will eventually rejoin the roster.
"We have two good quality guys [including center Trevor Robinson] who at some point will be on the 53-man roster, almost undoubtedly," Lewis told the Enquirer. "We're fortunate enough to have them here right now as reserves for us."
Still was drafted 53rd overall by the Bengals back in 2012. Last season, the former Penn State captain injured his elbow and suffered a herniated disc in his back; during a preseason game this year he injured his hamstring and has since been sidelined, the Enquirer reports. He has an even bigger challenge ahead.
"We're going to go to battle with cancer," Still said. "She's willing to put up a fight to beat it."

Related