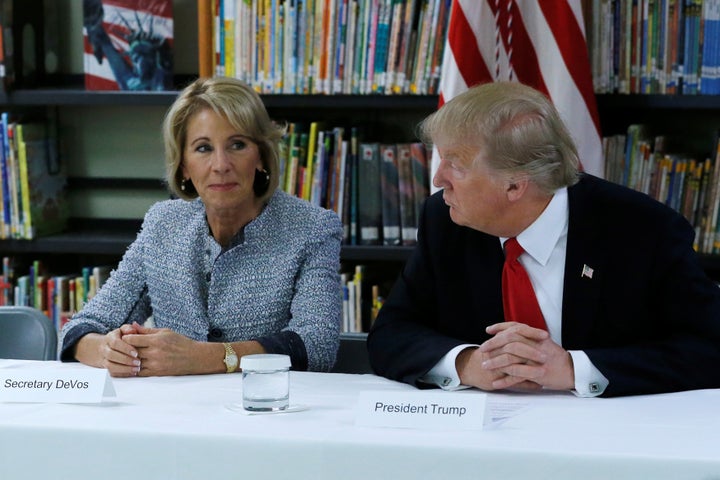 Weeks after President Donald Trump's administration rescinded an Obama administration guidance protecting transgender students, a group of Democratic senators are demanding that Education Secretary Betsy DeVos explain how she plans to defend the rights of these children.
Several Democrats on the Senate Committee for Health, Education, Labor and Pensions sent DeVos a letter Friday asking for a briefing with her to better understand how she will enforce civil rights for all students. The letter headed by Senator Patty Murray (D-Wash.) also featured prominent Democratic co-signers like Sens. Al Franken (Minn.) and Elizabeth Warren (Mass.). Their message expressed outrage at the secretary's decision to rescind the guidance, and says the move has sent schools around the country into a tailspin of confusion. The letter also asks DeVos to respond to written questions over how she plans to enforce Title IX for all students by the end of March.
The letter comes after a whirlwind week for transgender students and their families. On Monday, the Supreme Court decided not to rule on the case of Gavin Grimm, a Virginia teen whose school does not allow him to use the bathroom that is consistent with his gender identity. The Supreme Court cited Trump's decision to revoke the guidance as a factor in its decision.
""By revoking the transgender guidance, you have put the safety and well-being of transgender students at risk,""
DeVos has not made her opinions on this issue clear. While she has publicly stood by the decision to revoke the Obama guidance, calling it an example of federal overreach, various reports say that she privately opposed the move. The letter from the senators addresses these rumors, saying that "the suggestion that the Department jeopardized the health or well-being of any student because of political pressure is extremely alarming."
DeVos has repeatedly said that she still plans to make sure LGBTQ children are provided with a safe learning environment. In a statement released following the rescission, DeVos said the "this is an issue best solved at the state and local level." She has also emphasized her commitment to fulfilling a federal mandate and "moral obligation" to protect all children. However, the letter from senators also call these statements misleading and deeply problematic considering the recent repeal.
Senators are now pressing DeVos to explain how transgender students have been made safer through the revoking of Obama's guidance, as well as how the withdrawal of this guidance is compatible with her department's "federal mandate" and "moral obligation" to defend students. It also asks for her to elucidate how the decision to revoke this guidance was made and whether or not any transgender people were consulted in the process.
Further, the senators press her on how the Department's Office of Civil Rights will make sure transgender students' rights are protected.
"By revoking the transgender guidance, you have put the safety and well-being of transgender students at risk," the senators wrote in the letter.
After meeting with DeVos Wednesday, parents of transgender students told The Huffington Post that DeVos was attentive and respectful of their concerns. The secretary also said in a statement that she was "grateful for the opportunity to speak directly with these families, students and community leaders," adding that she is "committed to advocating for and fighting on behalf of all students."
Popular in the Community