What do you get when you take 12 of Miami's best chefs, a playground of duck and champagne showers? How about Duck, Duck Goose?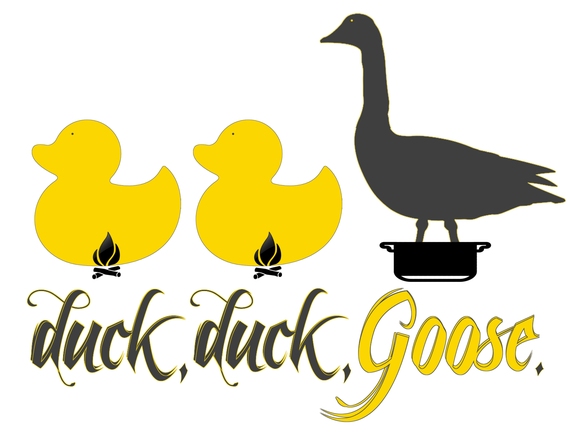 For the past 6 years, Chef Jeremiah Bullfrog of mobile masterpiece gastroPod, has brought together all sorts of pig admirers for the wildly successful, event PIG (pork is good). This Saturday, he will be introducing something new to the game - Duck, Duck, Goose. Yes, circles will be run but, only around the dishes you will be exploring from some big names in Miami like Brad Kilgore (Alter), Aaron Brooks (EDGE Steak & Bar), Steve Santana (Taquiza), Will Crandall (Izzy's) and Patrick Rebholz (Quality Meats) just to namedrop a few. From 5-9 PM, guests can devour everything duck from the star studded crew of 12 as they skillfully slay locally raised and pastured fowl from Lake Meadows Naturals in Ocoee, Florida. Yes, these are webbed footed creatures from Florida.
If that hasn't grabbed your attention John Lermayer of Sweet Liberty will be doing what he does best - luring the crowd with his lucrative libations...not that it will be that hard. I got to discuss duck with the head honcho of gastroPod himself.
So, you have made most Miami a giant fan of PIG. Why are you choosing Duck?
You always hear about Long Island Duck, but we have these amazing poultry being raised here in Florida by Lake Meadows Naturals. I want Miamians to know we have some great fowl right at our fingertips.
What's the biggest difference between eating duck and goose?
Geese are much larger and fattier than duck. For the most part, in our culture it is a very under represented meat, whereas it is mostly considered for the holidays. For DDG we are focused on goose liver aka Foie #foielife.
Which dishes are you the most excited to try?
Aaron Brooks and James Strine always come to impress. I'm also looking forward to some new additions to the roster like Cake and Gabe Ask of Faena.
When preparing duck, what are some of the most common mistakes?
Duck needs to be cooked properly so that the fat renders out. Start it slow and low and keep it steady.
Any word on what libations John Lermayer is pouring?
Word on the street is the Pisco and cachaça will be flowing.
A lot of people like to serve duck with something fruity, what's your preference?
We are going to cook a bunch of duck over live ember fire on strings so they are nice and smoky.
Your favorite drink to pair with duck is.... Bubbles
Are there any tricks up your sleeves for the fest?
I'm bringing the heat with a spin on Mapo Tofu inspired by Poutine = Ma'po.utine
After Duck, Duck,Goose, are there are any more projects you can dish about?
A New Orleans style Shrimp Boil with Kurtis Jantz and Uncle Scotchy is next: June 17th. PIG 7 is in November. And talk of Lamba, Lamba, Lamba has begun...
In addition to a mouthwatering selection of all-you- can-sample food and drinks, guests of all ages will groove to a live jazz trio and surprise special guests. Tickets are $59 and can be purchased at https://www.eventbrite.com/e/duck-duck- goose-tickets- 24992462127.
Duck Duck Goose will be held on Saturday June 4, 2016 from 5 to 9 PM at the newly expanded gastroPod lot, located at 168 NW 26th Street in Wynwood.
Related