"Dexter" fans are currently halfway through the show's eighth and final season and as the Miami Metro team heads toward its end, the brains behind the Showtime serial killer drama are facing the reality the fans might not all love the "Dexter" finale.
Though she and the rest of the "Dexter" creative team "hope fans will think it's right," she realizes that "there will be people who hate it."
Colleton continued, "At the end of the day, we would rather go down with what we feel is right than try to figure out how to make everybody happy ... We feel that we've pulled off what we wanted, and that is what we needed to feel."
In late June, Colleton told The Hollywood Reporter, "We all know that no matter what we do there are going to be a lot of people who are unhappy with [the 'Dexter' finale]. We're trying to not think about that and just think of what everyone who has been on the show from the beginning feels is right and that's all we can do. No matter what we do we'll still be excoriated."
When HuffPost TV asked Michael C. Hall, who plays the titular character, if he hopes "Dexter" has a more definitive finale than "The Sopranos" did, he had this to say: "Yes, to a degree. I think the other side of the spectrum as far as definitive endings go, would maybe be the 'Six Feet Under' finale, in which you flash-forward and see all the characters you've spent time with actually die. That's pretty definitive. I think the 'Dexter' finale will probably land somewhere in between. There will definitely be some grey areas -- the show has always operated in that way. I don't think it will be neat and tidy and wrapped up in a bow, but at the same time, there are some pretty decisive and bold storytelling choices that have been made, and hopefully, [they] will give people a dynamic experience. Whether all questions will be answered, I don't know if this is a show that ever intended to do that."
"Dexter" airs on Sundays at 9 p.m. ET on Showtime.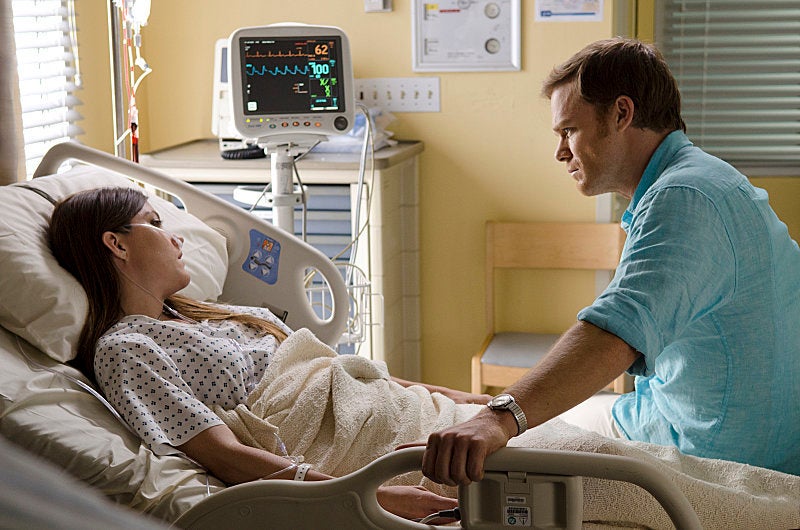 'Dexter' Season 8 Photos
Related
Popular in the Community