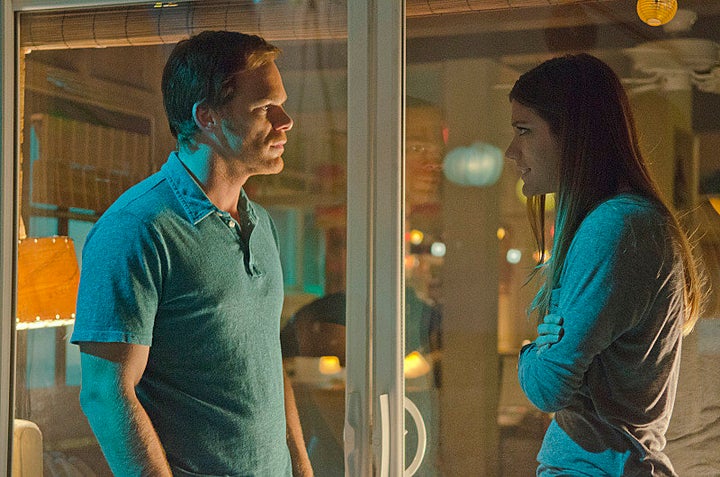 Note: Do not read on if you haven't seen Season 7, Episode 8 of "Dexter," titled "Argentina."
Deb - Dex Drama:

Congratulations to whoever had Episode 8 in their "When will 'Dexter' drudge up the semi-incestuous Deb-is-in-love-with-Dexter storyline from last season" office pool.

"Argentina" went back to that strange, sexy, foster-sibling love territory when Deb finally realized that Dexter manipulated the evidence in the Hannah McKay case because he's been sleeping with her, not because he's saving her for his table. (He already did her there last episode.) When that revelation stirred up some jealous feelings, Deb finally confessed to Dexter that she's in love with him.

So we now have a brother-sister-serial-killer-cop-other-lady-serial-killer love triangle on our hands. To recap: Dexter was going to kill Hannah, then he decided to have sex with her instead. After Hannah killed Deb's new boyfriend, Deb asked Dexter to kill Hannah. Dexter told her he couldn't because he's been sleeping with her. Deb told Dexter she was in love with him. It's almost as weird as the Petraeus scandal.

As usual, Deb summed up things well. "I mean it's one thing to be in love with your brother, but it's a whole other level to be in love with your brother who's a god damn serial killer. You're a serial killer and I'm more fucked up than you are."

But Dexter was too shocked to do anything other than apologize or say, "I don't know what to say." So she kicked him out, and Dexter returned to Hannah's greenhouse of love while Deb took a rip of Astor's joint on the back porch.

The whole thing kind of felt like a soapy step back for the show, which has been rejuvenated in its seventh season thanks to the push-and-pull between Deb and Dexter that's been focusing on how she would handle learning he's serial killer. And now, just when the characters have come to terms with that dynamic, the writers dropped the ol' incest bomb again.

I will say that I'll be impressed with the writers' gumption -- though not necessarily their wisdom -- if they steer the show into the genuinely bizarre territory that would result from Deb and Dexter actually sleeping together. I don't think I can handle a will-they-or-won't-they storyline hanging over the show for its final season and a half. If they're going to go there, better to rip that dirty band-aid off quickly. On other hand, after the mother-son sex scenes between Gillian and Jimmy Darmody last season on "Boardwalk Empire," premium cable incest is last season's news. I suspect they'll move away from this plotline as quickly as they did last season.

Kill Of The Week:

Circo took a few shots at Dexter in the doughnut shop around the same time his No. 2 was mounting a plot to take Circo out. His obsession with Dexter has grown into a liability for the Koshkas, even if Circo is the boss. So when Dexter showed up at Circo's apartment to finally finish the feud, he ran into the hitman sent by the Koshkas. But instead of "going halvsies" on the hit, Dexter went and slit his throat.

Later, Dexer and Isaak met up a gay bar, and shared what feels like their fifth philosophical conversation as they try to kill each other. "It's a shame really. I think under different circumstances I think we could have been great friends," Isaak told him. This has got to be the most gentlemanly mutual stalking with intent to murder ever.

Dispatches From Miami Metro:

Batista bought his restaurant, Papa's.

LaGuerta continued her investigation into Dexter's boat, and tracked down his old harbor records to discover that he started docking it in a different harbor while the original Bay Harbor investigation was unfolding. That's suspicious.

Isaak's No. 2 has been tape recording his conversations with Quinn, and now has him firmly under the Koshka's thumb. They're now forcing him to be a dirty cop for their drug deals. Sooner or later, Quinn is going down hard.


Theory of the week:

Dexter telling Hannah that Isaak Circo is trying to kill him seemed to open the door to Hannah helping Dexter take Circo down. It's too bad that Isaak is into dudes, because Hannah could have pulled a nice femme fatale rouse on him. Then again, Circo could target Hannah, since Dexter killed his lover Victor.
How do you see this scenario playing out? Leave your thoughts and theories in the comments. Secondly, please chime in on whether you think Dexter and Deb will ever do it.
"Dexter" airs Sundays at 9 p.m. ET on Showtime.
PHOTO GALLERY
Dexter Season 7 Photos
Calling all HuffPost superfans!
Sign up for membership to become a founding member and help shape HuffPost's next chapter