A major national progressive group on Thursday denounced Ralph Northam, the Democratic gubernatorial candidate in Virginia, as "gutless" and "racist" for his remarks on immigration ― plunging Democrats into a bitter internecine squabble ahead of statewide elections on Tuesday.
In a Wednesday interview with Norfolk, Virginia, TV news channel WAVY, Northam said he would sign a bill banning so-called "sanctuary cities," or municipalities that limit their cooperation with federal immigration authorities, should any Virginia locality pursue that status in the future.
Northam's opponent, Republican Ed Gillespie, has run a series of misleading ads attacking Northam for a vote as lieutenant governor blocking a bill that would have preemptively banned municipalities from adopting these limits ― though Gillespie himself has acknowledged that no sanctuary cities exist in Virginia as of yet.
Speaking to reporters Wednesday night after an event with Rep. Keith Ellison (D-Minn.), deputy chair of the Democratic National Committee, Northam claimed that he simply opposed preemptively banning sanctuary cities, and that his comments to WAVY were "what I've been saying all along."
The explanation was not enough, however, to assuage Democracy For America, a left-leaning online activism organization based in Burlington, Vermont. In response to what DFA called Northam's "backtrack on his commitment to standing up for immigrant families," the group declared that it would end "any work to directly aid" his campaign.
"After seeing Northam play directly into the hands of Republicans' racist anti-immigrant rhetoric on sanctuary cities, we refuse to be silent any longer and even remotely complicit in the disastrous, racist, and voter-turnout-depressing campaign Ralph Northam appears intent on running," DFA executive director Charles Chamberlain said in a statement.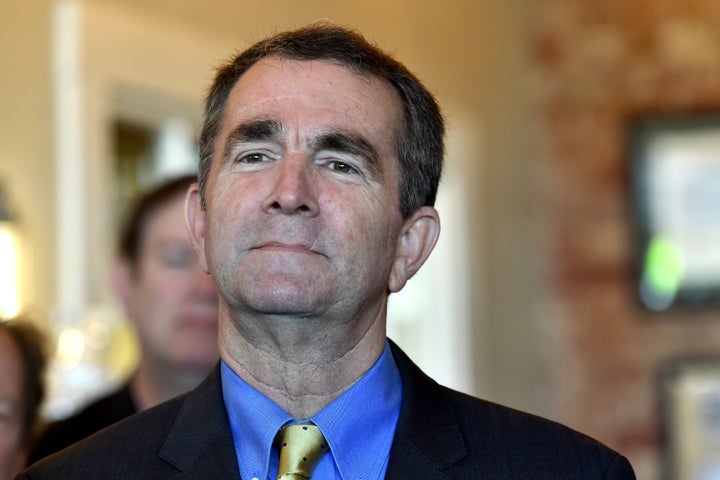 DFA's criticism of Northam is largely symbolic. The organization never contributed money to Northam directly; it has not even endorsed him. And according to Chamberlain, DFA had already removed Northam from its members' get-out-the-vote call lists in October, following the campaign's removal of Justin Fairfax, Democratic candidate for lieutenant governor in Virginia, from some campaign literature at the behest of a labor union that had a policy dispute with Fairfax. The decision drew criticism from African-American and progressive groups angry that the campaign had marginalized Fairfax, who, if elected, would be just the second black statewide elected official in Virginia's history.
But DFA's decision to blast Northam days ahead of the election nonetheless reflects the challenge the moderate lieutenant governor faces in shoring up his base ― and previews the intraparty sniping that is likely to take place if Northam loses. 
Some progressive activists were clearly pleased with DFA for taking a stand against Northam's backtracking.
A spokesman for Ellison declined to comment on the situation. A spokesman for Sen. Bernie Sanders (I-Vt.) did not immediately respond to a request for comment.
For the most part, though, Democrats expressed their frustration with DFA for seemingly making the perfect the enemy of the good so soon before a high-stakes election.
Former Vermont Gov. Howard Dean, a former chairman of the Democratic National Committee who founded DFA, called the group's announcement "incredibly stupid."
Dean, who has cultivated a more moderate record as a Washington insider in the years since his insurgent 2004 presidential run, formally ended his affiliation with DFA when he began exploring the possibility of another bid to run the DNC in November 2016.  
Dean had long since broken with the organization on key political questions. For example, he backed Hillary Clinton during the 2016 presidential primary, despite DFA's endorsement of Sanders. 
In a tweet Friday morning, Dean claimed that he had "cut his ties" with DFA not "over Bernie, who has been a positive influence," but because he "saw stuff like the Northam statement."
Dean did not immediately respond to an email request to elaborate on his comments.
HuffPost reached out to a number of national and state-based progressive groups to see if they were following DFA's lead. None of them said they were.
Nebraska Democratic Party Chairwoman Jane Kleeb, who dealt with similar criticism from national groups when pushing the campaign of an anti-abortion rights Omaha mayoral candidate in April, called DFA's announcement "deplorable."
"I don't come into your house, DFA, and tell you how to run your organization, so you should stay out of the partisan political lane as well," she said.
Addressing DFA's continued support of Fairfax's bid for lieutenant governor, Kleeb argued that "Fairfax and Northam are a team, and they need to be a team in the governor's house in Virginia in order to lift up working-family policies again."
John O'Neill, a spokesman for the Virginia Education Association, a teachers union backing Northam, called DFA's statement "regrettable" and said the union's strategy "isn't changing at all."
Anna Scholl, executive director of Progress Virginia, said her organization was "obviously disappointed in Dr. Northam's comments." But, she said, "it's clear that there is only one person running a racist campaign for the governor's mansion, and that person is Ed Gillespie."
Adam Green, co-founder of the Progressive Campaign Change Committee, which has devoted much of its resources to turning out voters for Justin Fairfax and liberal House of Delegates candidates, nonetheless encouraged progressive Virginians to vote for Northam in a Thursday statement ― and stood by his remarks on Friday after DFA's announcement.
"Ralph Northam is not known as a progressive hero, but he is the Democratic nominee who needs to win in order to stand for the broader proposition that racism and going low will not be rewarded by voters," Green said.
Virginia-based immigration rights activists defended Northam's bona fides as a supporter of immigration reform and fair treatment of undocumented immigrants. 
"Lt. Governor Northam has always fought for the Commonwealth to have immigration policies that are fair and compassionate," Virginia Del. Alfonso Lopez (D) said in a statement released by the Northam campaign.
Lopez noted that Northam opposes allowing law enforcement to hold undocumented immigrants longer than dictated by a warrant or judge's order, and wants to ensure they can report crimes to the police without fear of repercussions.
"Most importantly, he knows the difference between real legislation and 'dog whistle' policies crafted only to instill fear and create division," Lopez said. "He hasn't changed his positions ― he has always been consistent. And he has always been a consistent friend to the Latino and New American communities."
Gustavo Torres, president of the regional immigrant rights group CASA in Action, said in a statement that CASA remains "proud to support Ralph Northam."  
Our Revolution, the legacy organization for Sanders' campaign, and the Working Families Party, a progressive Democratic faction, have each declined to make an endorsement in the Virginia race. Both groups declined to comment for this article.
We are trying to save the campaign.

Charles Chamberlain, Democracy For America
DFA's Chamberlain acknowledged in an interview with HuffPost that there would be groups that disagree with DFA's strategy. He insisted their goal was to get the Northam campaign to shift gears, not to discourage people from voting for him. DFA tried to communicate that message to the campaign privately for weeks before taking the criticism public, he said.
"The bottom line is that we're not looking to have all the support for Northam go out the door," Chamberlain said. "We are trying to save the campaign. They have five days to course correct and make sure the Democratic base turns out to vote."
The statement from Lopez put out by the Northam campaign is "a good sign that they are" correcting their actions, Chamberlain added.
It's not clear whether the public Democratic Party spat will sway voters on Election Day. But it's certainly not the narrative of unity that the party wanted to broadcast ahead of such a crucial election.
The Republican National Committee gleefully highlighted the division as evidence of a Democratic "circular firing squad."
Northam's "liberal base is calling him racist," RNC spokesman Michael Ahrens wrote in an email to reporters. 
The incident came on the heels of a revelation earlier on Thursday that had already stoked simmering tensions between the progressive and establishment wings of the party. Donna Brazile, a former interim DNC chair and longtime party operative, published an explosive excerpt from a forthcoming book in which she revealed that the DNC had agreed to a joint fundraising agreement with Clinton in August 2015, months before she had locked up the nomination. The details were enough for Sen. Elizabeth Warren (D-Mass.) to confirm that she believed the primary process was rigged in Clinton's favor.
Earlier this week, the Latino Victory Fund also received criticism for a video ad promoting Northam that showed young children of color fleeing a white man in a pickup truck with a Confederate flag and an Ed Gillespie bumper sticker. LVF yanked the ad, but not before Northam had to answer for it. A campaign spokesman said that "Ralph Northam would not have run this ad."
Northam leads Gillespie by 3.5 percentage points, according to RealClearPolitics' average of major polls. But several polls have shown Gillespie ahead, prompting Democratic fears that the party could lose a key battle in a state that Clinton won by 5 points in November.
Amanda Terkel contributed reporting.
Calling all HuffPost superfans!
Sign up for membership to become a founding member and help shape HuffPost's next chapter
BEFORE YOU GO
PHOTO GALLERY
U.S. State Capitol Buildings