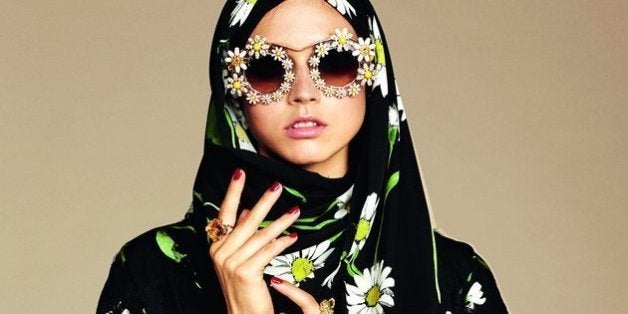 It is thrilling to know that the biggest news hitting the fashion world at the start of 2016 is the release of Italian luxury brand Dolce and Gabanna's hijab (head cover) and abaya (outer garments) line entitled, The Abaya Collection: The Allure of the Middle East.
It's a no brainer; a brand that typically offers tight, sexy, and revealing clothing has linked up with the modest fashion trend sparked by the underserved yet lucrative Muslim market, and seeks to claim its piece of the pie.
But that's not all D&G is doing by releasing this line. It is setting precedence by disregarding the influence of bigotry inundating media outlets that is geared toward Muslims, by releasing a collection intended for a highly-scrutinized community during a very sensitive time.

[D&G's] effort to adorn fashion conscious Muslim women with stylish outer garments is commendable.

Some Muslims argue that D&G is exploiting the hijab by reducing it to a fashion statement in order to financially benefit from the profitable market. In my opinion, that perspective completely undercuts the bigger picture which needs to be brought to the forefront.
The hijab has repeatedly been politicized in the public domain, and is often misinterpreted as being oppressive and misogynistic. In addition, Muslims in America and around the world are living in a time when their faith is constantly being portrayed as threatening and at odds with American norms and values. In light of both of these things, we should greatly appreciate any efforts by mainstream corporations catering to our underserved religious community.
By releasing a line that aims to serve Muslim women during a time when many businesses are afraid to publicly affiliate with Muslims due to raging Islamophobic sentiments, D&G is inadvertently aligning itself against the prejudices that plague the general public, whether they are aware of it or not. It is an audacious move for the brand, and as a result their efforts should be lauded.

By releasing a line that aims to serve Muslim women...D&G is inadvertently aligning itself against prejudices that plague the general public."

Other Muslims have argued that the line is inherently exclusivist and reductionist, in that it reduces Muslim women to the stereotypical, and often orientalist, image of the traditional Muslim woman garbed in a black cloak and headscarf. I could appreciate that argument had the line catered to only Muslim women of the West, but that is not the case. The title of the collection clearly outlines the targeted customers, who are women of the Middle East, specifically Saudi Arabia and the Gulf countries. The abaya has been, and continues to be, a quintessential sartorial piece of the region. Everyday new designers release abaya lines with a unique twist to them. Why can't D&G do the same?
The other troubling claim is in regard to the European/American models who were cast to show the collection rather than models of Middle Eastern origin, which some claim would have been more authentic. I can say, as a proud product of an American Muslim mother and an Arab American father, it was refreshing to see Caucasian models wearing Middle Eastern garb, as I couldn't help but see myself in them. One does not have to be olive toned in order to pass as an Arab or even as a Muslim. That is a common stereotype that I am all too familiar with, so I very much appreciated the diversity.

It was refreshing to see Caucasian models wearing Middle Eastern garb, as I couldn't help but see myself in them.

According to data released by Fortune Magazine, the Muslim market is viewed as increasingly profitable as it spent $266 billion dollars on apparel in 2013, which is estimated to reach $484 billion by 2019. Considering that Muslims in the Middle East are the main consumers of luxury goods, D&G has made a smart financial move by releasing this line.
The collection is primarily made out of sheer georgettes and charmeuse fabrics that are mainly black and nude hues. The intricate lace detailing is absolutely beautiful. Hints of the designer's Sicilian origins are evident throughout the collection with the incorporation of unique floral patterns. The line is currently available at stores in the Middle East and at select stores in London, Paris, Milan, and Munich.
While this type of collection may be the first of its kind for D&G, they are not the first brand to do this. Similar efforts have been taken by other fashion brands in the industry such as DKNY, MANGO, and Tommy Hilfiger with the release of exclusive Ramadan collections. Just a few months ago H&M featured a hijabi (scarf-wearing) model in their collection campaign ad for the first time. In addition, online retailers such as Net-a-Porter, Moda Operandi, and Gilt offered Ramadan boutiques as well. The ripple effect will only continue.
It is a reality that women who don the hijab come in different shapes and sizes, and embrace different styles. We cannot expect D&G to be able to cater to them all, especially on their first shot. Nonetheless, their effort to adorn fashion conscious Muslim women with stylish outer garments is commendable. So let's appreciate what they offer at the moment by showing our support. Their releasing of a hijab and abaya collection is a big enough stride in the right direction.
It's incredible to think that just a few years ago Muslim women barely had modest options that met their religious guidelines. A trip to the mall entailed hours of scouring stores with the rare hope of finding even one dress that had long sleeves, a high neck, and a floor length hem.
Nowadays, however, Muslim women have much more luck in mainstream markets. The days of shamefully layering the sleeveless gown or blouse with an un-matching long sleeve shirt are numbered! But more importantly, finding fashion-forward modest options increases a woman's confidence in her religious attire and purpose. I look forward to the time when every store has a section for modest clothing, just as they have for petite and plus size divisions. D&G is making the effort to bring that day closer.
Related
Popular in the Community