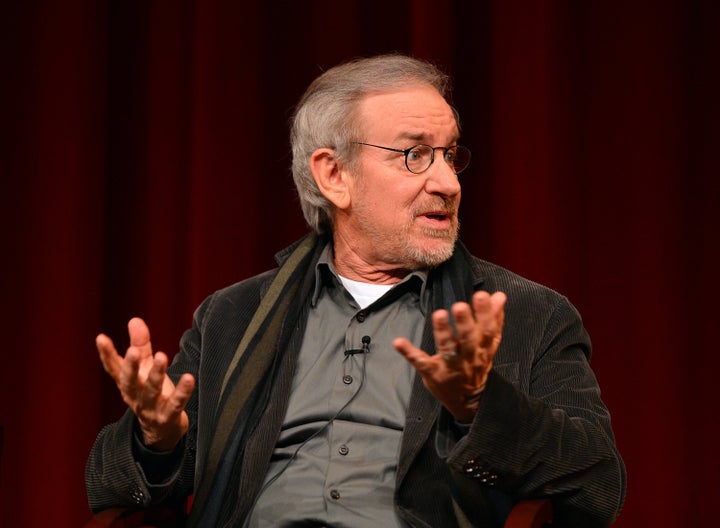 Welcome to For Your Consideration, HuffPost Entertainment's weekly breakdown of all things Oscar. Between now and Feb. 25, 2013, executive arts and entertainment editor Michael Hogan and entertainment editor Christopher Rosen will chat about awards season and which films will make the most noise at the 85th annual Academy Awards.
Rosen: Hey, Mike! Stop me if you have heard this one before: On Saturday night, "Argo" director Ben Affleck defeated "Lincoln" director Steven Spielberg for a significant precursor award.
If that sounds familiar, it's because since Affleck was snubbed by the Oscars on Jan. 10, we've seen the same thing happen at the Golden Globes (Affleck won Best Director; "Argo" won Best Motion Picture - Drama), the Producers Guild of America Awards (Affleck and co-producers Grant Heslov and George Clooney won), the Screen Actors Guild Awards ("Argo" won Outstanding Ensemble in a Motion Picture), and, now, the Directors Guild of America. Affleck won the award for Outstanding Directorial Achievement in a Feature Film, beating Spielberg, Ang Lee, Kathryn Bigelow and Tom Hooper in the process.
Caveats here for the cliches "nobody knows anything" and "it's not over 'til it's over," but: we know something, and it's that the Best Picture race is over.
As we've discussed here many times over the last two weeks, "Argo" has the momentum of a passenger jet speeding down the runway and "Lincoln" still hasn't won ... anything. OK, it's not an complete 0-fer: "Lincoln" was named Best Picture by the prestigious Dallas Fort-Worth Film Critics Association and landed mentions on the AFI and National Board of Review year-end lists, but for "Lincoln" to be taken seriously as Best Picture, shouldn't it have won something? If anything, the DGA loss feels like a death-knell: This was a spot where a win for Spielberg could have solidified his standing as the front-runner to win Best Director. Now, I'd say that even his Oscar in doubt -- making my out-of-nowhere Michael Haneke pick seem more believable by the day.
They might, but you can bet he'll have another one on Feb. 24 when Affleck is accepting the Oscar for Best Picture.
Hogan: Hey Chris, yeah, it's hard to feel bad for Steven Spielberg ever, but I'm starting to have a little sympathy. Somehow, trotting out Barack Obama, Bill Clinton and his weirdly horny parents (did you see that 60 Minutes interview?) wasn't enough to persuade Academy voters that "Lincoln" deserves a place among "Grand Hotel," "Ben-Hur" and his own "Schindler's List" in the Best Picture pantheon. Our Oscar Predictions Dashboard now gives "Lincoln" a measly 15.8% chance of winning the category, compared with "Argo"'s gaudy 83.5%, and I think you're right that we now have to ask if Spielberg can even claim Best Director.
According to our Dashboard, that race still isn't close. Spielberg may have lost a few points after the DGA's, but he's still riding high with 89.3%. His closest competitor is Ang Lee, who hasn't even broken into double digits. So what gives? Is our model hopelessly unfit for situations where the obvious choice gets snubbed from the category? It very well might be. But it's also possible that we're in danger of over-thinking this one. The world may think Affleck deserves Best Director this year, but he ain't nominated -- and so it's only natural that the award should go to the guy whose movie had the most nominations, including three in the acting categories.
Ang Lee had one piece of good news last night: his film "Life of Pi" picked up an Annie award, presented by the International Animated Film Society, for Best Character Animation. But "Wreck-It Ralph" was the night's big winner, taking home the coveted Best Animated Feature trophy. Chris, you know how this stuff works? Does that spell trouble for "Brave" at the Academy Awards?
Rosen: Mike, you've landed on one of my favorite categories of Oscar night. Best Animated Feature is deep this year, right? "Brave," "Wreck-It Ralph," "Frankenweenie," "ParaNorman" and "The Pirates! Band of Misfits" -- any one of those films could win and we'd be like, "Yeah, good choice, Academy." Assuming the three stop-motion entries -- in order of goodness: "Frankenweenie," "ParaNorman," "The Pirates!" -- knock each other off, that leaves "Brave" and "Wreck-It Ralph." I've had "Wreck-It Ralph" at the top of my GoldDerby.com predictions for months, and its Annie Award only makes me feel more confident in that pick. Here's the reason: "Wreck-It Ralph" is the best Pixar movie that Pixar never made; "Brave" is the pretty great Disney movie that Disney always made. So, that -- coupled with Pixar's track record in this category -- has me chosing the Pixar-y movie over the movie made by Pixar.
Hogan: Sugar man, won't you hurry, 'cause I'm tired of these scenes?
'Wreck-It Ralph' Photos
Popular in the Community