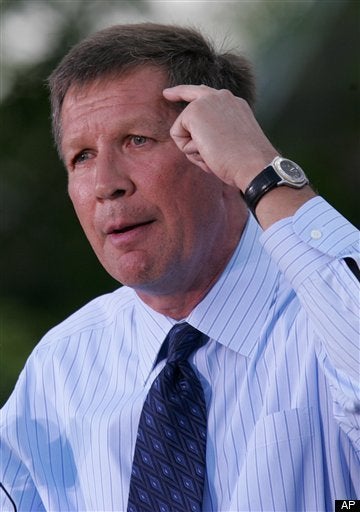 Keeping up its war with Fox News, the Democratic Governors Association on Thursday filed a complaint with the Ohio Elections Commission accusing the network of making an illegal in-kind contribution to gubernatorial candidate John Kasich (R-OH).
The complaint, clocking in at seven pages and signed by the DGA's Executive Director Nathan Daschle, makes some far-reaching charges. But the basic allegation is that Fox's decision to run a chyron featuring Kasich's website at the same time that the Republican Senate candidate was soliciting donations on Bill O'Reilly's show constitutes an in-kind contribution from the station to the candidate.
"There is reason to believe that FOX News Network, L.L.C. violated Ohio election law on August 18, 2010 when John Kasich appeared on a network program, solicited contributions for his campaign, and FOX News added the graphics "John Kasich (R), KasichforOhio.com" under Mr. Kasich's image. The Kasich campaign raised more than $21,000 from the FOX News solicitation," the complaint reads.
There are two election law violations that the complaint sites. The first is the prohibition of in-kind contributions in the form free political advertising -- which in the case of Kasich's appearance on Fox lasted "at least 1 minute and 30 seconds," according to the DGA. The second violation is the failure of Fox News Network LLC "to provide a 'paid for by' disclaimer on its political advertisement for John Kasich."
When reached for comment, a FOX News spokesperson said they have not received any such complaint and therefore could not comment.
The complaint, which was sent last night to the Ohio Elections Commission, is premised on the idea that the display of Kasich's website is legally analogous to running an ad on his behalf. It is an argument that would seemingly engulf a number of other stations beyond Fox which have likewise allowed candidates to enumerate their website URLs and urge donors to head there.
But in an interview with the Huffington Post, Daschle said that a distinction must be made between running the website URL as a chyron (as Fox did) and simply allowing a candidate to pitch his or her page to viewers.
"We did our homework," he said. "We talked to other networks and other networks told us they have policies against putting up campaign websites like Fox did... Certainly other networks will have candidates on the air. But people don't take it as far as Fox does."
"And again context here matters," Daschle added. "This isn't accidental. It is part of a pattern of activities Fox has taken to elect Republicans. This is just one more step in that direction, they gave a million to the Republican Governors Association. They are putting candidates on their air, giving them endorsements, and helping them raise money."
There is, of course, another layer of context to consider here, mainly that the DGA's battles with Fox are mutually beneficial. A fundraising drive launched after Fox made a $1 million donation to the RGA netted the DGA a similar amount of donations. Even Daschle acknowledged that filing suit against the network carries side benefits for his organization.
"Sometimes situations are a win-win," he said. "We are not only doing the right thing but, yeah our donors are pleased because Americans don't like seeing Fox blatantly use its position to help Republicans... When Fox does this, our donors and a lot of new donors come to the DGA as a way to say, 'Keep fighting Fox'."
But the DGA header stressed that the complaint filed in Ohio is not a publicity stunt. And he promised to file additional complaints in other states should Fox run a similar stunt with another gubernatorial candidate.
Read the full complaint here:
Support HuffPost
The Stakes Have Never Been Higher
Popular in the Community