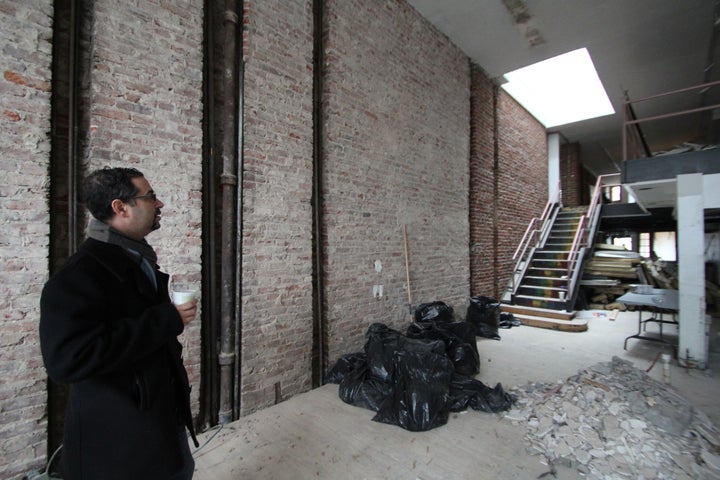 WASHINGTON -- The scene at 1317 Connecticut Ave. NW -- the site of the forthcoming DGS Delicatessen -- is a desolate one, with chunks of concrete strewn about and exposed wires hanging from the ceiling. But behind the scenes, executive chef Barry Koslow tells The Huffington Post that the menu for his modern take on Jewish deli fare is slowly coming into focus.
Since we last heard from Koslow, there have been additions to the menu that branch out from the corned beef, pastrami and matzo ball soup that had been anticipated.
"We've been messing around, particularly since we've had a little time here to kind of play," said Koslow, who throughout the process has drawn on his own Jewish upbringing, both the good and bad.
"A lot of this food that I remember, I didn't like it. It was not good," Koslow admitted. "But there are things that I remember that I love, that were great." One of his favorite memories: coming home to the smell of his grandmother making soup. "The whole house would smell like chicken stock, and I loved that. I still love that."
Creating meals from these positive experiences and shedding the less desirable ones -- greasy, over-cooked dishes that often result from a culture that values oil -- is Koslow's game plan.
Some are a mere nod to Jewish cooking, such as the Danish-style, open-faced sandwiches with toppings like pickled mackerel and tuna confit. Koslow also wants explore the range of flavors from Mediterranean and Sephardic cultures, the latter referring to Jewish communities who lived in the Iberian Peninsula before the Spanish Inquisition in 1492. That could include items like a take on chickpeas or brussels sprouts with roasted grapes.
Then there will be the "simple dishes with straightforward flavors," like haddock with sunchokes and preserved lemon, updated versions of classics like kugel -- in both potato and noodle form -- and kasha varnishkas with chili, fennel, mushrooms, onion and Meyer lemon. Blintzes, naturally, will be featured on the weekend brunch menu, and there will be sweet, doughy babkas for dessert. Koslow also plans to offer plenty of little pickled items like fermented and vinegar-cured cucumbers, olives, peppadews and onions. Salads will be in the mix, too.
More than anything, he wants to keep things playful. "Instead of the charcuterie board that everyone is doing now, [one of our ideas] is to have a fish board." That would mean a rotating selection of smoked and cured fishes like white fish, sturgeon and sable, to name a few. There will be lox, but he also wants to experiment with different types of salmon, from Alaska to Scotland and beyond.
There is also the possibility of having a section of the menu devoted exclusively to potatoes, featuring shared plates of hearty Eastern European classics like latkes and knishes, and a matzo bread service with unleavened crackers topping each table.
Despite Koslow's obvious excitement, nearly everything remains up in the air. He is still eyeballs-deep in potential recipes, having spent the summer tinkering with various cures for fish as well as smoking methods for corned beef and pastrami.
Koslow will likely get his beef from Fells Point Wholesale Meats in Baltimore and Midwestern outfit Creekstone Farms Premium Beef. Starting with high-quality meat that's marbled with fat, he said, is essential to attaining that "unctuous lingering goodness." Pastrami especially, which is smoked and steamed for a long time, needs a good amount of fat to stand up against the rigors of the cooking process.
"We did a pastrami from brisket from Harris Teeter," he mused. "It was miserable. There just was no fat in it." Not surprisingly, DGS will not be serving meat from the supermarket chain.
None of the meat will be kosher -- though for now, pork and shellfish are persona non grata. A kosher certification, Koslow feels, would make DGS seem like too much of a niche restaurant. "We want to reach a broad spectrum of people, Jews and non-Jews and anyone who wants to come here and eat."
Despite the progress Koslow has made on the menu, his projected opening of May or June seems daunting given the state of the building. "There's a lot that go wrong between now and then," he said wryly.
Click through the gallery below for a peek at what the DGS space currently looks like.
Support HuffPost
The Stakes Have Never Been Higher
Related
Popular in the Community