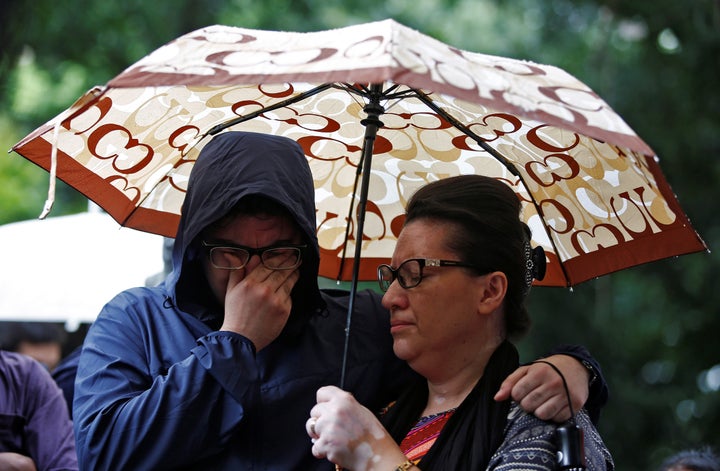 Countries around the world grieved the loss of their citizens on Saturday, after militants killed 20 hostages during an hours-long armed siege in the Bangladeshi capital of Dhaka.
Gunmen stormed an upscale restaurant in Dhaka's diplomatic quarter on Friday night, in an attack that the self-described Islamic State militant group later claimed.
The victims hailed from around the globe: Bangladesh, Italy, Japan, India and the U.S. At least three of the dead were students at American universities.
Early Saturday, commandos stormed the building, killing six militants and capturing another. Two Bangladeshi police were also killed in a shootout with the gunmen.
The U.S. State Department said on Saturday that an American citizen was among the dead, without providing further details.
America's Emory University, based in Atlanta, Georgia, said two of its students were killed in the attack.
Abinta Kabir, from Miami, Florida, was in Dhaka visiting family and friends when the militants stormed the restaurant. Kabir was an undergraduate student at the university's liberal arts school, Oxford College.
Scott said U.S. and Florida state flags would be flown at half-staff on Sunday.
Fellow student Denika Harlalka told Atlanta's 11Alive TV that Kabir was the "sweetest and most helpful person ever."
"This is just so so terrible. I still can't digest that this has happened. I've been crying since the second I found out," she told the outlet.
Emory University President James Wagner said that Abinta's mother was in "unspeakable pain" after her daughter's death.
Another Emory student, 20-year-old Faraaz Hossain from Dhaka, was also killed. He recently graduated from Oxford College and ​had begun to study at Emory's Goizueta Business School.
"The Emory community mourns this tragic and senseless loss of two members of our university family," the university said in a statement, offering counseling to fellow students. "Our thoughts and prayers go out on behalf of Faraaz and Abinta and their families and friends for strength and peace at this unspeakably sad time."
Jain graduated from the American International School in Dhaka and came to Berkeley in 2014 hoping to major in economics, University Chancellor Nicholas B. Dirks  said in a statement. She was currently working on e-commerce growth at Eastern Bank Limited in Dhaka through an internship, the university said.
Berkeley students plan to hold a vigil and memorial for Jain on campus.
Nine Italian citizens also died in the attack, Italy's foreign minister, Paolo Gentiloni, confirmed.
Cristian Rossi, a 47-year-old business manager, was the father of 3-year-old twin girls, Italy's Corriere Della Sera newspaper reported. His company worked with Dhaka's famous textile industry and he delayed his return to Italy on Thursday to sign business contracts, according to The Associated Press. His colleague, 39-year-old Marco Tondat, was also killed in the attack.
Nadia Benedetti, 50, worked for a London-based textile and clothing company. She was killed along with her friend, 54-year-old Adele Puglisi, a quality control manager from Sicily.
Claudio Cappelli, 45, who ran a textile company in Bangladesh; Maria Rivoli, the 34-year-old mother of a 3-year-old girl, who was on a business trip for a textile company, and 46-year-old Swiss-born Vincenzo D'Allestro were also named among the Italians killed.
Another victim, Simona Monti, 33, was several months pregnant and planning to return to Italy to give birth, according to Corriere Della Sera. She planned to name her son Michelangelo, her brother told Italian TV.
Claudia Maria D'Antona, 56, had lived in Bangladesh for over 20 years with her husband, Gianni Boschetti. She worked in the textile business. Boschetti had stepped out of the restaurant to take a phone call when the attack began and survived by hiding in the bushes. He wandered all night from hospital to hospital trying to find his wife before learning of her death.
Japanese Prime Minister Shinzo Abe told reporters he felt "heartbreaking grief."
"I strongly feel indignant because the brutal, inhuman terrorism took the lives of the innocent," Abe said. "This is a challenge against universal values shared by us and international society."
Mani Miri contributed reporting.
Calling all HuffPost superfans!
Sign up for membership to become a founding member and help shape HuffPost's next chapter
BEFORE YOU GO