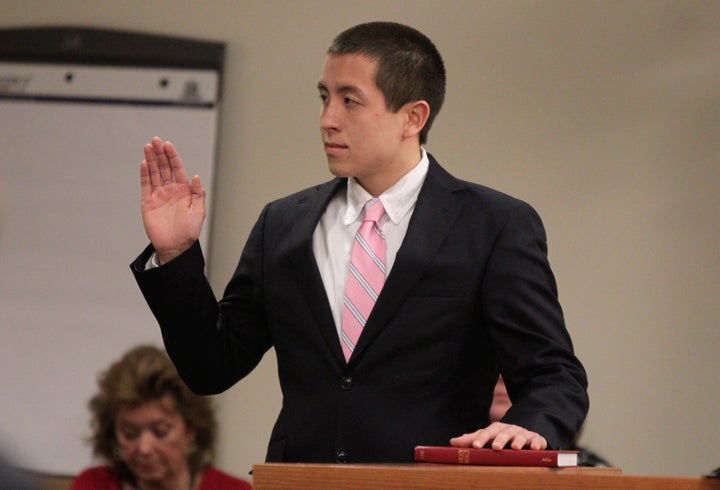 Dharun Ravi "appeared uncomfortable" with his gay roommate, according to damaging testimony from an ultimate frisbee teammate today.
New Jersey prosecutors called Geoffrey Irving to the stand to strengthen their case against Ravi, 20. They allege that he bullied his roommate, Tyler Clementi, for being gay and used a computer camera to spy on him during romantic encounters with another man in September 2010.
Irving, now a graduate of Rutgers University, said that Ravi talked about having a gay roommate several times, according to the Star-Ledger.
"He appeared uncomfortable with the situation," said Irving, who was captain of Ravi's ultimate frisbee team.
A day after Ravi allegedly invited friends to watch his roommate's love life via a webcam, Clementi, 18, complained to dorm officials and then jumped to his death from the George Washington Bridge.
The words from Irving were the most damaging testimony yet that Ravi had a problem with Clementi's sexuality.
Ravi's defense has argued that it was just a sophomoric prank to use the webcam and write about it on Twitter, not a malicious act motivated by homophobia.
Earlier this week, the prosecution called Ravi's friends to the stand. Molly Wei said that she and Ravi used her computer to connect to a webcam placed in Ravi's dorm room. When they turned it on, she said they saw Clementi and another man -- later identified as "M.B." -- embracing. After a few seconds, she said they shut off the camera.
In addition to bias intimidation and invasion of privacy, Ravi is charged with witness and evidence tampering. The prosecution claims he deleted tweets from his Twitter account related to Clementi and questioned Wei about what she told police.
Wei testified that Ravi sent her text messages when she was being questioned by cops, but said he didn't pressure her to alter her story.
In all, Ravi is charged with 15 counts and faces 10 years in prison if convicted of the most serious hate crime charge.
Wei was also charged with invasion of privacy, but avoided jail time by accepting a plea deal and agreeing to testify against Ravi, whom she's known since high school.
Yesterday, the jury also heard from Lokesh Ojha who said Ravi asked him to help set up the webcam that was allegedly used to view Clementi and his mystery date. However, Ojha says Ravi didn't explain why they were positioning the device.
Although prosecutors contend that Ravi used the webcam because of a bias against gay people, the defense has tried to convince jurors that he was perhaps keeping an eye on his belongings. Scott Xu, one of Ravi's friends, said on Monday that Ravi described "M.B." as looking "kind of shady."
Popular in the Community