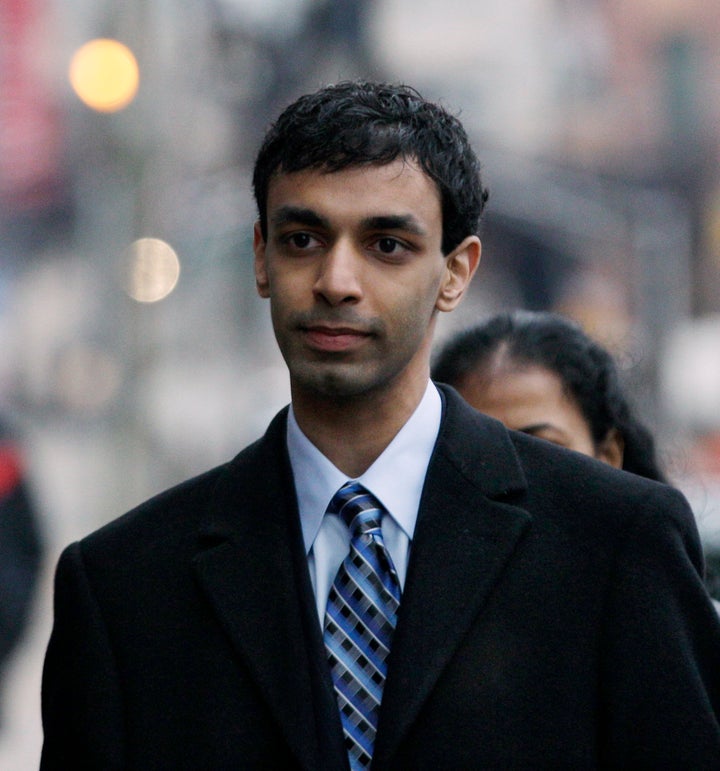 Friends of Dharun Ravi, the former Rutgers University student accused of bullying his gay roommate into a suicidal bridge jump, said in letters of support that he has an awkward sense of humor, but is neither hateful nor homophobic.
"He loved to joke around with people, though his humor could sometimes be classified as sarcastic," wrote Mohini Singali in a letter included in court filings by Ravi's attorneys on Friday asking a judge to sentence him to probation rather than prison. "Not many people were a fan of this, but that is who Dharun was. Never did he have any intentions to injure anyone."
Ravi, 20, was convicted in March on charges that include bias, intimidation, invasion of privacy and evidence tampering.
Sentencing is scheduled for May 21. The most serious charges each carry a maximum sentence of five to 10 years. As an Indian citizen raised in New Jersey, Ravi may be deported after serving his sentence. If probation is granted, deportation would be less likely, Ravi's lawyers wrote.
Ravi spied on his roommate, Rutgers freshman Tyler Clementi, 18, with a webcam, watched with another student, then tweeted about it. Clementi leaped to his death from the George Washington Bridge days later.
The letters, many from high school classmates, are part of the ongoing defense campaign to characterize Ravi's actions as a bad prank gone awry. In Friday's filing, defense lawyers portray Ravi as an ostracized young man who withered under the blazing glare of the news media. (See The Full Sentencing Memo Below.)
"Immediately upon arrest, Dharun became the face of cyber-bullying and homophobia in the media," the defense lawyers wrote in documents submitted to Superior Court in Middlesex County. "As an eighteen year old who has become the subject of scholarly articles, television specials and countless newspaper and magazine articles, he withdrew from his friends and anyone who wanted to keep in contact with him."
PHOTOS (Story Continues Below)
Clementi's parents, through their lawyer, declined to comment on Ravi's quest to avoid jail time. A Middlesex County prosecutor's office spokesman also declined to comment, saying prosecutors will file a response in court in the next few days.
The lawyer for "M.B." -- the man shown on the webcam in a passionate embrace with Clementi -- rejected the argument that Ravi doesn't deserve prison time. "Ravi never really took any responsibility for any of this up to this day," attorney Richard Pompelio told The Huffington Post. "He continues to blame other people, including the victims.
"My client doesn't believe that he should go to prison for a substantial number of years," Pompelio said. "But there should be some form of incarceration."
Ravi covertly watched Clementi during a romantic encounter with M.B. in their dorm room in September 2010. Ravi later tweeted about seeing Clementi "kissing a dude." He also invited friends to a "viewing party" when Clementi requested private use of the bedroom again.
The push for probation comes after Ravi's lawyers on Tuesday filed a motion to overturn his conviction.
Calls for a lenient punishment appear to be growing. A "Support Ravi" event was scheduled for tonight in Edison and former New Jersey governor Jim McGreevey, who is gay, has said that Ravi shouldn't be sent to prison, according to the Associated Press.
REAL LIFE. REAL NEWS. REAL VOICES.
Help us tell more of the stories that matter from voices that too often remain unheard.
BEFORE YOU GO