Albania is most likely Europe's last unexplored, unspoiled Earth paradise. For the international visitor and after a two-day must see visit in the capital city Tirana and its whereabouts, Dhermi Unexplored Paradise on the Albanian riviera four hours south by car is the number one destination all year round.
Being Europe's third poorest per-capita income country and having a purchasing power parity multiplier of 2, Albania guarantees affordability and euros or dollars well spent if the visitor is able to find and identify the country's few and exceptional pearls, purpose of this very coverage. With an undeserved international reputation for corruption and crime, the reality is way different for the fearful and prudent: the welcoming locals are probably among the World's friendliest and most enjoyable.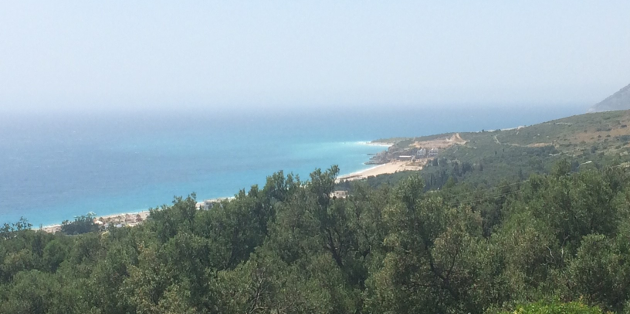 Hotel and Hospitality infrastructure is still faulty and must be vastly improved for the country to be competitive with the regional tourism super powers Croatia and Greece. Yet there is something about Albania's infrastructure that turns the whole experience into something mysterious, mystical, romantic.The unspoiled, pristine beaches of the Albanian riviera beginning in Palasa and concluding in Qeparo, coupled with the virgin forests and well paved twisted two-lane roads, away from mass tourism, away from the excesses of Benidorm, Ibiza, Nice or Corfu, is the present evidence of how the coastline looked in Spain, Italy or Greece in the 1960s or 1970s. And among the mediocre facilities there shines some superb hospitality which I disclose and reveal for the interested, learned and acculturated reader.
Dhermi is a town in the Himara municipality four hours south of Tirana the capital city of Albania by car. The international traveler can either land in Rinas Airport (Tirana) or Corfu (Greece). The first option, although further from Dhermi, is much more recommendable. The drive from Tirana to Dhermi on generally speaking decent roads with some partial superb highway sections takes about four hours. The last hour through twisted mountainous roads is of breathtaking beauty. Drymades Beach in Dhermi is one of the several beaches of the Albanian riviera, certainly Albanians' favorite and without a doubt the one offering the best accommodation.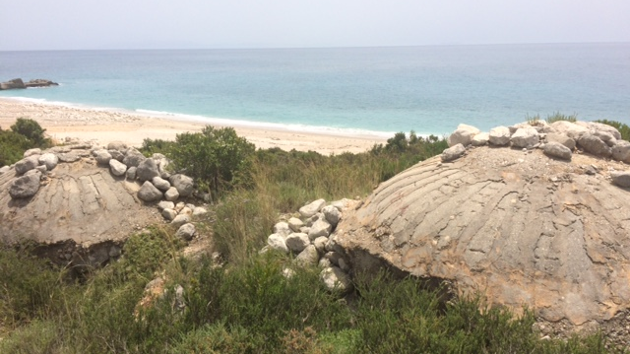 Accommodation in Drymades Beach
For the demanding visitor accommodation options include the cozy, clean and superbly managed Drymades Inn right in front of the beach and administered by Xheni Peta, the complex has bungalow-type duplexes including ample bathrooms, air conditioned-rooms and all inclusive room service and deluxe breakfast; the higher-end Hotel Splendor administered by Febjus Gerveni offers a different more luxurious setting with standard hotel rooms, a magnificent pool and a beach front which is about 100 meters walk from the Hotel's entrance; for longer visits of between two and four weeks the visitor should consider the Hildon Complex, more remotely located circa 400 meters from the beach front but the only one truly surrounded by Mediterranean forest, very well furnished including a large pool area; for the budget more affordable types Altea Beach Lodges' price range is usually 50% of the previous more expensive proposals. English is widely spoken in reception desks and restaurants.
Demanding visitors must keep in mind that power cuts are frequent and may even take place daily for two to three consecutive hours and that Internet speed is usually low, which adds to the romantic nature of Albanian hospitality. Water is typically not potable throughout Albania. Prices in the low season range between EUR 50 and EUR 70 in all first three proposals for a double standard room including breakfast, and typically double during the high season spanning from mid July to end August. Drymades Inn is all in all an excellent, reasonable choice for at least a one week stay. The local currency Lek is extremely stable and euros are usually accepted everywhere. All four accomodation proposals accept major credit cards. ATMs are also widely available, particularly Raiffeisen Bank's. Public hospital infrastructure is deficient outside Tirana so it is a good idea to purchase private health insurance prior to arrival for the holiday's peace of mind in case the unexpected does happen. SIGAL's Insurance Specialist Erinda Hysi can be reached at +355 (0)422 33308.
Where To Eat
Drymades Inn Restaurant offers a wide variety of entrees, salads, Italian pasta and seafood at very reasonable prices. Hotel Splendor Restaurant is also a must visit with an equivalent choice. South of Gjipe beach Indian restaurant Chakra Jone in the Soleil Village is the top pick outside Drymades Beach. In Livadhi beach Niko Goro's Ostria Restaurant offers a great nightly view at the area's most affordable prices for pasta and pizza.
Hotel rooms have no built-in kitchen so the visitor is forced to eat outside. Eating out at such affordable prices is however a luxury that has to be exploited in the Albanian riviera. Outside Drymades Inn and Hotel Splendor there are other restaurants to explore offering Italian, Mediterranean and local specialties. 1,000 Albanian Lek or circa 7 Euro purchase salad, pasta or pizza and drink. I personally enjoyed Drymades Inn Restaurant's offering at night, service and dining overall experience by the Restaurant's long and classy pool, opened as such during the day hours.
Gjipe Beach is Albania's Best
The tourist who visits the Albanian riviera must enjoy the amazing, oftentimes solitary beaches of crystal clear warm waters, nothing else. From Drymades Beach in Dhermi it is possible to walk to the northern beach of Palasa traversing a dry delta. From Drymades Beach in Dhermi Albania's perhaps most beautiful beach of Gjipe is accessible by car in a ten minute ride and a half hour promenade. It is also possible to get a boat ride from Drymades Beach to Gjipe at the cost of 2,500 Albanian Lek or about 18 Euro. Engjell Vangjeli, owner of the boat, can be reached at +355 (0)6920 91431. A half day trip to the southern beaches of Livadhi, Himara and Qeparo is also worth considering.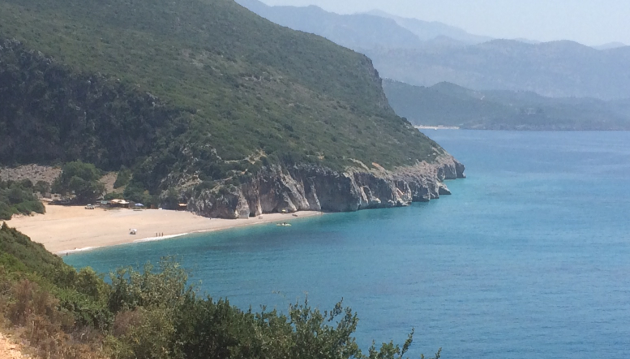 It is worth to spend half a day in Gjipe, preferably in the morning. It is also a good idea to bring at least a one and a half liter bottle of cold water for every two persons and some take-away picnic snacks. A canteen on the beach provides with drinks and snacks at modest prices. The water and snacks are to be drunk and eaten while coming down and up particularly under the summer heat.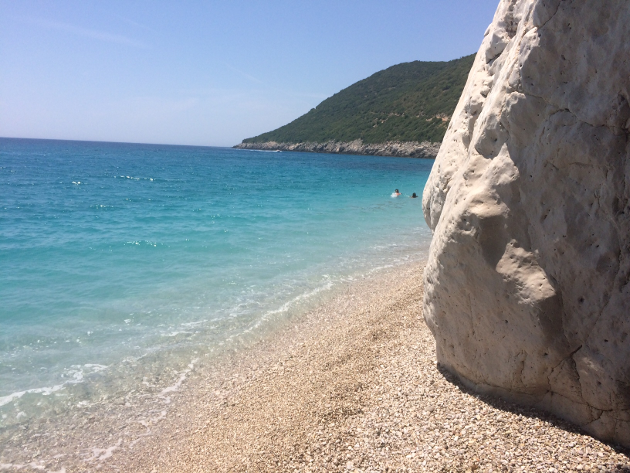 Taxis are also widely available at affordable prices. For instance a taxi ride from Drymades Beach to Himara one way may cost between 2,000 and 2,500 Albanian Lek. However for those renting cars the drive should be easy and pleasant, and oil stations and macchiato stopovers are abundant on both sides of the two-lane road. Albanian cafeterias serve Europe's best coffee, Italian brands such as Illy, Lavazza or Moncafe are widely available, whereas the local brand Kraco is also worth mentioning.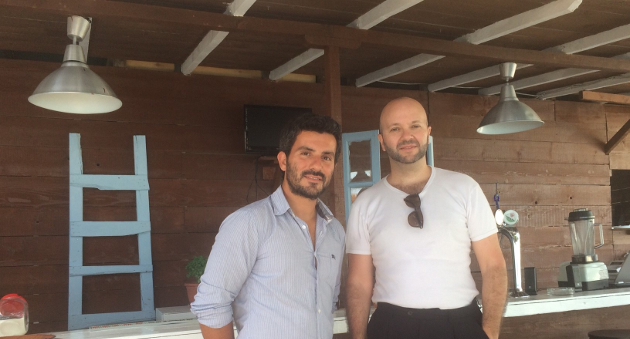 A Conversation With Niko Goro
In a one hour conversation with the Himara municipality Tourism Director Niko Goro (who is also the Manager of Ostria Restaurant in Livadhi Beach) I understand better the challenges and opportunities of the Albanian riviera offering.
90% of Himara municipality's accommodation consists of room and apartment rentals in guest houses, not recommendable for the demanding visitor, which should strictly stick to the suggestions of this coverage. Albania's Hotels self-rank their very own number of stars, so the number of stars means basically little to nothing. There are self-ranked four-star Hotels which in actuality are two and three-star Hotels which in reality are four. The hippy and the young can also enjoy the guest houses and campings, numerous in the area. Many guest houses are however very far from the beach in a rather hilly area, so the car is needed to reach the shore. Best experience is to stay by the shore and forget the car unless strictly necessary.
The ongoing challenges such as power cuts are much more frequent outside the high season in June and September. Promotion of the Albanian riviera remains poor and therefore the area is unexplored. Many international tourists come from Germany and Poland. Visitors from other Balkan countries such as Kosovo and Macedonia are also frequent.
Popular in the Community