WASHINGTON -- House Republicans attempted last week to kick the issue of funding for the Department of Homeland Security over to the Senate. On Monday evening, Senate Democrats kicked it back, putting the heat on House Speaker John Boehner (R-Ohio) to avert a DHS shutdown.
The Democrats blocked the Senate from going to conference to reconcile the differences between the House's and the Senate's DHS budget bills. The vote was 47 to 43, falling short of the 60 votes needed to move ahead.
The department's funding had been extended for one week last Friday and will now expire at the end of this week. The short-term measure was a gambit to keep DHS open as the chambers clashed on a way forward.
But Senate Democrats said Monday that going to conference would just prolong the conflict by trying to turn the DHS funding bill into something that Democrats wouldn't approve and President Barack Obama wouldn't sign. Earlier in the day, Senate Minority Leader Harry Reid (D-Nev.) called the House's request to go to conference "the very definition of an exercise in futility."
"Senate Democrats will not be a party to yet another Republican charade that will inevitably shut down the Department of Homeland Security and put our nation at risk," Reid said.
House Democrats agreed to the one-week funding measure after receiving assurances that the House would take up a "clean" DHS bill -- without immigration restrictions -- once the conference vote failed in the Senate, according to Democratic leadership aides. Boehner spokesman Michael Steel insisted last week that no such assurances had been made.
But there aren't many other options if Senate Democrats refuse to go to conference on the DHS funding legislation. A House bill passed in January couldn't get through the Senate, and Republicans in the upper chamber are ready to move on. With some House Republicans unwilling to compromise on a clean funding bill, Boehner may have to rely on Democratic votes -- something the speaker has done before on must-pass legislation, but not without earning conservative ire.
Democrats have said they'll be happy to go along, but they want a full-year bill, not another continuing resolution that keeps funding at current levels. House Minority Whip Steny Hoyer (D-Md.) told reporters on Monday morning that he hopes and expects a full-year DHS funding bill without immigration measures. He was coy on whether Democrats received a promise from Boehner to that effect. He pointed to a letter sent Friday by House Minority Leader Nancy Pelosi (D-Calif.), telling their caucus members that voting for the one-week continuing resolution "will assure that we will vote for full funding next week."
"We on Friday came to a conclusion that, in fact, it will come up," Hoyer said. "That's why that's the most important sentence in this very short little letter."
Hoyer said there are multiple options to get a vote on a clean bill. One solution could be an obscure rule noted by Roll Call, which would allow any member of the House to force a vote now that the Senate has rejected going to conference.
Some conservatives are attempting to close off that path. Rep. Steve King (R-Iowa), an outspoken opponent of Obama on immigration, announced Monday that he is seeking to change the rule to prevent Democrats from using it to vote on a clean DHS bill.
"Republicans were elected on a promise to stop Obama's unconstitutional amnesty," King said in a statement. "A single clause in a rule we have the power to change is not an excuse to fund lawlessness. This is only a trap if we fail to act. Leadership's back is not against the wall unless they choose it to be."
Boehner's spokesman Steel said, "We are disappointed that Senate Democrats have once again rejected regular order. Now, we will talk with House Republican members about the way forward."
Republicans have argued that any DHS shutdown would be the fault of Senate Democrats who blocked the previous House bill from moving forward. (That bill also received a veto threat from the White House.) The vote on Monday was further evidence that Senate Democrats are unwilling to work with Republicans even by going to conference on a bill, they said.
"Americans are learning that Democrats might even try and prevent the Senate and House of Representatives from reconciling their bills to get the Department funded," Senate Majority Leader Mitch McConnell (R-Ky.) said on the floor earlier Monday. "It just doesn't make any sense."
This story has been updated with comment from Speaker Boehner's spokesman about the Senate vote.
Before You Go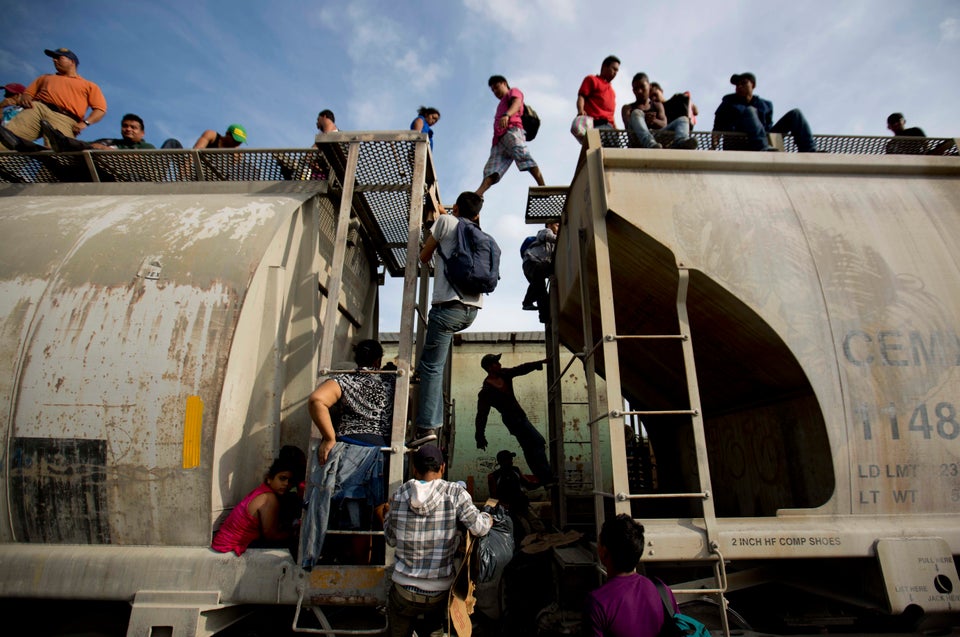 Why Latin Americans Really Come To The U.S.
Popular in the Community