WASHINGTON -- The House of Representatives voted Friday night to avert a shutdown of the Department of Homeland Security, so they can come back and have the same fight in a week.
The vote was the result of a divide between Republicans in the House and Senate over whether to surrender now or hold out for one more week. The GOP had been hoping to use the DHS funding battle to block President Barack Obama's latest executive actions on immigration. Senate Democrats successfully pushed Republican leaders to allow a full-year DHS bill without immigration riders. That legislation passed the Senate 68 to 31 earlier on Friday, after even the most hardline Republicans said the effort to kill Obama's plans through the funding bill was futile.
But House Republicans weren't ready to cave. Speaker John Boehner (R-Ohio) brought a three-week continuing resolution to a vote Friday afternoon, only to be blocked when 52 Republicans joined the majority of Democrats in opposing it. House GOP leaders had to regroup, apparently reaching a deal with the more conservative members of their caucus to bring up a smaller stopgap measure that would keep operations running at DHS for just one more week.
The Senate first passed the one-week continuing resolution by a voice vote, just hours before DHS was poised to shut down. The House then approved the measure by a roll call vote of 357 to 60. President Barack Obama signed it into law just before midnight. A majority of Democrats joined Republicans to vote for the short-term fix, after House Minority Leader Nancy Pelosi (D-Calif.) told her colleagues that the passage of the one-week resolution would assure a vote on a full funding bill next week.
Democratic leadership aides said they were assured that the House would take up a full-year funding bill next week if they helped pass the one-week continuing resolution on Friday. Boehner spokesman Michael Steel insisted that no such promise had been made.

House Republican leaders had initially hoped a three-week continuing resolution would give them time to convince senators to go to a conference on the DHS budget bill that would add back the immigration riders -- something that Senate Democrats have vowed to prevent. A GOP leadership aide said earlier Friday that they also wanted to avoid drawing attention away from next week's congressional address by Israeli Prime Minister Benjamin Netanyahu. A one-week continuing resolution won't do that, but at least it prevents a shutdown for now.
Friday's events nonetheless proved to be an embarrassment for GOP leaders in the House, who once again made headlines for their inability to control the conservative hardliners within their own caucus. Democrats mocked Republicans for pushing DHS to the brink at a time of high-profile terrorist threats. Senate Minority Leader Harry Reid (D-Nev.) accused Republicans of being incapable of governing, just months after the GOP swept into control of Congress.
Some House Republicans wanted to bide their time on longer-term funding of DHS to see how a lawsuit against Obama's executive actions plays out in court. Last week, a federal judge temporarily halted the disputed 2014 immigration programs; the Obama administration is seeking a stay of that order and an appeal. If an appeals court maintains the injunction, Republicans might be less wary of approving a full year of DHS funding without immigration measures.
Some rank-and-file members acknowledged that a short-term funding fix would do little to affect the end game and that they would still face the same choice in one week.
"I don't think there is any middle ground," said Rep. Tom Rooney (R-Fla.). "I think you either vote to shut Homeland Security down or you vote to allow the president to continue forward with the executive action."
The debate, he added, was one of policy versus politics. Noting that he had pledged to fight Obama's immigration actions tooth and nail, Rooney said it was incumbent on him to deliver on that promise.
"Right now I'm leaning towards standing my ground and [proving] that what I've been saying for the past three months hasn't been political bulls**t," Rooney said. "The bottom line is you've got to be able to explain yourself to your constituents that you are not a total hypocrite."
Other Republicans considered the entire affair to be bad politics. Rep. Devin Nunes (R-Calif.), who said that he favored any bill that would keep DHS open, had little to say when asked Friday afternoon if the House had spent weeks on what was essentially an exercise in futility.
"You'd be assuming that we don't waste time normally," Nunes quipped.
Sen. Mark Kirk (R-Ill.), who is up for re-election in 2016, said Republicans should have never tried to include immigration measures in the DHS bill in the first place.
"Hopefully we're going to end the attaching bulls**t to essential items of government," Kirk told reporters.
This article has been updated to note that the president has signed the legislation into law.
Before You Go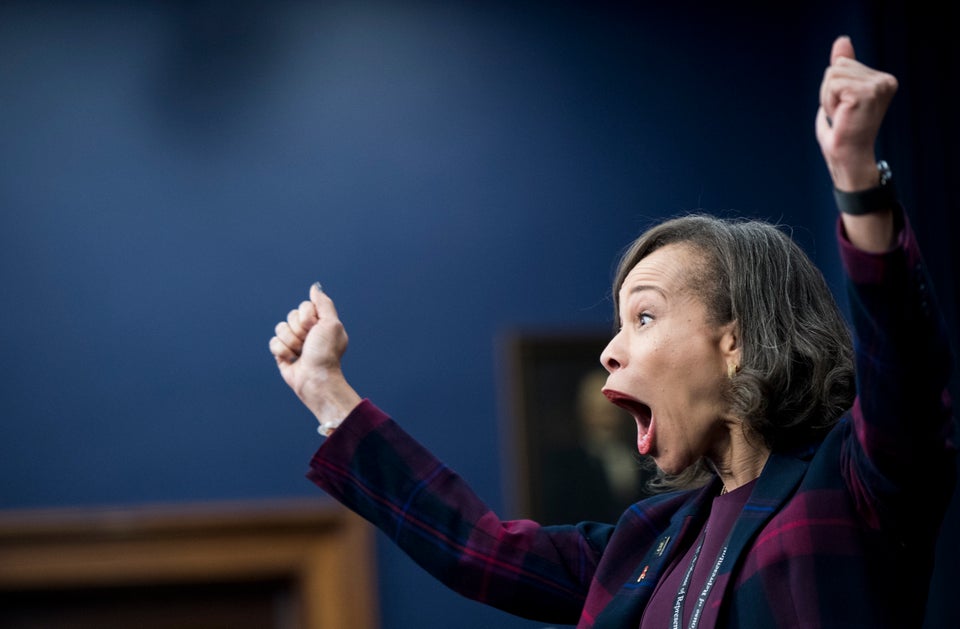 Scenes From 114th Congress And Capitol Hill
Popular in the Community