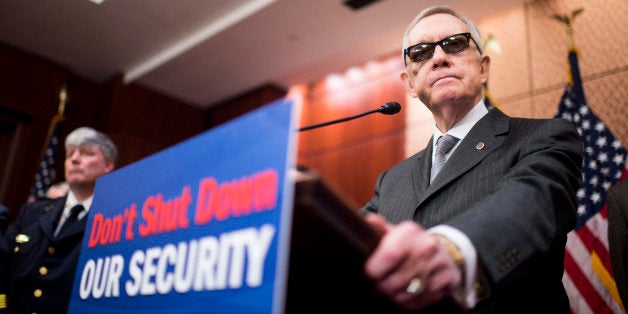 Americans care more about keeping the Department of Homeland Security open than about rolling back President Barack Obama's executive actions on immigration, a new HuffPost/YouGov poll finds -- but most are barely following the political battle in Congress.
By an 8-point margin, 45 percent to 37 percent, Americans say it's more important not to shut down DHS. Democrats prioritize keeping DHS running by a 61-point margin, and independents by a much slimmer 5-point margin. Republicans, however, say by a 36-point margin that combatting Obama's immigration orders is more important.
The role of immigration in the controversy highlights an ironic twist to public opinion on the issue: The majority of Americans are unaware that immigration is the reason Congress is holding up DHS funding. Just 42 percent selected immigration from a list of four possible issues as the reason for the DHS showdown, with nearly as many (36 percent) unable to answer the question and 22 percent selecting other issues.
Most Americans have simply tuned out the controversy. Just 12 percent say they have been following news about a potential shutdown very closely, with another 28 percent saying they are following it somewhat closely. Far more say they are following the story not very closely (26 percent) or not closely at all (34 percent).
Consistent with the usual pattern on interest in political news, younger Americans are the least attentive to the story. Less than a quarter (24 percent) of adults under 30 are following the issue very or somewhat closely, compared to nearly two-thirds (62 percent) of those over 65.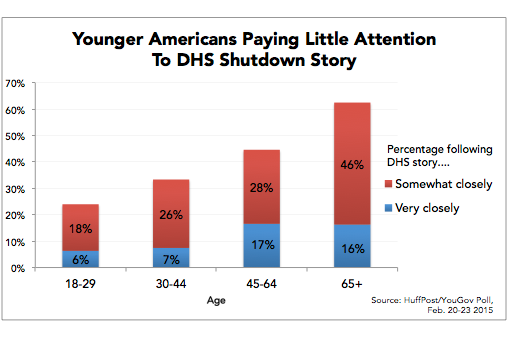 The Americans who are most engaged in the issue are also more likely to be Republican (30 percent), conservative (47 percent) and, most of all, supportive of the goals of the tea party (60 percent).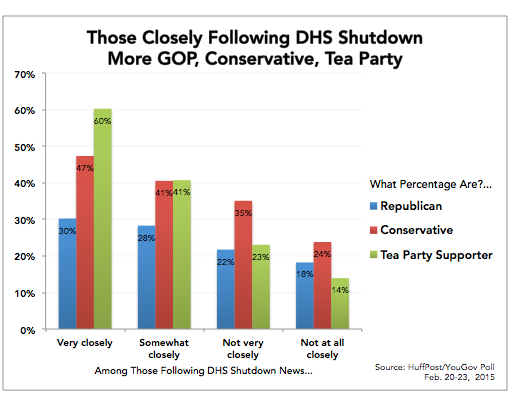 The lack of attention complicates efforts to predict who voters will blame if DHS gets shut down, because it involves a hypothetical question about an issue most have not been following and know little about.
The latest HuffPost/YouGov poll tested potential responsibility for a DHS shutdown in two ways, pitting congressional Republicans against President Obama on one-half of the sample, and against congressional Democrats on the other. In both cases, slightly more people were ready to blame Republicans -- by a 40 to 32 percent margin against Obama (with 28 percent uncertain), and by a 37 to 28 percent margin against the Democrats in Congress (with 34 percent uncertain).
The combined data for both questions reveals an important pattern: Not surprisingly, given their ideological leaning, the Americans paying most attention to the DHS funding controversy are also most likely to blame President Obama or the Democrats for any shutdown (57 percent). That tendency steadily declines along with attention paid to the issue, while the percentage uncertain rises sharply, reaching 62 percent among those who say the are not following the issue at all.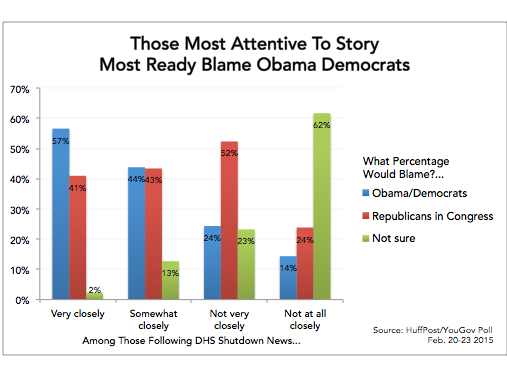 If a budget stalemate forces a shutdown of DHS and the story becomes far bigger -- grabbing the attention of younger, less politically conservative Americans who have so far not paid much attention -- blame could shift decisively against Republicans.
The HuffPost/YouGov poll consisted of 1,000 completed interviews conducted Feb. 20-23 among U.S. adults using a sample selected from YouGov's opt-in online panel to match the demographics and other characteristics of the adult U.S. population.
The Huffington Post has teamed up with YouGov to conduct daily opinion polls. You can learn more about this project and take part in YouGov's nationally representative opinion polling. Data from all HuffPost/YouGov polls can be found here. More details on the poll's methodology are available here.
Most surveys report a margin of error that represents some, but not all, potential survey errors. YouGov's reports include a model-based margin of error, which rests on a specific set of statistical assumptions about the selected sample, rather than the standard methodology for random probability sampling. If these assumptions are wrong, the model-based margin of error may also be inaccurate. Click here for a more detailed explanation of the model-based margin of error.
Calling all HuffPost superfans!
Sign up for membership to become a founding member and help shape HuffPost's next chapter
BEFORE YOU GO
PHOTO GALLERY
Politicians' Favorite Things