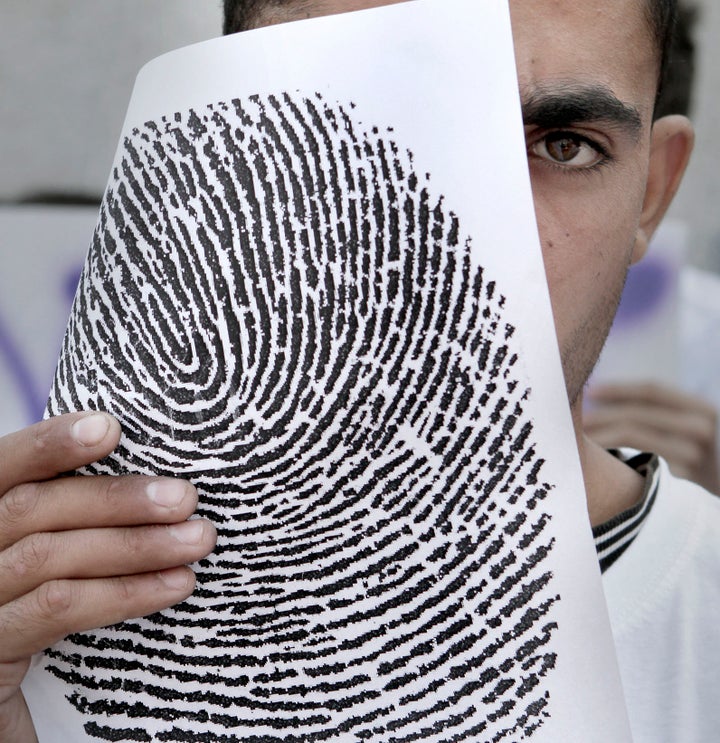 HOUSTON -- The Department of Homeland Security will not allow Illinois law enforcement to stop sharing information with immigration enforcement, despite Illinois Gov. Pat Quinn's request to opt-out of a controversial program, DHS officials confirmed on Thursday.
But DHS officials confirmed to The Huffington Post that they will still require the state to share fingerprints with immigration enforcement -- even though Quinn said he wants to terminate a memorandum of understanding with the agency to share the data.
In making this decision, DHS is flouting the state's decision to withdraw from the program in favor of more universal immigration enforcement and likely setting the stage for a lawsuit.
The Illinois case is the latest -- and farthest-reaching -- in a string of confusion and misstatements from DHS over whether Secure Communities participation is voluntary. The program, a staple in the DHS's efforts to deport record numbers of undocumented immigrants each year, has come under fire from the Congressional Hispanic Caucus, which called for a moratorium on Secure Communities on Thursday.
Rep. Zoe Lofgren (D-Calif.) and Sen. Robert Menendez (D-N.J.) called last week for an investigation into Secure Communities to determine whether DHS willfully deceived the public on the nature of the program.
In the wake of those criticisms, Illinois became the first state to attempt to withdraw from fingerprint-sharing by terminating a memorandum of understanding with DHS. In a letter to the agency, Gov. Quinn wrote on Wednesday that Illinois police would no longer participate in Secure Communities and that all jurisdictions within the state would terminate their relationships with the DHS program.
Illinois is one of 42 states to agree to the program, which is being used in 1,265 jurisdictions. The Obama administration aims to expand the program nationwide by 2013.
Quinn criticized Secure Communities for netting large numbers of non-criminal undocumented immigrants, which he said was contrary to the DHS messaging on the program. Although Secure Communities is meant to capture the "worst of the worst" of undocumented residents, Quinn cited data that shows about 20 percent of those deported from the state under the program have never been convicted of a crime.
In response to the letter, DHS confirmed to HuffPost it would still obtain fingerprint data for immigration checks from the FBI, which screens fingerprints from local law enforcements to find fugitives and determine criminal records. The Illinois governor's office did not immediately return a request for comment on the DHS decision.
DHS's response prompted critics to say it is unclear what the memorandums of understanding were meant to signify.
"Contracts are contracts, not courtesies. ICE cannot rule by decree or manufacture its own authority out of thin air regardless of how much they're trying to emulate Sheriff Arpaio in Arizona," said B. Loewe, spokesperson for National Day Laborer's Organizing Network, which has been part of a coalition effort to end the program. "The Governor terminated their agreement and [for DHS] to do anything but honor that should sound warning bells for any states yet to sign, and raise new levels of questions about whether this rogue agency recognizes it's operating in a democracy."
The Illinois decision is likely to spark a fight between DHS and Rep. Luis Gutierrez (D-Ill.), an influential Latino congressman who has criticized the Obama administration for its immigration enforcement tactics. Gutierrez praised Quinn's choice to withdraw from Secure Communities in a Thursday letter to the Illinois governor.
"Programs like Secure Communities result in pretextual stops and arrests based on racial profiling ... and are often in conflict with the purported goals and priorities of ICE enforcement efforts," Gutierrez wrote on Thursday.
But with the Obama administration eager to prove it is serious about deporting some of the estimated 11 million undocumented immigrants within United States borders, DHS has forged onward with Secure Communities despite criticisms, said a former DHS staffer familiar with decision-making at the agency.
"They're caught in a really bad lose-lose position but they've put themselves there by being overly enthusiastic about this program without thinking through its implications," the former staffer said. "The Secure Communities program is a huge funnel for bringing immigrants into detention. It's because of these programs that they've exceeded Bush on deportations."
In the end, DHS officials chose to redefine "opt-out," choosing what Rep. Zoe Lofgren (D-Calif.) called a "counterintuitive and misleading definition." Instead of allowing jurisdictions to stop sharing fingerprints with immigration enforcement, DHS now states jurisdictions can opt-out of receiving word back from immigration officials on the results of immigration checks -- which will not prevent local police from aiding in immigration enforcement.
John Morton, director for Immigration and Customs Enforcement, will travel to Springfield, Ill., on Friday to meet with Illinois officials to discuss how to improve the program, ICE Press Secretary Barbara Gonzalez told The Huffington Post.
Gonzalez defended the program and said ICE is working to ensure that it focuses on individuals who have broken criminal laws.
"Secure Communities has been deployed quickly to support the administration's efforts to prioritize criminal aliens for removal, and DHS is committed to working with all partners to address questions about the program," she said.
Popular in the Community