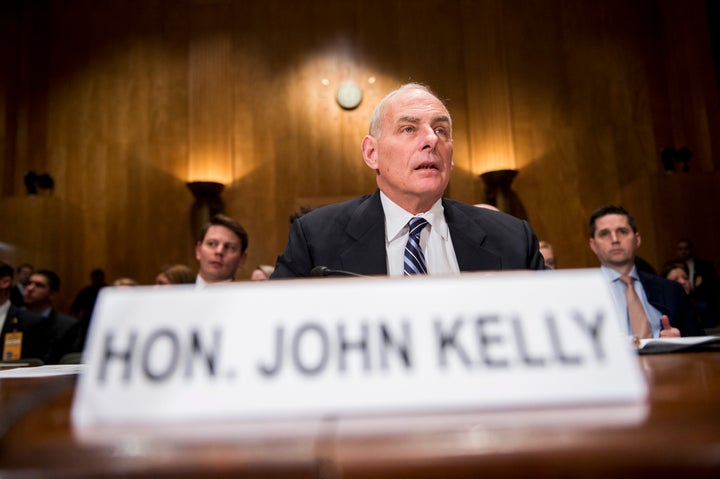 WASHINGTON ― Homeland Security Secretary John Kelly said on Wednesday he is not planning to routinely split up children and mothers at the U.S.-Mexico border, after previously alarming immigrant advocates by suggesting such a policy would help deter illegal border crossings.
Speaking before the Senate Homeland Security and Governmental Affairs Committee, Kelly said he would separate families apprehended at the border "only if the situation at that point in time requires it" ― for example, if a mother is sick or addicted to drugs. He said he "can't imagine" doing it unless there is reason to believe a child is in danger.
Kelly's statement, which followed vaguer assurances to senators last week, represents a rare walk-back by the Trump administration from a potential method of deterring unauthorized immigration. President Donald Trump has even taken a hard-line stance toward women and children fleeing violence in Central America, casting them as a dangerous drain on the U.S. regardless of their right to seek asylum.
Kelly, who has said the administration's policies are successfully bringing down the number of illegal entries, indicated last month that family separation could be part of those efforts.
Last week, the secretary denied he'd ever indicated he was considering splitting up families at the border as a method of deterrence. He also told Senate Democrats that he was not separating families at the border. Some interpreted that as a statement that DHS simply wasn't currently separating families, but others believed it was a commitment to refrain from doing so in the future, except under extenuating circumstances.
The latter interpretation was "fair," Kelly told reporters at the time.
At the hearing, Kelly left some wiggle room ― he said DHS policies would depend "on what's going on on the ground," but that keeping families together at the border "generally would be [his] approach."
He also told Sen. Kamala Harris (D-Calif.) that DHS officers and agents would need his approval to separate any families. Harris asked Kelly if he would provide written guidance on the policy, and he said he didn't need to, because he'd done it verbally.
"My staff knows already that they will not separate anyone unless I'm informed and [they] get my permission," Kelly said.
Kelly's comments appeared to throw cold water on a proposal in the Texas legislature that would relax the standards for giving child care licenses to family detention centers.
Republican state Sen. Bryan Hughes proposed the Texas bill as a way to allow the federal government to lock up children with their mothers in immigrant detention indefinitely. To comply with a federal court ruling, most women apprehended at the border with their children are released from family detention after three weeks while their cases go through the immigration courts.
Hughes and other Texas Republicans justified the bill last week at a state Senate committee hearing by saying it would keep the federal government from separating children from their mothers at the border.
Reed Smith ― the regional vice president of GEO Group, the private prison contractor that runs the family detention center in Karnes City, Texas, as a for-profit enterprise ― also told legislators at the hearing that his company would likely have no choice but to convert the center into an adult facility unless it was licensed as a child care facility.
With no place to lock up moms and kids together, Reed speculated, the Trump administration might instead separate families at the border.
"There's nothing in the immigration laws that says the mother and the children have to be housed together," Smith told the committee. "There would be nowhere to put the children together [with their parents]."
Kelly's comments on Wednesday appeared to remove that concern.
"The rationale provided for this bill was that families will be separated at the border," Texas Sen. José Rodríguez (D) wrote in a statement to The Huffington Post. "This is simply not true ... We must treat people fleeing violence and national instability with greater dignity and respect, not jail them in for-profit prisons that cage families as though they were felons."
Immigrant rights advocates said that Kelly's remarks were a positive step ― as long as he and border agents follow through and keep kids and their moms together. Systematically separating women and children at the border "would have been a cruel punishment for those fleeing harm and trying to find safety at our borders," stated Katharina Obser, senior program officer at the Women's Refugee Commission.
"We have already documented that separating families causes immense harm and prevents access to legal protection in the United States," Obser said. "Given that families will continue to flee countries where their lives are in danger – such a policy would likely drive families only further into the hands of traffickers or smugglers. WRC intends to monitor closely whether the experiences of families apprehended by immigration officials at the border match what Secretary Kelly has said."
This story has been updated with a statement from Texas Sen. José Rodríguez.
Before You Go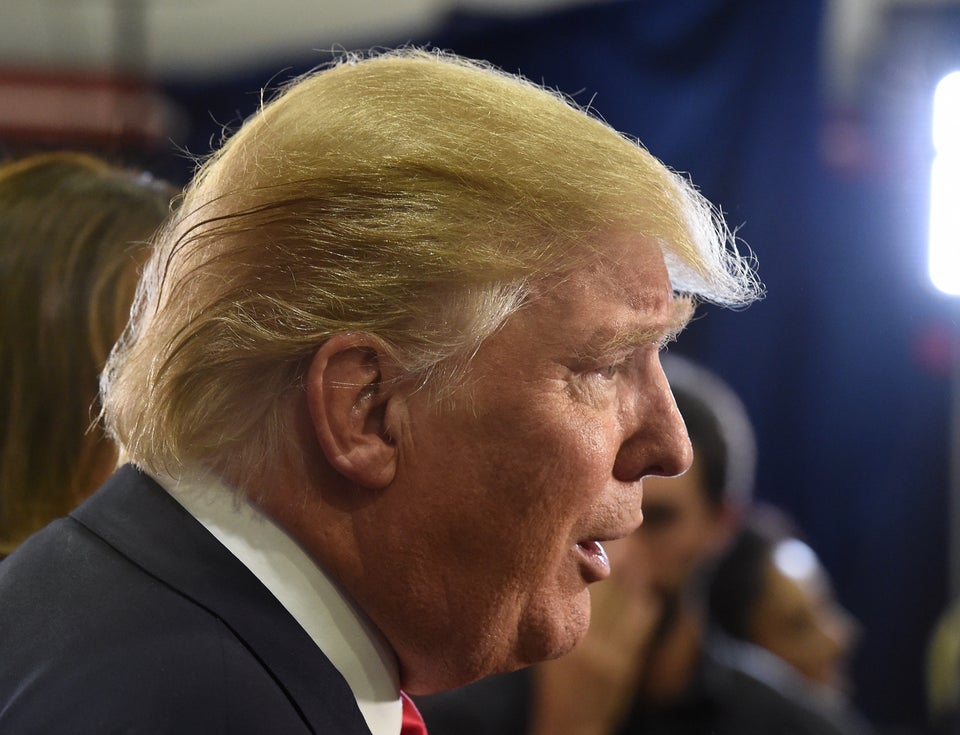 How Donald Trump Talks About Undocumented Immigrants
Popular in the Community