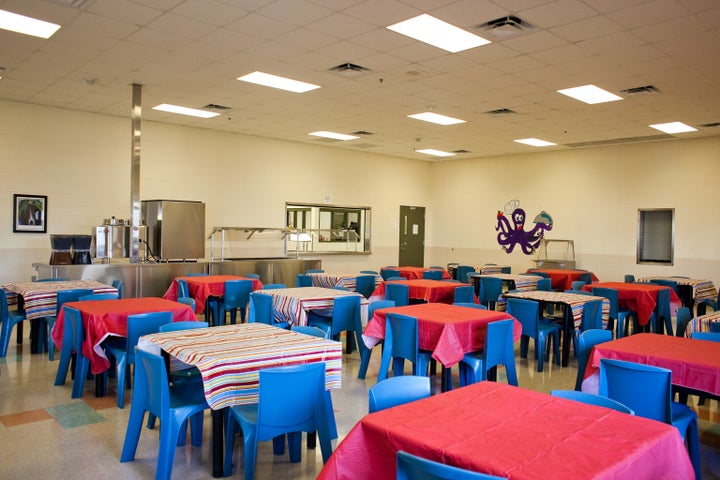 An advocacy group is suing to force the federal government to hand over key records from an investigation into allegations of sexual abuse at a family detention center in Texas.
RAICES, a nonprofit based in San Antonio, Texas, filed a complaint against the Department of Homeland Security in federal court Friday, accusing immigration authorities of illegally withholding the records demanded under a Freedom of Information Act request first submitted in April.
Several women lodged complaints of sexual abuse at the Karnes Family Residential Center last year, accusing at least three guards of promising detained mothers legal help or money in exchange for sexual favors. An internal investigation by the DHS Office of the Investigator General, based on a review of surveillance videos as well as interviews with dozens of detainees, concluded that no abuse had taken place. The report says that a security camera filmed two people having "inappropriate physical contact," but they were both employees of the facility, which is run as a for-profit enterprise by the private prison contractor GEO Group. Both employees lost their jobs.
"Review of over 360 hours of time lapsed surveillance video footage of the laundry room and day room areas failed to confirm that any of the detainees were escorted to those areas after hours by Detention Officers," the report says.
But the complaint filed Friday says that simply reviewing the security footage does not necessarily disprove the allegations, because according to some women detained at Karnes, there is a wall obscuring a large part of the laundry room.
"According to former detainees familiar with the allegations, the sexual assaults by guards happened quite intentionally in a 'blind spot' that would not have been captured by a security camera," the complaint reads. "A former detainee drew a schematic depicting this blind spot as follows."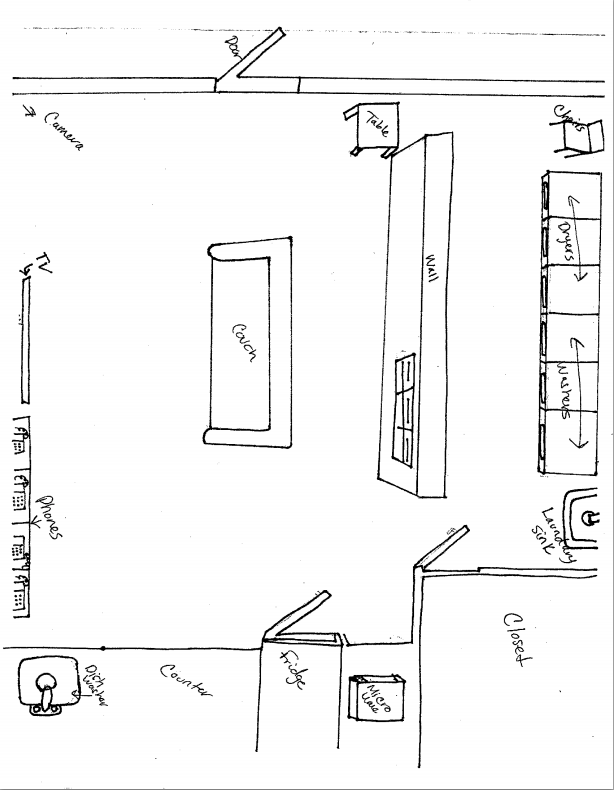 Two women who spent months detained at the Karnes facility each independently told The Huffington Post that a security camera mounted in the corner of the room to the right of the entrance was in plain view, and that a wall made it impossible to see into the location where the abuses allegedly took place.
"There's no way a camera could get there," Kenia Galeano, a former Karnes detainee, told HuffPost. "There's a wall in the way."
Galeano said that during her time at Karnes, she heard rumors that guards took advantage of detained women in the laundry room, but said she never personally saw anything. Still, she said she generally believed the rumors, because she alleges that a GEO employee once asked her how much he would have to pay her in order to fondle her.
"He disrespected me," Galeano said. "So I'm sure that these things do happen."
Another former detainee, Yanira López, said that she also heard rumors of sexual abuse but never personally saw it happen. However, she added that security cameras didn't capture what happened in the entire room.
"It was a big room," López told HuffPost. "To the right of the entrance, there was a camera. There was a space where it couldn't record, and that's the spot where the washing machines and dryers were. There was a wall in the way."
Andrew Free, the attorney who filed the FOIA lawsuit, said the internal investigation was couched in language that made its conclusions unclear.
"I find it hard to believe that anyone who works for GEO and knows where the cameras are located would molest women in front them," Free told HuffPost. "They couldn't show that anybody was 'escorted' by an officer. That's a very odd dodge. It doesn't say that there aren't any detention officers in the room with detainees after hours, and it should." 
"I don't have any reason to assume that they didn't do what they said they did in this investigation, other than the really odd language they used in this report," Free told HuffPost. "But I don't know. That's what we want to find out."
A spokeswoman for U.S. Immigration and Customs Enforcement, a division of DHS, declined to comment on the FOIA lawsuit Friday and reiterated the original conclusions of the internal investigation. The DHS Office of the Inspector General did not respond to multiple requests for comment.
In a statement emailed to HuffPost, GEO Group denied that any sexual abuse took place at the Karnes facility. 
"Our company has consistently and strongly denied these allegations, and the Office of Inspector General for DHS concurred in a comprehensive review that such prior allegations were unfounded," Pablo Paez, a spokesman for GEO Group, wrote. "Our company stands by our prior statements and strongly refutes these allegations as we have consistently done in the past."
The immigrant detention system, like the prison system in general, has been plagued by sexual assault allegations. A worker at the T. Don Hutto detention facility in Taylor, Texas, was charged in 2010 with sexually assaulting three women while driving them to the airport to be deported. He was removed from the facility when the allegations came to light, but activists say it was far from an isolated incident. There were 185 reports of sexual abuse in immigrant detention centers between 2007 and 2011, according to the American Civil Liberties Union.
Immigrant women are considered especially vulnerable to abuse, since they may fear that reporting a guard or staffer could have implications for their removal case. Some women say they have been assaulted while on the way to be deported -- a situation where it would be difficult for them to report the incident at all. Language barriers exacerbate the problem.
The Obama administration largely did away with family detention in 2009, but expanded it again last year after some 68,000 mothers traveling with their children crossed into the United States illegally. That sudden influx coincided with the arrival of tens of thousands of other minors unaccompanied by any family.
The sex abuse allegations from last year kicked off a series of other complaints of mistreatment -- including alleged retaliation against mothers who protested their children's detention, as well as accusations of medical neglect -- at the family detention centers where the Obama administration has locked up women and children crossing into the U.S. illegally. Most of the detained families come from violence- and poverty-plagued Central American countries and are seeking asylum or other forms of humanitarian relief.
The expansion of family detention has come under sharp legal scrutiny in recent months. In February, a federal judge ordered that the Obama administration could not lock asylum seekers in family detention solely for the purpose of deterrence. In response, DHS updated its guidelines for detaining families and initiated a review of cases to expedite the release of qualified asylum seekers. Attorneys say the vast majority of the women and children in family detention qualify for asylum or other humanitarian relief because of the persecution they face in their home countries, often from gangs.
Last month, U.S. District Judge Dolly Gee found that the Obama administration's family detention policy violates the 1997 Flores Agreement, a settlement that requires undocumented children to be placed in the least restrictive setting possible and for DHS to generally follow a policy of releasing them.
Elise Foley contributed reporting.
Calling all HuffPost superfans!
Sign up for membership to become a founding member and help shape HuffPost's next chapter