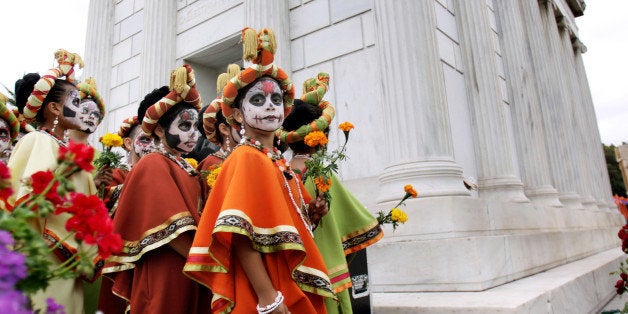 Back in the 1960s, the great essayist Joseph Mitchell wrote about his awe at seeing murals depicting "animated skeletons mimicking living human beings engaged in many kinds of human activities, mimicking them and mocking them.... I was astonished by these pictures."
He was describing, of course, the imagery of Día de los Muertos. In Mitchell's era, the Latin American holiday was exotic and largely unknown to U.S. readers, and he was performing his writerly duty of passing along intriguing cultural information to his audience.
Today, we all are familiar with Día de los Muertos -- the white face paint on celebrants, the ubiquitous illustrations of grinning skulls, the small panoramas of skeleton musicians and dancers. However, there is still great confusion in America about what this holiday actually signifies. Although it takes place at the same time of year as Halloween and shares the theme of ghostly visitors, there are fundamental differences.
Día de los Muertos is a time for people to pray for and remember friends and family members who have died. The goal is to pay respects to late loved ones, honor their lives, and acknowledge the fragility of life.
Halloween, in contrast, long ago lost its religious and spiritual roots. Today, it is a time for kids in Iron Man masks to ingest 18 tons of candy, and for guys dressed like Captain Jack Sparrow to do vodka shots and leer at women dressed like sexy nurses or sexy window washers or sexy rutabagas.
This proximity and superficial similarity of the two holidays has led to some confusion.
For example, Knott's Scary Farm has set up a Day of the Dead Scare Zone. Over at Change.org, there is a petition (closing in on 1,000 signatures) calling out the California theme park for misappropriating Día de los Muertos. According to the petition, the Scare Zone is "extremely inappropriate and culturally insensitive," and it is "little more than an outdoor club with ... 'scareactors' appropriating stereotypical Día De Los Muertos attire while dancing to EDM."
No, that doesn't sound like a sacred time to reflect on the fragility of life and the loss of loved ones. It sounds more like a great time to drop E and get freaky under strobe lights. But I guess people contemplate in different ways.
Now, you could argue that the petitioners are just being overly sensitive. And their ultimate goal -- for Knott's Scary Farm to drop the Scare Zone -- seems unlikely to happen. But even if you believe the petition is just PC nonsense, you have to agree that there are larger issues here.
For starters, what happens when a religious holiday goes mainstream? Will those who revere Día de los Muertos just have to deal with it, like those Christians who despise the commercialism of Christmas?
Furthermore, is this the price Hispanics must pay for no longer being invisible? After all, back in the day, tacos and sombreros constituted the only imagery of Latino culture that most Americans knew, so an obscure holiday like Día de los Muertos was unlikely to inspire its own party area at a huge theme park.
Now that Hispanics are the largest ethnic minority and continue to exert more influence on American society, is it inevitable that some aspects of the Latino experience get homogenized and trivialized and morphed into something unrecognizable? Should Latinos brace themselves for more of this?
If so, it's only a matter of time before Día de los Muertos becomes fully integrated with Halloween, and everything -- good, bad, or other -- that comes with the holiday.
It's a lot like what happened to Cinco de Mayo, which is not Mexico's independence day, nor an excuse to get sloppy on tequila.
But you knew that already -- right?