November marks Diabetes Awareness Month so I want to shed light on the prevalence of diabetes among pregnant women and how it can impact your pregnancy. According to the Centers for Disease Control and Prevention (CDC), it is estimated that 30.3 million Americans are currently living with diabetes both diagnosed and undiagnosed. 30.2 million are 18 or older. That is a startling number. This means 12.2% of adults in America are living with diabetes today. You may have had diabetes prior to becoming pregnant or developed gestational diabetes during your pregnancy. Whether you had it before or during pregnancy, it may impact your baby.
The most common form of diabetes is Type 2 diabetes which occurs when your body cannot manage its blood sugar. Although many women with type 2 diabetes develop it after they have had their children, some develop it before they're done with childbearing. If you are one of these Americans who has diabetes, make sure you talk to your healthcare provider to be sure your blood sugar levels are in good control before your pregnancy
Did you know, according U.S. News and World Report, an estimated 18 percent of women during their pregnancy are diagnosed with gestational diabetes? That's almost one in five women! This type of diabetes is caused by a change in the way a woman's body responds to the hormone insulin during her pregnancy and is normally diagnosed in the last three months of a woman's pregnancy. According to Healthy Mom&Baby, this change leads to "higher levels of blood sugar than normal in your blood stream."
Healthy Mom&Baby provides an easy to read chart that displays the effects of diabetes in your pregnancy: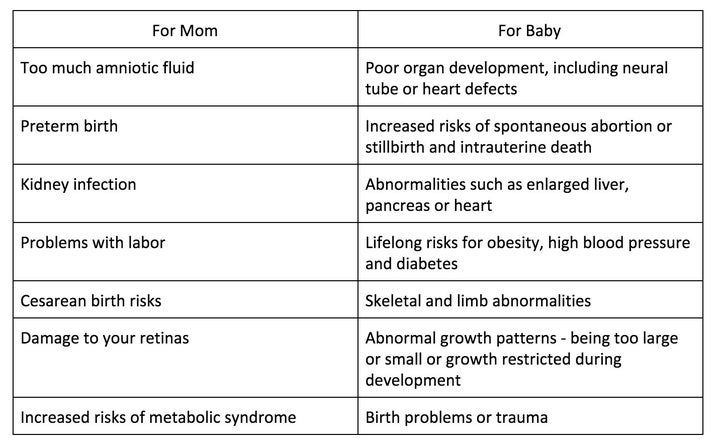 Often times we don't think to consider the possibility of being diagnosed with diabetes during pregnancy. The good news is you can take simple steps in your daily life to reduce your risk of having gestational diabetes. You can help prevent diabetes by avoiding the unhealthy habits that increase insulin resistance in your body including smoking, being overweight or obese, eating an unhealthy diet and avoiding exercise.
If you are currently overweight or obese, it helps to start changing your eating habits to eat healthier foods to assist in weight-loss. In order to improve your diet, it helps to reduce the intake of sugary foods and refined carbs. Those foods put at-risk individuals on the fast track to developing diabetes. In addition, according to Diabetologia, exercising 30 minutes a day reduces your risk of diabetes by 25 percent, and walking for 10 minutes after meals lowers your blood sugar by 22 percent. I encourage you to work with your nurses to adopt healthy lifestyle habits that will keep you on track to avoid diabetes in pregnancy and throughout your life.
To find out more information about this go to health4mom.org.
Popular in the Community