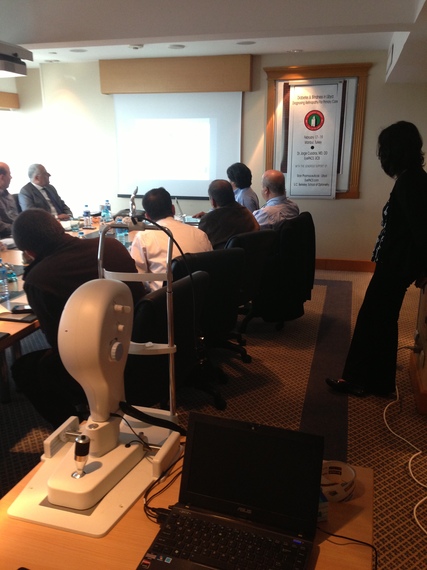 This past week, in the midst of yet another political crisis in Tripoli and the third anniversary of the 2011 Revolution, 11 Libyan physicians, including diabetes specialists, ophthalmologists and pharmacists, participated in an intensive three-day certificate program in "Retinopathy Screening for Primary Care," in Istanbul, Turkey. Diabetes-induced retinopathy is one of the leading causes of blindness in Libya, and is currently at epidemic levels.
Dr. Jorge Cuadros, Professor of Optometry at U.C. Berkeley and co-founder of EyePACS, led the seminar, which trained clinicians from across Libya to use advanced digital imaging techniques to diagnose retinopathy, a degeneration of the eye, which in its early stages has few symptoms and is often diagnosed too late to save vision.
The Libyan clinicians will use retinal cameras and the Cloud-based EyePACS training and grading system to screen diabetes sufferers for retinopathy, and will train other Libyan doctors to do the same. A Libyan-American steering group has been created to manage local outreach, and get as many retinal cameras into primary care situations as possible. EyePACS, in conjunction with faculty and students at Berkeley, will provide remote and on-site quality assurance and diagnostic support to the Libyan physicians for the duration of the project, which is expected to add greatly to knowledge of diabetes and other health indicators in Libya.
Those diagnosed with retinopathy will receive formal diagnosis reports from EyePACS, and will be referred to affiliated clinics for laser treatment. Dr. Cuadros, who has run similar programs in Mexico, said he was "extremely impressed by the dedication of the Libyan medics and physicians," and the fact that all passed the certification.
As Libya's very young population ages, diabetes threatens to devastate the country's already over-taxed health budget. Dr. Issam Hajjaji, the Director of LADE and a course speaker, said the program had the potential not only to save the sight of "many thousands in Libya, but add substantially to knowledge of diabetes in Libya."
Libya ranks very high in all major cardiovascular risk factors, including diabetes, hypertension, retinopathy and health awareness. The causes include genetic factors, diet, as well as poor health maintenance and preventative care. A 2009 STEPS survey, now out of date, estimated the incidence of diabetes in Libya to be 16.4 percent out of a population of just over 6 million. Statistically, 10 percent of those will develop retinopathy. The figures increase dramatically with age. According to the same 2009 study, 37.1 percent of Libyans aged 55-64 are diabetic.
The Avicenna-EyePACS program is one of the first telemedicine initiatives linking a U.S. university with Libyan counterparts. The project is underwritten by private American and Libyan sponsors, including Siran Pharmaceuticals and the Libyan Diabetes and Endocrinology Association (LADE). Program administrators hope this will serve as a model for delivery of other critical medical training and services to Libya, at a time when security concerns are impeding outside involvement.
The Avicenna Group was founded in early 2011 to catalyze health and environment-related partnerships between U.S.-based institutions and analogues in Libya and the broader Middle-East/ Africa region. Avicenna is a sponsor of the Beahrs Environmental Leadership Program (ELP) at UCB's College of Natural Resources, which last year saw its first Libyan graduates.
REAL LIFE. REAL NEWS. REAL VOICES.
Help us tell more of the stories that matter from voices that too often remain unheard.