Derek Yach is a physician, epidemiologist and Senior Vice President of Global Health and Agriculture Policy at PepsiCo.
The first part of my interview with Yach talked about global health and how we need to change our agricultural policies and work more closely with farmers.
Here, Yach shares what PepsiCo is doing through their product lines, to be a major player on the world stage helping to reduce hunger and obesity.
Q: What initiatives is PepsiCo involved in to help produce more nutritious foods?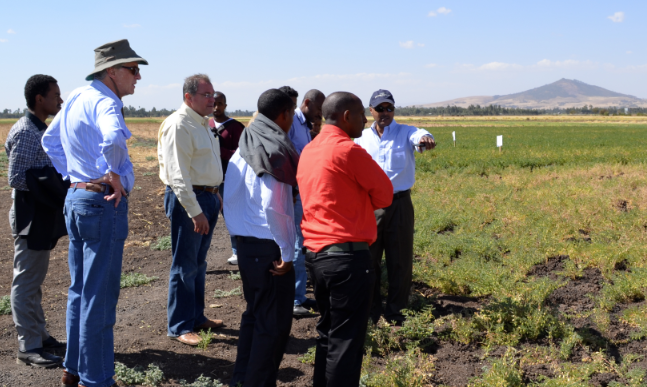 (Yach in yellow shirt in Ethiopia for chick pea program)
Derek Yach: We're investing in small farmers around the world and we're involved all along the chain, from the seed and development of farming practices to the final product and its consumption. We've partnered with the World Food Program and the United States Agency for International Development to fund better seeds and drip irrigation systems in Ethiopia so farmers can improve their yield of chickpeas. We believe this project can potentially reduce famine in Africa over the long term. Excess chick peas PepsiCo doesn't use, the World Food Program is using in a ready-to-eat food product to address famine in Pakistan.

PepsiCo is also fortifying many of its products to get micro-nutrients into millions of people's diets. For example, we're addressing iron deficiency in India with an iron-fortified cookie. In Mexico, we're fortifying some of our more nutritious cookies with Vitamin A.

Internationally we're at some of the largest global conferences, like the World Economic Forum, as part of a consortium looking at what the agricultural industry feels needs to be grown to address world hunger.

And across Africa and parts of Pakistan and when there's a crisis in the U.S., like Katrina, the company mobilizes a range of food, water, related relief and cash.

Q: Why don't more companies feel a moral obligation to move in this direction?

DY: I can't answer for other companies but I think a great business is one that is doing things that are both right for the business and right for society.

We are seeing that over the medium and long terms, the companies that started investing in healthier foods and in agricultural supply chains that are less vulnerable to climate change are the ones that will win.
It's less the moral case but the business case that needs to be made inside companies for doing this.
My hope is that increasingly we'll be competing against each other to see who can become the healthiest company.
Q: Was there any resistance within or without PepsiCo to move in this direction?

DY: Yes, but being a South African growing up in a period of profound national change, I have seen there will always be resistance to change. When you have a senior team all speaking the same message, a CEO, Indra Nooyi, who sees the business growth opportunities that come with developing healthier products and investment in research and development, suddenly the change that seems so tough, happens. And suddenly, the investment in innovation you made is no longer visionary, but business as usual.
Today, the annual revenues from our health and wellness portfolio -- brands like Tropicana, Quaker and Naked -- are about $13 billion. We believe that will grow to $30 billion by 2020.
This is a company that has been focused on health and wellness for quite some time. This journey accelerated about a decade ago when the company acquired Tropicana, Quaker and Gatorade -- three businesses which became the new engine of growth for the company and the foundation of our health and wellness portfolio.
Q: How do you reconcile doing this work in a company that's also the largest producer of what we think of as less than healthy snack foods?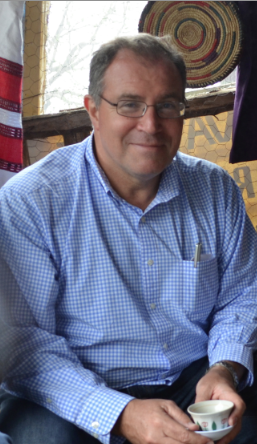 DY: I can answer that by saying there are two big strategies underway. One is to take many of our products and make sure that the salt, sugar and fat levels are at the lowest possible level and that they meet nutrition criteria, without sacrificing the great taste consumers expect from PepsiCo products.
We're pretty close to that in many of our products. If you take our Sun Chips, for example, they would do very well on almost every nutrition criteria. Yet because Sun Chips are a classic snack food, and people equate snacks with junk food, many still don't see how healthy they are.

Our beverage selection offers a full range of zero calorie and small calorie options that are inherently healthy like water, tea and Gatorade products for athletes. Also, the full calorie ones are starting to come down.
This year we're launching a new soft drink, "Pepsi Next." I think it's going to be a revolutionary product that gives consumers real cola taste with 60 percent less sugar.

While we invest in our core brands, we're also growing other parts of the company in order to build that $30 billion health and wellness portfolio that I mentioned earlier.
For example, we're expanding our Quaker line and many of our smaller brands. We have a range of healthier pita bread related products, like our hummus brand, Sabra and some of the healthiest low fat and skim milk yogurt-related products in Russia and the Middle East. Over the next few years you'll see more of these products.

Q: You sound enormously hopeful.

DY: Absolutely. If you look at the trends for demanding healthier foods the trend lines are upward in every market in the world. Even in the current economic environment with people turning, in part, to comfort foods, the overall trend toward improving health and nutrition seems to universally be going in the right direction. And the trend lines are echoed by steadily improving life expectancy and steadily declining diseases we thought we would never be able to conquer.

I was in South Africa at the start of the upswing of the AIDS epidemic. The evidence is now that it's starting to go down. I was very involved in tobacco control and now we've seen dramatic decline in tobacco-related mortality like lung cancer. That was unthinkable 15 or 20 years ago. I've seen the almost complete collapse of measles and almost complete eradication of polio.
Over the course of my career I've seen changes that people thought would be impossible.
I've also seen that individual and community action can make a big difference to global health. And as an epidemiologist I'm stimulated by changing the shape of the trend line to make sure as bad things are going up we can slow them down and bring them back down sooner.

We're starting to see the peak of obesity in a number of European countries and a slowdown or first indication of reduction in parts of the U.S. I think a decade from now we'll be looking at a reversal of the diabetes epidemic in many parts of the world and a continued upward trend of people living longer, healthier lives.
For Part 1 of this interview click here.
I find how Yach is looking at health and wellness -- from the ground up -- almost revolutionary amid the status quo, and his working within this snack foods giant to improve quality of life around the world a mighty stand. While some will say, "How healthy can it be to fortify cookies?" -- and while I can hope PepsiCo will spend more of their wellness effort creating more product lines that rely on fresh foods -- it would be great to see more companies joining in, as Yach said to me, "to do things that are right for the business and right for society."
For more by Riva Greenberg, click here.
For more on diabetes, click here.
Support HuffPost
A No-B.S. Guide To Life
Related
Popular in the Community