Diablo Ballet's 21st celebration performance series at the Del Valle Theatre in Walnut Creek, California was on May 6th and 7th. Dubbed Celebrated Masters, a series of single works by choreographers Robert Dekkers, Val Caniparoli, Troy McIntyre and Arthur Saint-Leon was presented. The achievement of longevity is rare for dance companies now, and 21 years promises both honing of talents, and cohesiveness of ensemble.
The two bright stars of the evening were choreographer Robert Dekkers and lead dancer Christian Squires. Both should be on every "must see" list for concert dance lovers. The remainder of the company, and the other choreographers in their collective hands, had moments of distinction, yet none rose to the level of these two.

Diablo Ballet has survived this long by adapting to modern funding trends. As such, artistic director Lauren Jonas has transitioned the troupe from a traditional proscenium company into a group of dancers who meet with the audience after the performances (first with on-stage Q&A, later in lobby receptions much like visual artists at gallery openings). This informality brings audience and dancers together, using familiarity to serve educational goals. Familiarity can be a double-edged sword--audience members and dancers become familiar while the artists' ability to create magic is compromised. At 21 years, Diablo Ballet wears this new approach well, with dancers and administrators all at ease, congenial and eager to integrate.
Mixing audience and artists presents an opportunity for choreographers to explain a work, which in turn diminishes the challenge to look within to find personal relevance; enigma, paradox, irony and subtlety disappear when something is "explained". Mr. Dekker, the only choreographer present, handled this well, applauding audience ideas while reminding that despite specific intention, the power of art lies in the viewer's experience.
Diablo's sense of ensemble was seen best in Mr. Dekker's hands. The dancers understood and spoke his language fluently. His ballet Do Be: Double Happiness opened the evening. The opening had minor troubles, yet once in it is editorial and meaningful as it explores the baggage we all carry, and the glory that comes when freed from it. The dancers were joyful to watch because they got it, spoke its language and delivered it. With editing and honing this work is a quiet masterpiece. It was the strongest choreography of the evening, and the best the dancers danced.
Christian Squires, lead dancer and costume designer, glowed as if an other-worldly character. His fluid dancing, clear expression and expert command of the stage came together with more impact than most performances in the past decade.
The solo and duet from Just, by Trey McIntyre, is a Jiri Kylian-inspired exploration. Unlike Kylian, McIntyre uses unfriendly, jarring music, (Set of Five by Henry Cowell). Amanda Farris and Squires did a solid job, blending their bodies well, though Farris could not quite achieve the expressiveness of Squires, seeming always to follow his lead. The work itself lacks clear statement (abstract or otherwise), so the determined dancers did their best with it.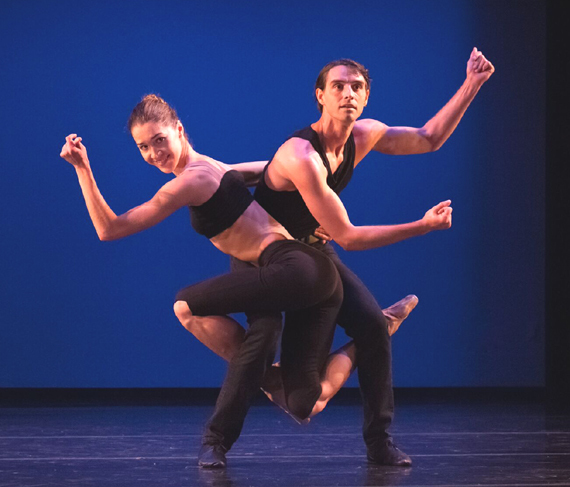 Tetyana Martyanova and Justin VanWeest in Book of Alleged Dances by Val Caniparoli, Photo by Berenger Zyla
Next came a duet from Book of Alleged Dances (8th Movement) by Val Caniparoli. This work relies on line and design, but was clad in black workout gear that visually dissected body lines to near invisibility. The work jumps focus from body line to sight gag in an unorganized way, lacking sense of continuity. In a work like this, top form technique and partnering ability are needed to bridge the gaps. Being a living sculpture on stage means giving your body over to shapes and lines absolutely. Jumping from that to sight gag for a chuckle then requires an ironic smile, a self-assured swagger, or some other transition. These dancers had neither the technical cohesion, nor the stage savvy to do this. Tetyana Martyanova and Justin Vanweest simply came from dance planets too different to blend.
The Wedding Festival from Coppelia, was the finale. The steps were somewhat reminiscent of the actual choreography, but the style was post-Balanchine and not classical at all. Choreography is a language, and classical choreography is classical language. This was at best a rap version of Shakespeare. Squires, due to his authentic classical ability, looked out of place by contrast; the other dancers struggled. Ludmila Campos and Aidan DeYoung were able do most of the steps, but are contemporary dancers, and so do not have the schooling and stylization training to be able to be true to this choreography.
Overall, the choreography of Caniparoli, McIntyre and Saint-Leon was flat; the work of Dekker was alive, and stood in stark contrast. Artistic Director Jonas--smart, clever and determined--has achieved something rare and worthy of note. Times change, funding purviews evolve, and most likely Diablo Ballet will still exist. Regardless the longevity of this troupe, however, to jump to the next level requires the artistic development of the company itself.
Fine art is a personal dialog between an artist and its viewers' souls. Choreographic artists must be certain, measured, determined, cautious, and clever. Artists must all possess skill beyond common imagination, and noble dedication to sharing their rare vision. Dancers are fine artists too, and can only improve with on-stage experience. Only seasoned or exceptionally gifted artists, with coaching, can elevate choreography to artistry. Before coaching, dancers must be meticulously trained to have full interpretive range. Their exquisite bodily control must allow them, at will, to create any line, any musical phrase, any dramatic statement needed to express the entrusted work. Only Squires has that level of skill in this company.
Diablo Ballet is an exciting troupe, with a good start and on the verge of achieving the next level. Diablo will no doubt celebrate its 25th season in just four years. In that time it is hoped the world will see a newly matured company rightfully claiming its place among the big boys. It is certainly possible.
Calling all HuffPost superfans!
Sign up for membership to become a founding member and help shape HuffPost's next chapter