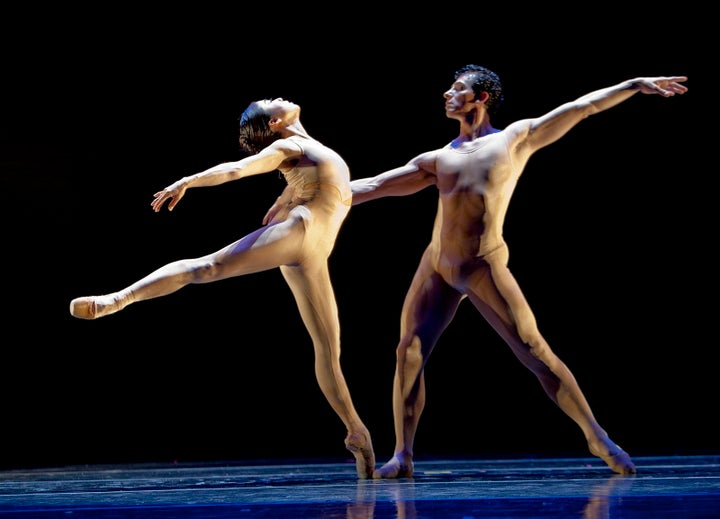 Diablo Ballet's next piece is in your hands. Don't know the difference between a grapevine and a grand écart? No sweat. Those who can't do, tweet.
The Walnut Creek-based ballet company is hopping on the crowd sourcing bandwagon and developing a piece pulled entirely from social media. Between now and February 14, the organization invites the twitterverse to post ideas for "The Web Ballet." Seven of the most interesting suggestions will be incorporated into the choreography.
Tweeters have free reign over the emotions of the dancers, the mood of the piece and even specific moves for the performers. The music selection is also up for vote. The Diablo Ballet posted three potential pieces from Bach, Sibelius and Vivaldi on YouTube. The video with the most likes will score the ballet.
The Web Ballet is not just a gimmick for ticket sales -- it's part of Diablo Ballet's larger efforts to democratize forgotten art forms, according Dan Meagher, the company's director of marketing.
"Classical arts are not as relevant in people's lives now," Meagher told The Huffington Post. "Not just ballet. We're talking opera, the symphony, chorale music and museums. We are trying to make the [arts] as accessible as possible."
Last March, they invited six critics to live-tweet a performance. The Web Ballet seemed like a logical extension of these efforts.
Robert Dekkers of SF's Post Ballet and Diablo Ballet's Lauren Jonas will choreograph the new effort. While Dekkers ordinarily takes months or a full year to choreograph a piece, the Web Ballet will be completed in just two weeks. Dekkers will maintain an online diary throughout the experience and the Diablo Ballet will post videos from the rehearsal.
"The challenge will be putting together the jigsaw puzzles of ideas," Dekkers told HuffPost. "I am hoping these limitations actually push me to create something really special."
So far, the twitterverse has weighed in with an eclectic array of suggestions. One user proposed a Mary Poppins-esque mood, and another suggested a Led Zeppelin-inspired piece. Meagher hopes this dialogue inspires the community to interact with ballet in a new way.
"Maybe they will want to see a show after this or take a dance class," he said. "We need more exposure to the arts."
You can be part of the Web Ballet by tweeting an idea along with the hashtag "#DiabloWebBallet." Suggestions will be accepted until February 14.
Check out some of the more outlandish ideas below:
PHOTO GALLERY
The Crowdsourced Ballet
Calling all HuffPost superfans!
Sign up for membership to become a founding member and help shape HuffPost's next chapter
BEFORE YOU GO