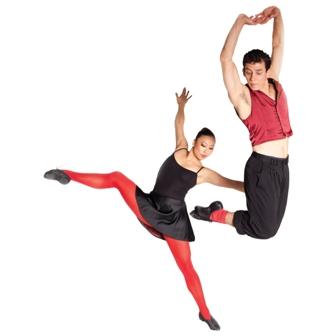 Mayo Sugano and David Fonnegra in KT Nelson's They've Lost Their Footing (Photo: Aris Bernales, courtesy Diablo Ballet.)
Pity the crowds who could think of nothing better to do on this fine Saturday afternoon than battle the traffic to Stinson Beach, Muir Woods and the wine country. Meanwhile, the cognoscenti headed out to Walnut Creek where Diablo Ballet was closing out its 19th season with an impeccably curated mixed bill, capped by a delightful improvisation masterminded by Artistic Director Lauren Jonas and KGO 7 news anchor Dan Ashley, who roped in the audience to choreograph a brief pas de deux for dancers Hiromi Yamazaki and Derek Sakakura. The resulting opus -- a romantic encounter between a construction worker and a businesswoman at a busy BART station -- may not remain in Diablo Ballet's repertoire for long, but it was magical while it lasted.
Yamazaki and Robert Dekkers kicked the program into high gear with the pas de deux from George Balanchine's rousing Stars and Stripes, a 1958 tribute to Balanchine's adoptive country, set to John Philip Sousa. Yamazaki and Dekkers wisely resisted the urge to ham it up, but instead gave us a crisp and vivacious reading of this marriage between classical Russian technique and Rockettes showmanship. Her sparkling footwork and surefooted balances, his buoyant jumps and skillful partnering made light of the many technique challenges. Our favorite moment was an exuberant series of partnered pirouettes during which she thrust her leg out into arabesque, which he nimbly had to avoid while keeping her on her balance.
Tina Kay Bohnstedt's new work From Another Time was a mysterious, absorbing glimpse into a dream world, set to a plaintive piano score composed and played live by local pianist Justin Levitt. At the end of the program, Levitt gave us a captivating explanation of how he felt the music evoked a bygone era in the Russia of his ancestors. There was a sense of foreboding throughout the piece, and the suggestion of the fragility of human bonds, as Jennifer Friel Dille, Rosselyn Ramirez, David Fonnegra, Derek Sakakura and Edward Stegge made momentary passionate connections that inevitably disintegrated. Although the technique was classical, the footwork was grounded deeply into the floor, the dancers weighed down by an unseen burden.
Robert Dekkers contributed the other world premiere to this program - a tempestuous ensemble piece accented with wit and humor, which stirred up much debate between Ballet To The People and her date on the drive home. The title See Saw struck her literally as a juxtaposition of present and past tense, along with many steps and gestures that seemed to indicate that we were on some kind of hunt, either a historical treasure hunt (the cast at one point appeared to be reading from elaborate imaginary maps or ancient scrolls) or perhaps a search for a criminal gang on the run, as they whipped out imaginary guns. Ballet To The People's date shot down this Hollywood B-movie interpretation, preferring to see the dance as a more abstract expression of internal conflict, of man's search for a simpler life in these chaotic times. Meaning aside, the dance was a profoundly musical response to the score, a Mendelssohn trio for violin, cello and piano, stirringly played by Phyllis Kamrin, Amy Brodo and Ian Scarfe.
Both new works are so rich in imagination that one viewing hardly sufficed to absorb all the fascinating details.
An angst-ridden duet from KT Nelson's They've Lost Their Footing, first created for Diablo Ballet in 1999, rounded out the program. It opens with the striking Mayo Sugano flattened against the back wall, writhing in desperation. The claustrophobic setting would appear to be some kind of detox facility, the tortured score by Swedish folk-metal-rockers Hoven Droven a rendering of the horrors inside Sugano's head. (Though, having never seen the full-length work, Ballet To The People could be jumping to the wrong conclusion, unduly influenced perhaps by the spate of urgent news flashes from the Huffington Post that landed in her inbox this morning, updating her on the latest crisis in Lindsay Lohan's flirtation with rehab.) A little later on, Sugano is joined by a menacing Robert Dekkers, who might well be her pusher. These two proceed to destroy each other in a contemporary dance vocabulary that appears somewhat dated today.
Modern urban nightmares like this might be even more powerful if the ballerina were costumed in a tutu and the score ripped from a Handel opera. Within this program, however, They've Lost Their Footing provided an intriguing counterpoint and a tribute to the physical and artistic range of this tiny, spunky company.
The poor sightlines at the Shadelands Auditorium and the tight stage quarters are not an ideal setting for dance, but the Diablo Ballet dancers are so skilled that we do not feel they are holding anything back. It is a thrill for the audience to be so close to the performers, and nothing short of miraculous in these trying economic times to be treated to performances and live music of such high caliber.
REAL LIFE. REAL NEWS. REAL VOICES.
Help us tell more of the stories that matter from voices that too often remain unheard.