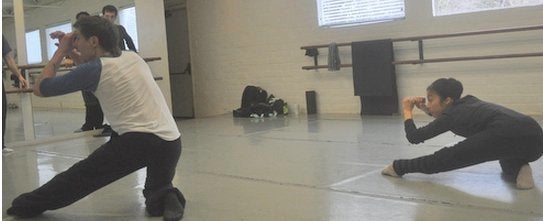 A 10-year-old girl wrote in to Diablo Ballet asking for a dance set in "the safari. The boys will be animals and the girls will be explorers."
Via Twitter came other suggestions:
• "The story of the Dodo Bird"
• "Feel of piece: Deliberately ironic"
• "Setting: insane asylum"
• "Initiate movement from shoulder blades"
Choreographer Robert Dekkers, who dances with Diablo and has made dances for several companies including his own acclaimed Post:Ballet, is used to creating ballets strictly from his own imagination, often from his preoccupation with physics and the parallels between scientific phenomena and human interaction. Cryptic outbursts from total strangers generally don't serve as his inspiration. But he is now on a mission, a ballet-by-social-media mission.
So off he went to research the Dodo bird.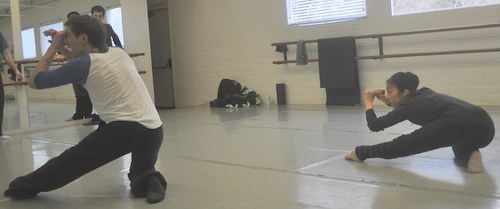 Robert Dekkers with Hiromi Yamazaki. (Photo: Erika Johnson, courtesy Diablo Ballet.)
Ballet to the People caught up with Dekkers on Day 4 of rehearsal for the newly christened Flight of the Dodo at Diablo Ballet's studios (previously known only as The Web Ballet). She, too, is skeptical of engineering art by social media.
But the sight of three men darting, slithering, diving for the floor, stalked by three women wielding imaginary hunting paraphernalia suggestive of butterfly nets and lassos, won her over instantly. Even without set or costumes, Dekkers creates a surreal world, one that is alternately menacing and ludicrous, aided by a very modern-sounding Vivaldi, whose characteristic sunniness gives way in this piece to an ominous rhythmic pounding and the low sound of cellos.
The dancers, their fine classical technique blazing down to the socks on their feet, are not so much men and women but creatures -- the Explorers displaying animal instincts just like their prey. When they finally capture one of the Dodos, Vivaldi turns sorrowful and majestic, the Largo movement traversed solely by the cellos, as the curious Explorers manhandle their captive. Thus begins the process of sending the hapless species into oblivion - but as the ballet was only half complete on Day 4, we shall have to wait for the premiere on March 1st to see the Dodos' grizzly end as imagined by the ingenious Dekkers. "This is the most literal thing I've ever done," he tells me with a wicked grin.
Dekkers was surprised to learn that Dodos became extinct only 60 years after their discovery at the end of the 16th century. Since then, man has displayed the same alarming efficiency in annihilating other species. And technologies. Will Flight of the Dodo succeed as a parable of man's uncontrollable urge to mess with the order of things in the universe? Even if it doesn't, it promises to be a hugely entertaining ride. (We won't tell you what he's planning for the costumes, as that would be a real spoiler!)
The influential dance scholar Jennifer Homans proclaimed the demise of classical ballet in Apollo's Angels, her captivating and compelling history of the art form. After George Balanchine, she asserts, no choreographer of comparable genius has emerged to take the art form forward. Those who've attempted are just hacks, and the major ballet companies are now just "museums for the old [works]." Is it possible that in just under 350 years, the art form that King Louis XIV first cultivated and that Balanchine nourished is now extinct, like the Dodo, stamped out by the purveyors of high-carb, high-sugar entertainment like So You Think You Can Dance?
Or is it possible that Balanchine produced heirs whose art is percolating in small, nimble chamber ballet companies around the globe?
Watching Robert Dekkers urge his male dancers into a forced arch, or his female dancers into an inside pirouette with a flexed foot thrust into an arrestingly high retiré above the knee, is a visceral thrill that suggests that ballet is alive and well - at least in the Bay Area.
Don't miss Flight of the Dodo and other exciting premieres by Diablo Ballet this season, starting Friday March 1. "Inside the Dancer's Studio" offers a mixed program with affordable ticket prices in an intimate venue, including a complimentary reception. Children welcome. Details: Diablo Ballet performances
REAL LIFE. REAL NEWS. REAL VOICES.
Help us tell more of the stories that matter from voices that too often remain unheard.