 Diablo Cody won the Oscar for her first screenplay, "Juno," and has gone on to write the films "Jennifer's Body" and "Young Adult" as well as the TV show "United States of Tara," so she's hardly a Hollywood outsider at this point. But that doesn't mean she lives in such a bubble that she can't see the industry's flaws and call out the areas where it needs to do better. A vocal advocate for women, the 34-year-old screenwriter is the co-chair of this year's Athena Film Festival, an event organized to showcase female leaders "in both real life and the fictional world." Cody, who also wrote the screenplay for the upcoming (musical!) "Sweet Valley High" movie, spoke to HuffPost Women about her frustration with the Oscar nominations, the famous Wakefield twins and her admiration for Lena Dunham.
On the biggest challenges for women in Hollywood: "Obviously there is a major, massive lack of representation. If this is 'the year of the woman,' we're screwed. Just look at the Oscar nominations -- not a single woman nominated for Best Director, and out of 12 screenwriters nominated, only one is female. When I look at that, I realize that we have a long way to go. I appreciate the positivity of those 'year of the woman' articles -- it's good to get that energy out there -- but at the same time, in Hollywood it's not happening yet."
On the industry's emphasis on appearance: "It doesn't matter if they're in front of the camera or behind the camera. I know women who are producers who are surviving on nothing but juice and almonds. Even though they are not on-camera talent, they feel that to fit in this industry and in this town, you have to have a frail, bird-like physique. It's not even enough to be thin. You actually have to look ill. And I'm not interested in that. I never have been. I don't get sent any clothes, but that's fine. Women are typically objectified in this business. The primary job for women in Hollywood is still super-attractive actress. That is the most high-profile women's job in Hollywood. So you can see why it would be challenging for a writer or a director who is attempting to sell her ideas and not her sexuality or looks or charisma."
On Lena Dunham and the backlash against "Girls": "I absolutely love Lena Dunham. I don't know her personally, but I'm completely obsessed with the show. I cannot believe what she has accomplished at 26. I think she is like our new Woody Allen. That's how highly I think of her. I have to say I was not the least bit surprised by the backlash that she has encountered. Because any time you're a woman who dares to be unconventional, outspoken, sexual -- I mean, she's taking her shirt off every week, God bless her -- of course people are gonna bitch about it. People cannot process the fact that a woman could be sexual and funny and brilliant and sensitive and flawed and beautiful and all of those things. Women are used to being put in boxes and compartmentalized. People are more comfortable when we stay in our box. And Lena Dunham is jumping from box to box all the time. I hope that she's enjoying herself. I find myself feeling very protective when I read about her because I went through an experience like that in my 20s. I went through exactly what she's going through, except I wasn't a huge TV star -- that's gotta add to it. But I think to myself, 'God, I hope she's enjoying this time and appreciating it and not just sitting at home grinding her teeth about the criticism.'"
On whether she's a Jessica or an Elizabeth: "Francine Pascal, who wrote the books, said that her readers usually wanted to be Jessica but were Elizabeth. And I would say I kind of fall into that category. I really want to be the selfish bitch. I want to be the bad girl. When it comes down to it, I'm really just an introverted, awkward writer. So I guess I'm Elizabeth. Aren't we all really Elizabeth? If someone actually is Jessica, I don't even think they have the self-awareness to admit it."
On the best advice she's received from a woman in the industry: "Penny Marshall directed some episodes of 'United States of Tara,' and one day I was sitting at the monitor and I said, 'Penny, can you give me some advice on directing because I don't know where to begin and I think it's something I want to try.' And Penny pointed at the monitor and she said, 'You put what you want to see in that box right there. And that's what you shoot.' And I realized I had really been making it more complicated in my mind. Penny nailed it."
On the woman she most wants to work with: "Honestly, this will never happen because she's so much classier than me, but I would love to work with Sofia Coppola. I'm just like, 'Can you just direct one of my scripts someday please?' I just love her. She is one of the cool girls. 'Lost in Translation,' to me, is a masterpiece."
Before You Go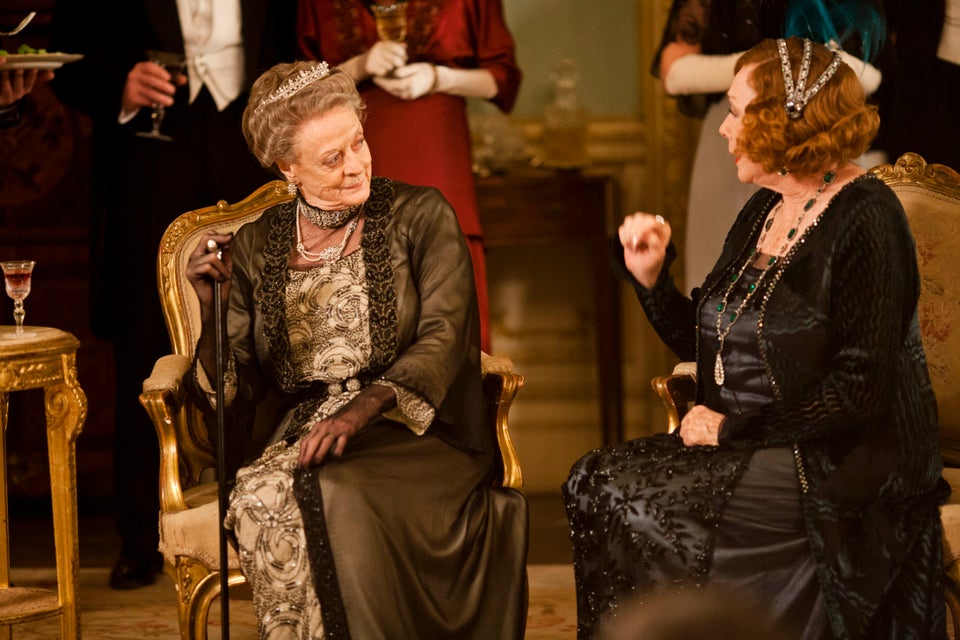 Culture 2013: 36 Things We Can't Wait To Read And Watch"
Popular in the Community