If you're like one of the fewer and fewer people who read The New York Times each morning, you were greeted yesterday by this image on the front page.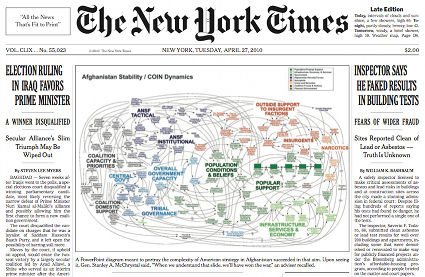 It's an internal Pentagon PowerPoint slide outlining America's strategy for the war in Afghanistan.
It's a stark image made even starker by the admission of Gen. Stanley A. McChrystal - the guy who's supposed to be implementing this strategy - that no one can actually figure the darn thing out.
"When we understand that slide," General McChrystal said, "We'll have won the war."
Great. Someone start chopping up the ticker tape.
The Times' article itself doesn't help. The big revelation -- "PowerPoint makes us stupid." -- was probably better placed on the paper's Technology page (or at least online in a series of slowly moving pictures). There's not much in that Page One article to help a reader decipher exactly how that war strategy works or what the slide means.
And sure, maybe the slide's just too confusing to figure out. But if you isolate one part of it, a bigger picture does become clear. Let's go to the bottom right hand corner.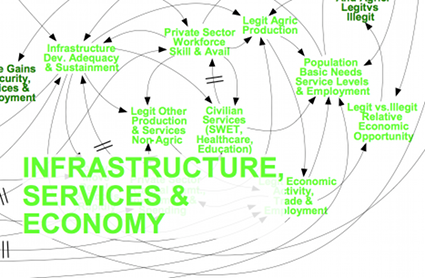 Infrastructure. How's that part of our strategy working out?
Well, two weeks ago, a suicide car bomb exploded in Kandahar outside a compound housing America's private contractors. Four Afghan security guards were killed and at least 16 other people were injured.
Among the companies targeted was the Louis Berger Group, a New Jersey based firm that since 2002 has been one of the top recipients of American reconstruction contracts in Afghanistan.
Over the past eight years, the American taxpayers have poured $51 Billion into reconstruction in this war alone.
In January of this year, our show, The IFC Media Project, sent award-winning journalist Nir Rosen to Kabul to look into Louis Berger and America's strategy for reconstructing Afghanistan.
Louis Berger's been responsible for building schools, clinics, roads, and power plants. One of their projects, the Kajakai Dam, outside the city of Kandahar, sits unfinished, underutilized.
Under the troubling headline, "U.S. military, diplomats at odds over how to resolve Kandahar's electricity woes," the Washington Post this week reported:
The dam produces about 33 megawatts of electricity with the two rehabilitated turbines, of which about 30 percent reaches Kandahar. As much as 40 percent of the electricity is lost to theft and transmission inefficiencies.
The litany of Louis Berger failures - contracts suspended, projects over-budget - is lengthy (and McClatchy's Marisa Taylor has done some excellent reporting on them) and we cover much of it in Nir Rosen's episode of the show. Heck, we even sent Nir down to DC a month ago with that very same PowerPoint slide to find some answers - here are the outtakes:
But seriously. The problem isn't whether or not a PowerPoint slide is making us dumber (though reading long articles about PowerPoint might be).
The problem is the strategy. It's the people coming up with the contracts, the people implementing them. Outside of Kabul, the US government hired Louis Berger to build - at a cost of $300 million dollars - a diesel-run power plant. But Afghanistan doesn't have diesel, they have to import it. And the cost to the Afghan government of running the plant is projected to be $280 million a year.
Where will that money come from?
Now on top of a failed reconstruction strategy, as the Associated Press reported this week, the Taliban is making a concerted effort to attack, disrupt and kill the contractors we've sent there.
As the AP wrote, "Washington's counterinsurgency plans call for aggressive development to build up everything from Afghanistan's roads to its sewer systems to its irrigation networks."
And it's a fine idea. It looks good on a PowerPoint slide. But after eight years, is anyone asking the really important question:
And if it's not... how will we ever, as Gen. McChrystal put it, "understand that slide."
****
Meghan O'Hara is the executive producer of THE IFC MEDIA PROJECT which returns for its third season on the Independent Film Channel this May 24-27th in a four night docu-series event featuring stories on FEAR, WAR, GREED and DISASTER.
Calling all HuffPost superfans!
Sign up for membership to become a founding member and help shape HuffPost's next chapter