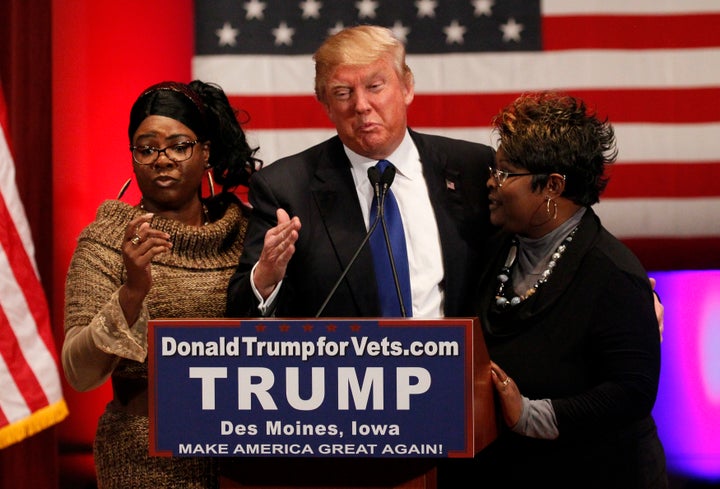 Conservative internet pundits Lynnette "Diamond" Hardaway and Rochelle "Silk" Richardson appeared on Thursday to lie under oath to a congressional panel about their financial relationship to President Donald Trump's 2016 campaign.
During a House Judiciary Committee hearing on free speech and social media, Rep. Sheila Jackson-Lee (D-Texas) asked the pair whether the Trump campaign had paid them. The two emphatically denied receiving any payments.
"Ms. Hardaway have you ever been paid by the Trump campaign?" asked Jackson-Lee.
"No, we've never been paid by the Trump campaign," replied Hardaway.
"Not $5?" Jackson-Lee followed up. "Not $100? What about $1,274.94?"
"We have never been paid," Hardaway replied.
During a combative exchange, Rep. Hakeem Jeffries (D-N.Y.) asked Hardaway and Richardson about the discrepancy, reminding them that they were under oath and subject to criminal penalties if they lie.
Hardaway and Richardson told the committee that the payment was improperly labeled and that money was actually a reimbursement for airfare that the two had purchased to speak at a Trump rally.
The two also repeatedly claimed that Facebook has "censored" them, despite a lack of evidence proving the social network specifically targeted their content. While the social media giant had messaged the pair that their videos were "unsafe," it later clarified that it was sent in error.
"We have communicated directly with Diamond And Silk about this issue. The message they received last week was inaccurate and not reflective of the way we communicate with our community and the people who run Pages on our platform," a Facebook representative told the Washington Post, "We have provided them with more information about our policies and the tools that are applicable to their Page and look forward to the opportunity to speak with them."
Hardaway and Richardson are among President Trump's most ardent and popular African-American supporters. They currently have nearly 150,000 subscribers on YouTube and several of their videos have been viewed over a million times each. They began their rise to fame in December 2015, when then-candidate Trump invited them onto the stage at a rally.
"I hope you've monetized this," Trump told the pair, referencing their growing fame on social media.
During the hearing, they exhibited the same mixture of indignation and ultra-conservative politics that have made them famous. "If illegal aliens can come here and achieve the American dream," exclaimed Hardaway at one point, "why can't Diamond and Silk?"
After being pressed on their payment from the Trump campaign, the two rebuffed Rep. Jeffries for attacking what they described as their entrepreneurial spirit.
"I don't see you walking up to a white person saying 'no, you shouldn't monetize that,'" Hardaway said.
"I respect your game," Jeffries replied.
This isn't the first time that the social media stars have found themselves financially entwined with a campaign. On Aug. 14, 2016, Hardaway and Richardson received $7,025 in payments from the campaign of Republican businessman Paul Nehlen, according to the FEC. Nehlen was mounting a primary challenge to Speaker Paul Ryan (R-Wis.). Several days later, the pair endorsed Nehlen's campaign.
Late Thursday afternoon, Bradley Crate, treasurer for Donald Trump's election campaign, issued a statement saying the Trump campaign's disbursement of $1,274.94 to Diamond and Silk was erroneously listed due improper paperwork.
"The issue regarding Diamond and Silk is merely one of semantics, resulting from a reasonable misunderstanding of the Campaign's reporting obligations," Crate said. "The Campaign's payment to Diamond and Silk for field consulting was based on an invoice they submitted reflecting their costs for air travel to a Campaign event. The invoice was not supported by accompanying receipts, so as a technical matter, could not be reported as a reimbursement even though its purpose was to make them whole for their out-of-pocket costs."
This story has been updated to include Bradley Crate's statement.
Popular in the Community