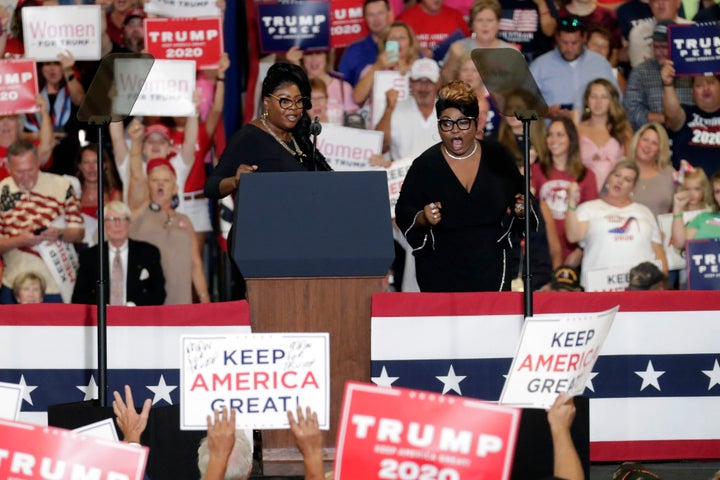 Hardaway died on Jan. 8 at 51 years old, prompting widespread speculation about the cause of her death. When former President Donald Trump announced the news, he said it was "totally unexpected" and surmised that "probably her big and precious HEART just plain gave out."
Hardaway and her sister, Rochelle "Silk" Richardson, rose to fame with their fervent support of the former president during the 2016 presidential campaign. Having spoken at several Trump rallies and grown their following online, the sisters went on to land gigs at Fox News, which they lost in 2020 after spreading false claims about COVID-19.
Given Hardaway's opposition to COVID-19 vaccines, many social media users cited unverified online reports and suggested her death was linked to the virus. That was not the case, according to the death certificate provided to AP by the Hoke County Register of Deeds.
At a memorial service in Fayetteville, North Carolina, on Saturday, Richardson suggested without evidence that the COVID-19 vaccine may have been to blame for her sister's death.
"Don't you dare call me a conspiracy theorist, because I saw it happen," she said, after describing how Hardaway died. According to Richardson, Hardaway suddenly said "I can't breathe" after returning to her North Carolina home from a birthday party. She recalled performing CPR on her sister as they waited for emergency services.
"I saw how it happened," Richardson continued. "I was there when it happened, and it happened suddenly. I want America to wake up and pay attention. Something ain't right. It's time to investigate what's really going on here, and give some answers to why people are falling dead suddenly."
Support HuffPost
The Stakes Have Never Been Higher
Popular in the Community