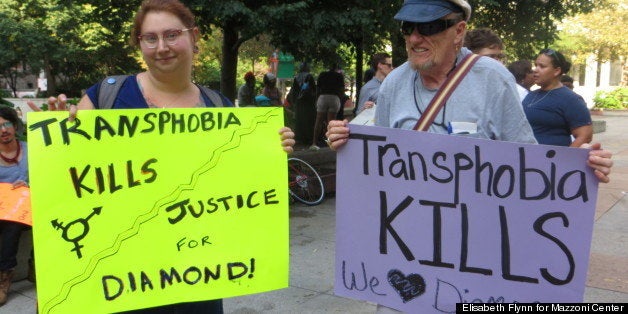 Friends and family of Diamond Williams, a transgender woman in the Strawberry Mansion area of Philadelphia, gathered last night at Love Park for a Vigil and Speak Out held in her honor.
According to GLAAD, speakers at the event included: Christian Axvaier Lovehall of Philly Trans* March, Samantha Jo Dato of Mazzoni Center's Trans* Wellness Project, Aamina Morrison, Co-director of Trans-health Information Program (TIP), Sade Ali of Philadelphia Deputy Commissioner Department of Behavioral Health and Intellectual Disability Services, and Gloria Casarez, Director of LGBT Affairs at the Mayor's Office, among others.
In an e-mail to The Huffington Post, Nurit Shein, Executive Director of Mazzoni Center, said:
"The details of this crime were particularly brutal, but the fact of violence against trans women is unfortunately something we have experienced far too often, in Philadelphia and elsewhere. That's why we felt it was so important to speak out tonight. Supporting the dignity and safety of each individual is fundamental to our mission as a health and wellness organization. Mazzoni Center is working with partner organizations like GALAEI and their Trans-health Information Project to educate the wider community about the issues of violence and transphobia, and to reach out to trans women in our area with as many resources as we can provide to ensure their health, safety, and quality of life."
Williams' murder follows a disturbing trend of violence against trans women in Philadelphia, as well as the rest of the country, including the unsolved deaths of Nizah Morris, Kyra Kruz and Blahnik Lee, among others. According to a report by the NCAVP, 53 percent of anti-LGBTQ homicide victims in 2012 were transgender women, while 73 percent of all anti-LGBTQ homicide victims were people of color.
Following Williams' murder last week, media coverage of the crime generated an immense backlash among activists and members of the queer community. The repeated misgendering of Williams and perceived victim-blaming by numerous news outlets sent familiar shockwaves through these communities, as well as initiated a formal response by GLAAD.
In light of these facts, GALAEI Executive Director Elicia Gonzales released this statement surrounding last night's vigil: "We are sad and outraged -- saddened at the loss of yet another transwoman in Philadelphia, and outraged by the insensitive, inaccurate, and transphobic reporting by local police and media. Tonight we unite to honor the life of Diamond and to demand justice and respect for all members of our brave and resilient community."
See a slideshow of images from the vigil below.
Before You Go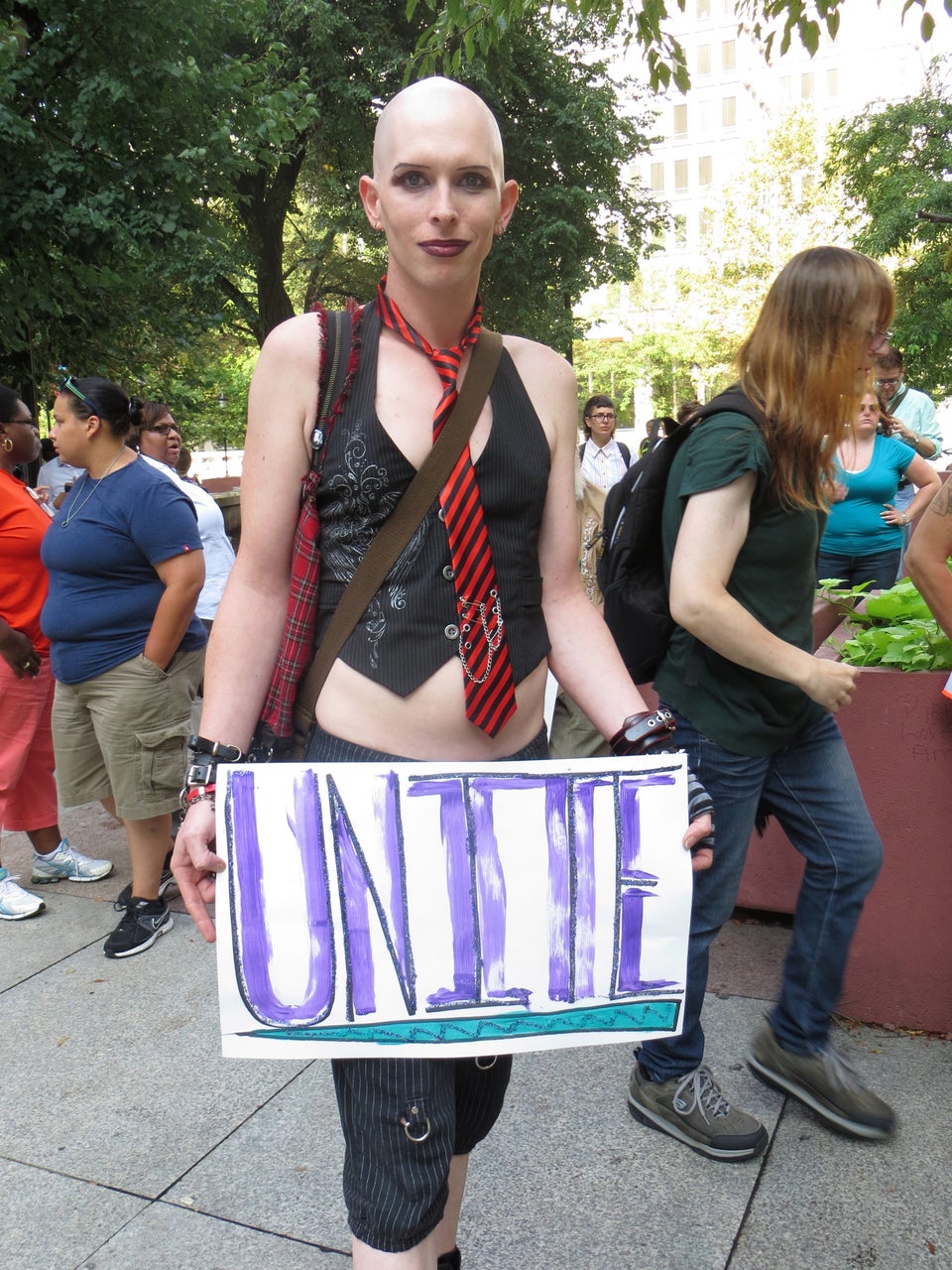 Vigil and Speak Out for Diamond Williams
Popular in the Community