"Shall we do English tea?" Lisa Vanderpump purrs, her long pink nails fiddling through the tea packets like a Rolodex on a sterling silver tray. In a single graceful motion, she pours the hot water over the tea bag, dunks the tea bag back into the kettle and tops it off with a generous pour of cold milk, handing me the steaming brew. She sits back with her own mug under PUMP's overhead foliage (century-old olive trees shipped from Northern California) and smiles at me. "There!" she states. "You have my undivided attention."
Scribbled on my notepad are some questions, but instead I take the moment to breathe in my surroundings. PUMP is unlike anything I've ever seen in LA, let alone West Hollywood. Adorning the outdoor bar are nearly a dozen golden chandeliers, wreathed with the busts of stags. Stone pieces of an old French bridge decorate the walls. Hanging off the branches of the trees are suspended glass orbs, pink petals carefully placed within each. Inside, the dining room is intimate and soft, with distinctly cozy tables that invite patrons to sit closer and play footsie.
To think, last year this space was a parking lot.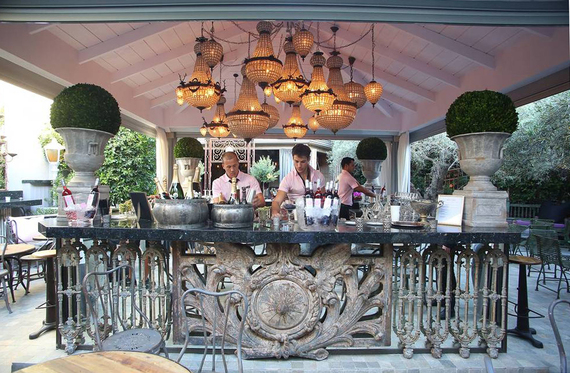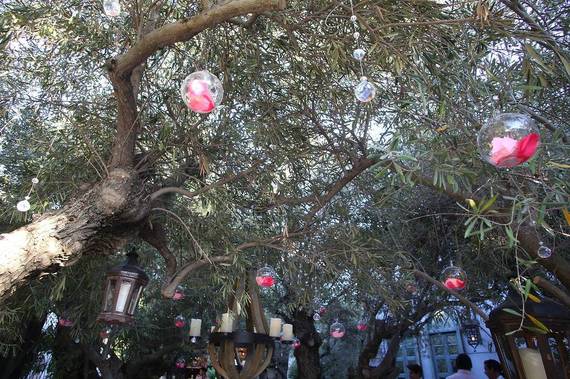 Tackling the devil in the details has been grueling for Vanderpump. During the construction of PUMP, she often worked more than 16 hours a day for days on end. She pulls out her iPad and shows me a video of her standing up to her knees in the dirt, directing a forklift as it descends one of her new trees into the ground. Every corner of PUMP, as it is in every Vanderpump restaurant, was planned out and decorated solely by her. "So if anyone is wondering why I couldn't make a certain finger-painting party on the show, this is why."
Through her own admission, working with her isn't easy. "OCD, perfectionist, control freak -- I'll take the label," she says firmly. "But I can't do it any way else. Have you ever been to a party and you can tell that all the work had been delegated: the flowers are by one person, the decor by another, the food by yet another? There's no vision. I can't do anything that isn't entirely my vision."
So, is PUMP gay? Yes -- ecstatically, unapologetically so. Oscar Wilde resurrected as WeHo boy would love it here. PUMP is a garden of earthly delights, replete with shamelessly dashing waiters, colorful yet stiff cocktails and a meticulously sumptuous aesthetic. But is it too much?
Of course not. It's simply Vanderpump.
The ancient Romans may have had gladiators, but today we have Real Housewives. Where there were once clashing swords and bloody combat, there are now spiked Louboutins and treacherous shade. Indeed, the spectacle, the industry and the hot messes of reality TV have become the new fodder of the millennial masses, and leading this glittering pack is Lisa Vanderpump.
To transcend the stigmas of reality TV is no easy feat, but for those of us who watch what happens on Bravo, it is a truth universally acknowledged that Vanderpump has done just that. Even after receiving the "bitch edit" and being singly targeted by the other women on the most recent season of her hit show The Real Housewives of Beverly Hills, Vanderpump remains the overwhelming favorite. Her fanbase is fiercely loyal and protective, much to the chagrin (and possible downfalls) of her on-screen opponents.
Weeks after the finale of her most difficult season to date, Vanderpump is now more bewildered than hurt about the backstabbing histrionics of RHOBH. To her, when the women of Real Housewives don't support each other, it isn't just bad friendship. It's worse: It's bad business. "When one Real Housewife has a bestselling book or a successful business, it only strengthens our franchise. I don't understand it. When the women attack each other for being successful, we're weakening our brand. No one gains from that."
"I feel as though I'm a man," she says quite seriously as she leans forward to pour herself more tea. "I'd never gone through anything like that in my life. It was very difficult. At the end, I told the producers that I could handle the other women turning on me, but I wouldn't be able to deal with it if the viewers did."
I ask her why she believes she has such a strong following of gay men, and she thinks about it for a moment. "I feel as though gay men and women aren't afraid to support each other, to celebrate each other's successes. There's no jealousy there. I've been supported by gay men all my life and I support them back." She motions around her. "It's why I became an ordained minister. I want to have gay weddings here in this garden." She pauses, then emphasizes: "Only gay weddings, mind you."
PUMP is not her first gay establishment. Vanderpump with her husband and business partner Ken Todd became two of the founding members of the original SOHO gay scene in London where they opened Shadow Lounge in 2001. "It had been a [straight] lapdancing bar when we first bought it," she remembers with a wry smile. "I stepped in with my husband, looked around and decided it was going to be a gay bar instead. I don't need that competition."
Today in 2014, she marvels at the progress of the LGBTQ movement, but expresses dismay at the Sultan of Brunei's new laws that will punish gay people in his country with death by stoning. This has led Vanderpump to boycott the Sultan-owned Beverly Hills Hotel, despite her personal ties to it. "It's absolutely ridiculous that we're still going over this," Vanderpump fumes. "And it's a shame because I lived at the Beverly Hills Hotel when I first moved to LA, and I love it and the staff there. But I can't support the Sultan and those barbaric laws."
That evening, a couple friends and I dine at PUMP on its first Monday since opening. It is bustling busy with a diverse crowd, the garden whimsically alit with the warm glow of candles and chandeliers. Continuing the theme of Vanderpump's overall mantra, the food of PUMP (curated by Chef Penny Davidi of Food Network fame) is decadent and generous. The massive Mediterranean board came with the creamiest olive tapenade I've ever tasted. The papaya boat yielded big spoonfuls of the fruit piled with sweet crab salad and heirloom tomatoes -- a famous Vanderpump recipe. And the perfectly-cooked filet mignon was served tagliata, pre-sliced and easy to share, as encouraged by the suggestion in the menu: "Our food is made to be shared by friends and family -- all meals will arrive family style in sharable portions."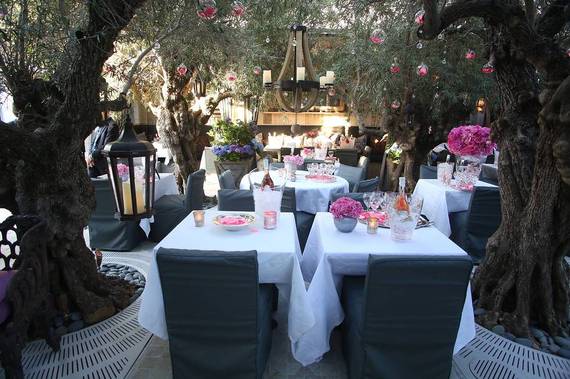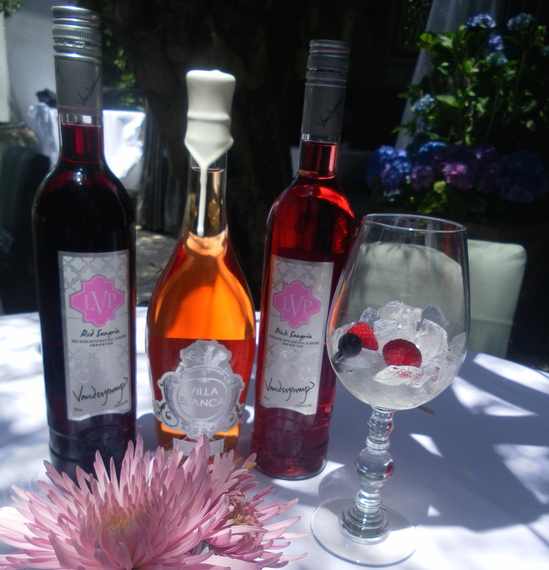 But the most impressive revelation of the dinner experience is the proof that Vanderpump hospitality is a genetic trait. Vanderpump's daughter and son-in-law Pandora and Jason Sabo personally pour us gigantic glasses of their new line of LVP Sangria. Pandora leans on the chair and says with a flirty smile, "I could drink this every day. Imagine what it'll be like when we open for brunch!" I take a long sip of the red sangria, spiked with Spanish Tempranillo wine. It's wonderfully complex, not too sweet and completely addictive.
Over our tea I do ask Vanderpump if PUMP will get its own reality TV treatment, a gay version of RHOBH spin-off Vanderpump Rules. It's not an inconceivable scenario. In a likely unprecedented feat for Bravo, Vanderpump Rules -- based on the oversexed shenanigans of the theatrical waitstaff at her other WeHo hot spot SUR -- reaped higher ratings than RHOBH in its most recent season and was declared "TV's tastiest reality trash" by TIME. "I read that headline and I said to everyone, 'We've made it,'" laughs Vanderpump, who also produces the show. (By the way, over our tea Vanderpump ends speculation and definitively confirms that VR villainess Stassi Schroeder will be back for the hotly anticipated third season.)
"For now, with the opening of PUMP, I'm quite busy enough," Vanderpump replies. Right after our tea, she's due around the corner at SUR to film for VR. "We should have started filming [for RHOBH] already, but nothing has happened," she says mysteriously. Rumors abound regarding overhauls of the show and its cast, and while Vanderpump has been asked back, the cameras remain stagnant.
The irony isn't lost on Vanderpump. The latest season saw her former close friends Brandi Glanville and Kyle Richards band together in an ill-fated attempt to dethrone her, but the viewers remained steadfastly on her side. Now while her RHOBH castmates sit around waiting for the call from Bravo, she's already weeks into filming the new season of her own hit show. As she takes a sip of tea, she can't help but smile as she throws in a sassy dig: "Revenge is sweet."
I don't want to end English tea with Lisa Vanderpump, but the day grows late. I ask her what she wants next from life. She leans back at the question, at once ruminative and excited by the possibilities. "You know, I'd love to create a home line. Plates, tableware, kitchenware..." Then she suddenly laughs. "Actually, I'd love to create everything!"
More information about PUMP West Hollywood can be found here.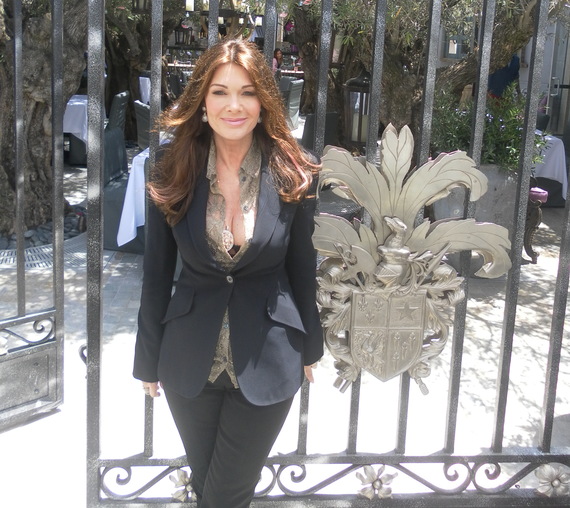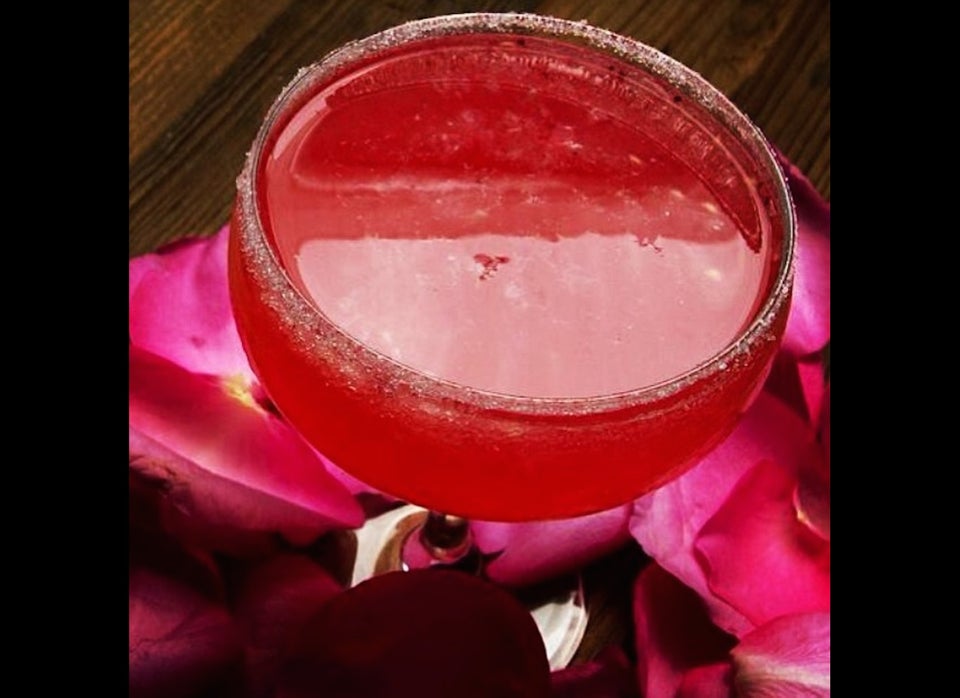 A Peek Inside the PUMP Menu
Popular in the Community