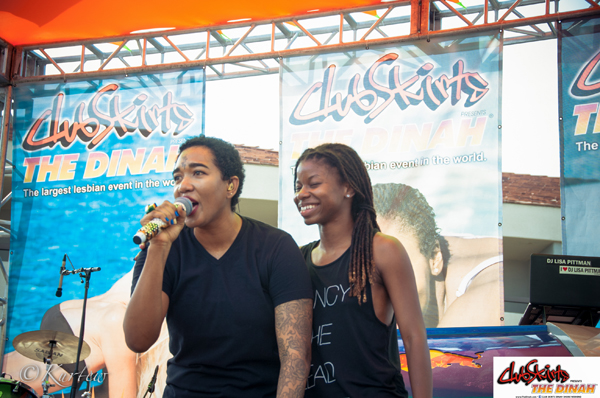 Though she was long rumored to be gay, King's revelation not only marked the first time that a Jamaican music artist had ever come out but broke a major taboo in Jamaican culture.
Since then, the reggae/dancehall legend responsible for chart-topping hits like "Shy Guy" and "Say a Little Prayer" has continued to break new personal ground in a very short period of time. Her other biggest accomplishment came last April, when she performed in Palm Springs at Club Skirts Dinah Shore Weekend, the largest lesbian event in the world, a dream that she'd hoped would come true since she first saw the event on an episode of The L Word.
She mesmerized the crowd with an electrifying performance that was nothing short of phenomenal and delivered a memorable, emotionally charged speech about equality and love for all, sharing how her seven-year relationship with her Jamaican girlfriend had been extremely challenging over the years as a direct result of Section 3 of the United States' federal Defense of Marriage Act, or DOMA.
As Club Skirts' publicist, I had the immense honor of working with Diana during this past installment of The Dinah and was one of the many attendees who were moved beyond words by her heartfelt speech.
When I first heard the news about the U.S. Supreme Court striking down Section 3 of DOMA, my first thought was of her. With Club Skirts' seal of approval, I reached out to the reggae icon to get her reaction to this historic win for same-sex couples.
Mona Elyafi: Where were you on June 26, 2013, when you heard the news about the U.S. Supreme Court striking down Section 3 of DOMA and dismissing California's Prop 8?
Diana King: I actually tried to stay all night up to hear the ruling, but the Zs got the best of me at about 7 a.m. I had asked for what I wanted to happen and released it to the universe days before, so I just went to sleep with "your will be done" as I drifted off.
Elyafi: What was the first thought that came to your mind?
King: Honestly, it was, "Shit, I got powers!" Then, "The universe heard us!" Then, "Uh, oh." I think I'm still in disbelief.
Elyafi: You've been with your girlfriend Simone for seven years. With her having to live in Jamaica and you in Florida due to U.S. immigration law issues, what does the end of DOMA mean for you?
King: It has been very inconvenient and frustrating for us, but I know it could be worse. At least she's able to visit me every couple of months (every weekend would raise suspicion as to why she is here so often and may result in denial to enter the U.S.; we never knew when she'd run into a jerk at customs), but it is still heart-wrenching every time we have to say goodbye. We have been engaged for most of the seven years, and I vowed I'd never get married until we are equal. I was married before, to my son's dad, so I know firsthand what we were being deprived of. Now I can honor my word.
Elyafi: One of your biggest accomplishments came last year, when you bravely decided to publicly come out, breaking a major taboo in Jamaican culture. The June 26 Supreme Court rulings will surely inspire many of the remaining 37 U.S. states to move toward marriage equality. How do you think other countries, especially Jamaica, will react to the U.S. Supreme Court's historic move toward acceptance, equality and love for all?
King: It was one of the most terrifying things I had ever done, but it was time. I feel honored and proud to be the first Jamaican artist to come out. My country still has a far way to go. Every day holds a casualty from gay bashing. It's sad. The pace is slow, but more and more people are rising up. I suspect there will be some fight from the remaining states in America, but I truly hope Florida, where I live, and all others will fall in line and move forward as well. It's only fair.
Elyafi: Another big personal accomplishment was your Dinah 2013 performance. You were quoted saying that it had always been a dream of yours to perform at an event like Club Skirts Dinah Shore Weekend, considered to be the largest lesbian event in the world. Can you explain why and how it has changed your life?
King: Dinah was my first gay event. Since then I've done a handful of Pride events. It's been awesome. I remember watching excerpts on the original L Word and wondering if I'd ever experience it. I imagined just being there, but it was even better when I was asked to perform. Events like these cannot take place in Jamaica; it's dangerous. I got so many emails from all over the Caribbean of their wishes of being there or just being at a gathering like this before they die. It felt great to report back, to give some hope. My life is just being lived more authentically since I came out publicly, and my visibility started at Dinah.
Elyafi: At The Dinah, you delivered an inspiring, emotionally charged address on civil rights, calling for marriage equality. Did you ever expect that things would actually change so drastically just two months later?
King: I didn't expect it so soon, but I definitely dreamt and hoped for it. I had written a note in March, "EVEN IF I MARRIED my JAMAICAN GIRLFRIEND of 7 years," on my Facebook page, explaining to my friends what it meant, since many of them were ignorant about DOMA. I had to explain that even if we got married, it pretty much meant nothing but a ritual.
Elyafi: You seem to have the Midas touch when it comes to making your dreams come true. Performing at The Dinah was one of them, and having DOMA banned was another. What's third on your bucket list?
King: I don't have a bucket list; I just go with my flow, whatever feels right. But I do believe when you free yourself, especially from fear, you open the doors to limitless possibilities, to all you are born to do and who you are truly meant to be. Everything is possible now.
Elyafi: You immediately reacted to these two historic wins with a tweet containing the hashtag "#TimeToPutARingOnIt." Are wedding bells in effect now?
King: To be honest, I am not sentimental when it comes to marriage, but everyone deserves the option to do so if they please. I was raised by two women who were not married, who died a year apart and left me all alone at 17 years old. They gave me so much love; I'm still running on it. But in our case and the time we are living in, it's the only way to be together and delight in the benefits that all my straight married friends enjoy. We also deserve it. For us, it's the only way to have a life together in the same place. Me moving back to Jamaica would be many steps backward. Life can be a very lonely road. It is a blessing when you find someone who you love and loves you back and is willing to take the journey with you to the end.
Elyafi: Speaking about wedding bells, what protocol and etiquette do you think we are going to follow when it comes to the LGBT business of tying the knot? Do you get engaged first? Who proposes to whom? Do you ask her parents first? Do you change your last name?
King: Nowadays anything goes as far a traditions or conventions. People are going to be very creative, I think. These are the days of all things unorthodox.
Elyafi: What is the most creative way of asking "will you marry me?" that you've heard of?
King: So, I secretly flew to Jamaica. When I knocked on the door, she was so shocked and in disbelief that she took off running away from me. I had told her repeatedly that I didn't want a committed relationship, and she had been trying to call me the whole day, without success, so you can imagine that she was really pissed by this time. When I finally found her in the bedroom, covering her face, crying on the bed, I picked her up and hugged her. I went down on my knees and began reading a letter I had written, but I got all choked up, so I handed it to her and asked her to read it. By the end of the verse, I was asking her to marry me, to "jam by my side for the whole ride." We were both crying by then. Then I stood up, held her and kissed her, and the ring was transferred from my mouth to hers.
Elyafi: What's the best wedding song?
King: Wow, there are so many. I'm really loving "A Thousand Years" by Christina Perri, for something more current, but if you want to go classic, "Could I Have This Dance" by Anne Murray, "Here and Now" by Luther Vandross, "Woman" by John Lennon, "Because You Loved Me" by Céline Dion, or "Endless Love" by Diana Ross and Lionel Ritchie.
Elyafi: What's next for Diana King? Are you working on any new projects?
King: I never say what's up till it's done, but you can expect more music, more performances. Sometimes I actually don't know the next step. I just remain open to all I can dream happening and the voice that speaks within and the feeling that says, "Yes, this is right for me. Do it!" It's always been like that, and I like it like that -- the surprise, the suspense, the surrender to the unknown. I am a private person, so I never imagined I would ever come out! See how much I know.
Popular in the Community